The Vegas Golden Knights have already completed ten trades this offseason, wheeling and dealing around the expansion draft with a third of the NHL. While more deals will undoubtedly drop tomorrow and in the next few days, these first ten transactions have set the team up for success. We'll take a moment to break down why each trade happened, though there may be more dominoes to fall regarding some of them.
Buffalo sends their 2017 sixth-round pick to Vegas
In the first trade of the night, Vegas acquires a late round pick in order to not select G Linus Ullmark from the Sabres. Golden Knights GM George McPhee explained on the Awards broadcast that they were down to two players, Ullmark and William Carrier and the Sabres made their decision for them with a pick. For what it's worth, our mock draft had the same split decision over the two players with Ullmark eventually ending up as the selection.
Florida sends F Reilly Smith to Vegas in exchange for their 2018 fourth-round pick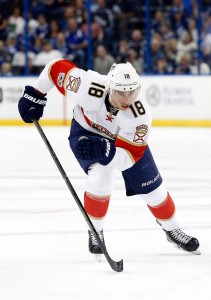 Smith was signed to a five-year, $25MM extension last summer by the new front office in Florida before scoring just 37 points and having a relatively poor year. The new front office (which, ironically is also the old-old front office with Dale Tallon taking over again as GM) apparently thought that deal was bad enough to want Vegas to take it off their hands. In return, the Golden Knights got the chance to draft Jon Marchessault, who was conspicuously left off the team's protection list. The fact that Florida got something back takes a bit of the sting away, but losing 45 goals and 88 points in return for a fourth-round pick is a tough choice regardless of the salary cap implications.
Carolina sends 2017 fifth-round pick to Vegas
It's unclear who the Vegas Golden Knights would have targeted from Carolina, but they used a pick to ensure it would be Connor Brickley instead. In our mock draft we had Klas Dahlbeck heading to Vegas, which is perhaps the player they wanted to protect. Brickley was still a second-round pick back in 2010 and has shown much in the way of NHL upside as of yet. As a 25-year old Group VI free agent this summer, Vegas may decide to just let him hit the open market.
Tampa Bay sends negotiating rights to F Nikita Gusev, their 2017 second-round pick and Pittsburgh's 2018 fourth-round pick to Vegas
This is one of the bigger trades of the night, with the Lightning dealing two picks and Gusev in order to protect their young defensemen Slater Koekkoek and Jake Dotchin. They also got the Golden Knights to take Jason Garrison and his $4.6MM cap hit off their books. According to agent Dan Milstein, Gusev isn't coming to the NHL right away but will revisit the idea in the future. Gusev of course is a former linemate of Vegas free agent signing Vadim Shipachyov, perhaps giving them the inside track to get him over to North America before long.
In the last few months, Tampa GM Steve Yzerman has aggressively shed salary by moving Valtteri Filppula, Jonathan Drouin and now Garrison. As extensions kick in for some of his top players, he still has Tyler Johnson and Ondrej Palat to re-sign among a big group of RFAs. Suddenly they have around ~$23MM in cap space and could potentially be buyers on the free agent market.
New York Islanders send F Mikhail Grabovski, D Jake Bischoff, their 2017 first-round pick and their 2019 second-round pick to Vegas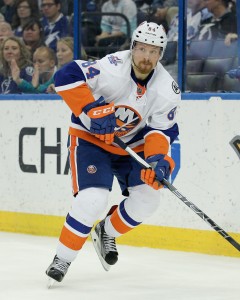 The Islanders apparently were desperate to extend their protection list and force Vegas' hand, because they moved a healthy package to do so. Grabovski was included to get the cap-hit off their books, though he'll likely never play again in the NHL. LTIR isn't as easy as free cap space, and the team needed some more this summer if they're going to make a big splash and find wingers for John Tavares. Bischoff, a seventh-round pick, was just signed out of the University of Minnesota where he was named Big Ten Defensive Player of the Year. After a nice start to his AHL career, he does have a chance to make the NHL some day but will more likely head to the Chicago Wolves and spend some more time in the minor leagues.
The Golden Knights ended up selecting Jean-Francois Berube, who is another Group VI free agent and might not even play for Vegas at all. The 25-year old has had trouble finding a place in an NHL net and could have to settle for a two-way contract this summer. His pick is a throwaway for the Golden Knights, who needed to pick three goaltenders in the draft to comply with the minimum requirements. The big get for them is the 15th-overall pick in Friday's entry draft, one they could easily use to move up in the first round.
Anaheim sends D Shea Theodore to Vegas
This is one of the more clear cut trades of the night. Anaheim had too many defensemen to protect, and Vegas would have happily snapped up Josh Manson or Sami Vatanen. It cost them Theodore to protect those two, and get rid of Clayton Stoner's $3.25MM contract. Stoner is an unrestricted free agent after this year and will have little effect on the Golden Knights cap this season, and Theodore is a prized defensive prospect who could grow into one of the best players on the Vegas roster.
Theodore was behind a long line of left-handed defensemen in Anaheim, but is just 21-years old and holds tremendous value even with his up-and-down season. The Golden Knights could build a defense around him and other young players they selected, or trade him right away for another package of picks to help build through the draft. Either way, he's one of the top prizes of the night.
Minnesota sends F Alex Tuch to Vegas in exchange for their conditional 2018 third-round pick
Minnesota had much the same problem as Anaheim; too many worthwhile players. In order to protect Mathew Dumba, Marco Scandella and Eric Staal, the Wild had to give up a first-round pick in Tuch to the Golden Knights. While he's not their top forward prospect, he's still an asset with excellent value after making his NHL debut this season. He could find his way onto the Golden Knights opening day roster with a solid camp, and at just 21 could be there for a long time.
The Wild likely didn't have to give up a better prospect because Vegas also got to sign Erik Haula, a strong secondary scoring option that has experience at both wing and center. The Golden Knights inked the restricted free agent to a three-year, $8.25MM contract and will hope he can build off the 15-goals he scored in 2016-17. It's hard to imagine Haula will be flipped anywhere, meaning the 26-year old should be in Vegas on opening night.
Columbus sends F David Clarkson, their 2017 first-round pick and their 2019 second-round pick to Vegas
Another big deal that protected several good players, Columbus wanted the Golden Knights to stay away from Josh Anderson, Joonas Korpisalo and Jack Johnson. They also needed some cap relief, deciding to include Clarkson's three remaining years at $5.25MM in the deal. Just like Grabovski, Clarkson won't ever play again in the NHL but his contract will stay on the books for now. The Blue Jackets had to part with the 24th-overall pick and another selection two years for now for the extra protection.
Again, though Clarkson could have been put on LTIR after the season began, the Blue Jackets were looking at around $5MM in cap space with several high-profile restricted free agents still to sign. They needed relief badly, and were forced to make a deal of some sort to move money out. They'll now likely be able to fit both Anderson and Alexander Wennberg in, though watch for them to make another cap-saving move in the near future.
Winnipeg sends their 2017 first-round pick and their 2019 third-round pick to Vegas for Columbus' 2017 first-round pick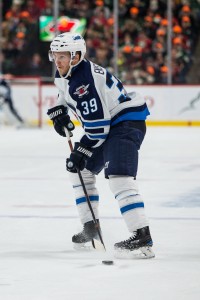 At first glance, this deal looks mighty odd. The Golden Knights move up 11 spots in Friday's first round (24 to 13) and also add a third-round pick in 2019. What it comes down to, is protection of Toby Enstrom, Marko Dano and others in the expansion draft. The Golden Knights ended up picking Chris Thorburn who a) is an unrestricted free agent and b) has a career high of 19 points. Thorburn isn't in the plans for Vegas, but it was worth it to move up more than a third of the first round in one shot and leave them with three picks in the top-15. Many are speculating whether they will use those to move up and perhaps take a swing at Brandon Wheat King Nolan Patrick, who was originally drafted and developed in the WHL by Vegas AGM Kelly McCrimmon.
For the Jets, moving back in the first round was worth protecting their depth as they look to compete for the playoffs next season. Enstrom waived his no-movement clause for the team to protect Tyler Myers, likely reducing the amount of leverage the Golden Knights had in negotiations. Had Myers been available, he may have been worth more than 11 spots and a third-round pick.
Pittsburgh sends their 2020 second-round pick to Vegas
In a trade that according to Pierre LeBrun of TSN was agreed upon in principle way back on March 1st when the Golden Knights were first allowed to talk to teams, the Penguins give up a draft pick several years down the road to make sure that Marc-Andre Fleury would be Vegas' selection. Both Fleury and the Penguins knew he'd be heading to Vegas next season for quite some time, making his play down the stretch and in the playoffs that much more remarkable. Generally known as one of the most well-liked players around the league, Fleury won his third Stanley Cup this season with the only team he's ever played for.
Welcomed to the biggest ovation of the night (sorry James Neal), Fleury will instantly become one of the faces of the Golden Knights franchise and likely spend the entire season in 2017-18 as their starting goaltender. After a so-so regular season, Fleury turned back the clock in the playoffs and helped the Penguins through the first few rounds after starter Matt Murray went down with a torn hamstring. At 32, he has just two years remaining on his contract at $5.75MM a number that the Penguins no longer could afford at the backup goalie position. A new contract for Murray kicks in this year, and the team has several important RFAs to sign this summer.
Photos courtesy of USA Today Sports Images