Number 97 will be in Edmonton for quite some time. The Oilers announced today at a press conference an eight-year, $100MM extension for the reigning Hart Trophy winner, keeping Connor McDavid in Edmonton until the summer of 2026. The extension, which kicks in for the 2018-19 season and carries a $12.5MM cap hit, will make McDavid the highest paid player in the league. $86MM of the deal will be paid out in signing bonuses, making the deal essentially lockout-proof.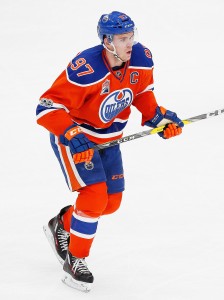 While the contract isn't the biggest in the league in terms of total dollars—that goes to Alex Ovechkin and his 13-year, $124MM deal—it is still a huge number for a player who won't turn 21 until January of next year. Eight years is the maximum a player is allowed to be signed to under the new CBA, and $15MM would have represented the maximum dollar amount he could have received. Teams are not allowed to have an average annual value (AAV) surpass 20% of that year's cap ($75MM). Had they waited to sign the contract until next season, any increase in the salary cap would have also changed the maximum a player is allowed to earn.
With a new deal on the books, the Oilers will turn their attention to Leon Draisaitl's next contract which must be resolved this summer. The second superstar on the club, Draisaitl is coming off a 77-point season and could easily get a contract that pushes their combined cap hit over $20MM. That's a hefty price to pay, but not all that different than the scenarios in Chicago and Pittsburgh, where Jonathan Toews and Patrick Kane earn $21MM per season, while Sidney Crosby and Evgeni Malkin combine for $18.3MM.
That big number locked up into two players is hard to work with, but not impossible. As Elliotte Friedman of Sportsnet wrote when the deal was first reported:
You can win with two huge deals. I will bet on McDavid and Draisaitl being the right players. Growth is the key. If the cap rises, Edmonton rises with it.
While a raising cap is not guaranteed by any means, the Oilers couldn't afford to sign McDavid to anything less or shorter and risk that he'd hit free agency earlier. This deal will buy out four UFA seasons from age 25-28, years which likely would have earned him a max contract if his career continues the way it has so far. In two years, McDavid has recorded 148 points in 127 games, won the Art Ross, Hart, and Ted Lindsay trophies and led the Oilers back to the playoffs for the first time in more than a decade.
With one year left on his entry-level deal, the Oilers are hoping to compete for the Stanley Cup once again before both contracts kick in, but have already started to feel the pinch. They dealt Jordan Eberle to the New York Islanders, and bought out Benoit Pouliot to clear some room. That kind of thing will continue, but with McDavid leading the way they'll always be a dangerous team to play.
This deal will have ramifications across the league, with players like Auston Matthews and Jack Eichel surely taking note of it's length and salary. Though it's unlikely any of the other young players in the league will match McDavid's impact in his first few years, it will certainly be a mark for those who come anywhere close. It's certainly not inconceivable for Matthews in particular to have more points through his first two years, after McDavid lost half his rookie year to injury.
Photo courtesy of USA Today Sports Images