The Edmonton Oilers have locked up Leon Draisaitl for eight years and $68MM. The contract comes with an average annual salary of $8.5MM, and will keep the star forward under contract through the 2024-25 season. The contract makes Draisaitl one of the highest paid players in the league, coming in tied for the 10th-highest cap hit in the league next season.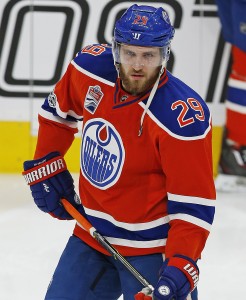 Amazingly, starting in the 2018-19 season Draisaitl and Connor McDavid will tie for the most expensive duo in the NHL, equalling the $21MM paid to Jonathan Toews and Patrick Kane. That is despite both of them only just completing their entry-level contracts, and giving away no more than four years of unrestricted free agency. It's clear that both are superstar talents in the league, but these contracts will put Edmonton in a very top-heavy salary structure going forward, and will need performance from young or cheap players to fill in the gaps.
Draisaitl put up 77 points in his third season, playing quite a bit on McDavid's wing and showing off his all-around offensive game. In the playoffs he took it to another level, leading the club with 16 points in just 13 games. Though he played on the wing he also does have the ability to line up at center should the Oilers decide to spread out their offense, and could potentially carry a line all by himself. He's graded out as below average on faceoffs so far in his career, though young players often struggle in that area.
The Oilers already traded Jordan Eberle earlier this offseason to clear out some salary room, and they could easily be forced into that once again in the next few seasons. With players like Milan Lucic, Andrej Sekera and Kris Russell taking up a good chunk of their cap space as they head into their thirties, the team could find itself with little room to re-sign their other young players. Ryan Strome—the return for Eberle—is a restricted free agent himself next summer, along with several others like Matt Benning and Darnell Nurse. The Oilers have more than $60MM already on the books for 2018-19, with only 13 players under contract.
Interestingly, Draisaitl's contract should have ramifications over just the next few weeks as the Boston Bruins and Columbus Blue Jackets attempt to get their own young players under contract. David Pastrnak especially is comparable to Draisaitl after seeing a big jump in point production in his third season. Pastrnak doesn't have the same positional flexibility as he's solely a winger, but has an identical 0.72 points-per-game rate through the early part of his career and has actually done it in much less icetime. The Bruins have just over $10MM in cap space to sign Pastrnak, but it will be interesting to see if they give him that much more than the other big-name forwards on the club. Brad Marchand will be earning just $6.125MM in the first year of his own eight-year extension, and was a Hart Trophy candidate last season.
Back with Edmonton, the team will have Draisaitl under control through his age-29 season (he'll turn 22 on October 27th of this year) before having to renegotiate a new deal. While that's still a long way down the road, signing an eight-year deal now puts him in a prime spot to maximize his potential earning down the road.
Photo courtesy of USA Today Sports Images