Navigating the salary cap is one of the more important tasks for any GM. Teams that can avert total cap chaos by walking the tightrope of inking players to deals that match their value (or compensate for future value without breaking the bank) remain successful. Those that don't see struggles and front office changes.
PHR will look at every NHL team and give a thorough look at their cap situation heading into the 2019-20 season. This will focus more on those players who are integral parts of the roster versus those who may find themselves shuttling between the AHL and NHL. All cap figures are courtesy of CapFriendly.
Montreal Canadiens
Current Cap Hit: $78,318,809 (under the $81.5MM Upper Limit)
Entry-Level Contracts
D Cale Fleury (two years, $772K)
F Jesperi Kotkaniemi (two years, $925K)
F Victor Mete (one year, $748K)
F Ryan Poehling (two years, $925K)
F Nick Suzuki (three years, $863K)
Potential Bonuses
Fleury: $132.5K
Kotkaniemi: $2.5MM
Suzuki: $425K
Kotkaniemi surprised many by landing a full-time spot on Montreal's roster last season where he acquitted himself rather well even if the offensive numbers didn't jump off the page.  If he continues his upward trajectory, he's someone that the Canadiens will likely look to sign to a long-term extension next summer at a rate that would have to be comparable to some of the notable post-ELC players that have signed as of late in order to get him to sign.  Poehling made quite the first impression in the final game of last season and is believed to largely be NHL-ready though Montreal's depth up front means he may have to start in the minors.  If that happens, an early extension next summer is probably off the table.  Suzuki, a 2017 first-rounder, has played himself into the mix for a roster spot but it's too early to forecast what his next deal might look like.
Mete has largely held his own defensively since surprisingly making it to the NHL at 19 and he has become an important part of their back end.  However, his lack of offensive production will wind up limiting his earning potential on his second contract.  Unless the Canadiens overpay with the hope that he will add that element to his game, his next deal could wind up being a bridge.  Fleury wouldn't have been mentioned had this been written a couple of weeks ago but head coach Claude Julien recently pegged him as pretty much NHL-ready so clearly, he's in the mix for a roster spot as well.  That said, his role would be minimal which wouldn't lend itself towards a long-term deal two years from now.
One Year Remaining, Non-Entry-Level
F Nick Cousins ($1MM, RFA)
F Max Domi ($3.15MM, RFA)
D Christian Folin ($800K, UFA)
F Charles Hudon ($800K, RFA)
G Keith Kinkaid ($1.75MM, UFA)
F Matthew Peca ($1.3MM, UFA)
F Nate Thompson ($1MM, UFA)
F Dale Weise ($2.35MM, UFA)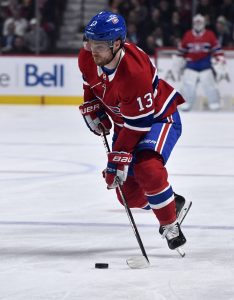 Domi's situation is one of the more interesting ones for Montreal.  He's coming off of a much-improved 2018-19 campaign that saw him post career highs across the board while doing so as a full-time center for the first time.  Those will certainly help his negotiating leverage but at the same time, there are understandably questions about whether this level of performance can be sustained based on how he performed with Arizona.  GM Marc Bergevin admitted that they had started talks regarding an extension but given the sizable difference in performance over the last two years, the more prudent move is to wait.  A repeat performance from last season could vault him past the $7MM mark pretty quickly though.
Weise was part of a midseason trade last year where the principal pieces were players on bad contracts with the hopes a change of scenery would do them some good.  That didn't really happen as he's now on waivers, he's likely to be in the minors which means that more than half his cap hit will still remain on the books.  Peca had a lot of interest two summers ago which helped land him this deal but he's also on waivers and unless he's claimed and succeeds elsewhere, he'll be looking at a reduced price tag next offseason.  Thompson took a pay cut to remain with Montreal in a depth role and as a faceoff specialist, he could land another deal like this one a year from now.  Cousins is coming off of a decent season in Arizona but was non-tendered which was likely because of his arbitration eligibility.  A similar showing from him could yield a similar fate but either way, he should be able to get a bit more than this next time around.  Hudon went from being a regular two years ago to a frequent scratch and this deal represents somewhat of a last chance opportunity.  A rebound could give him some leverage (especially with arbitration eligibility) but if he falters, a non-tender is likely.
Folin was also brought in along with Weise last season to serve in a depth role and he'll potentially be in that capacity again this season.  He has been signing these types of contracts for a few years now and unless he becomes a full-timer on Montreal's back end, that's likely to continue.
Two years ago, Kinkaid looked like one of the top backups in the league that could be a candidate for a starting role somewhere.  Last season, he struggled mightily and then spent the last two months as a permanent healthy scratch which resulted in a smaller market this past summer.  A rebound from him would make him one of the better backups available at a time where quality backups are getting a fair bit more than his current deal.
Two Years Remaining
F Joel Armia ($2.6MM, UFA)
F Phillip Danault ($3.083MM, UFA)
F Brendan Gallagher ($3.75MM, UFA)
F Artturi Lehkonen ($2.4MM, RFA)
D Jeff Petry ($5.5MM, UFA)
D Mike Reilly ($1.5MM, UFA)
F Tomas Tatar ($4.8MM, UFA*)
F Jordan Weal ($1.4MM, UFA)
* – Vegas is retaining an additional $500K of Tatar's salary
Tatar's contract seemed reasonable in Detroit but after he went to Vegas, it looked like an overpayment.  That's why the Golden Knights had to retain to move him and now after setting a career-high in points last season, it seems reasonable again.  If he can stay around the 50-point mark, he should be able to land a contract around what he's currently getting.  The same can't be said for Gallagher.  After two straight 30-goal campaigns, he's now on one of the better value contracts in the league and will be looking at a big raise two years from now.  Danault is coming off of a career season that saw him garner a bit of Selke support as well.  Knowing the market for centers is often a high-demand and low-supply one, he looks poised to cash in.
Armia battled injuries last season which ultimately resulted in another short-term deal that takes him to free agency.  He has shown some flashes of his offensive upside going back to his time with Winnipeg but hasn't put it together enough to land some long-term security.  Lehkonen has had several stretches where his offense has dried up which resulted in a bridge contract.  He'll need to produce more consistently to reach that next tier in terms of money.  Weal struggled with Arizona and Philadelphia but made an immediate impact with Montreal which earned him a two-year deal shortly after the season ended, albeit at a pay cut.  Even if he doesn't lock down a top-six role, producing with more consistency could have him in line for a raise in 2021.
Petry was asked to take on a bigger workload last season and he held his own.  While he'll be 33 two summers from now, it's quite possible that he can garner a bit of a raise and another fairly long-term contract.  Reilly lost his spot in the lineup down the stretch but still landed a decent pay bump in the summer.  To get anything more than that though, he'll need to lock down a full-time spot on the back end.
Three Years Remaining
D Karl Alzner ($4.625MM, UFA)
D Ben Chiarot ($3.5MM, UFA)
D Brett Kulak ($1.85MM, UFA)
Alzner's contract has not worked out well at all.  He spent most of last season in the minors and is back on waivers now where he appears to be destined to be back in the minors.  If Montreal runs into a situation where they need to free up cap room in the summer, he has to be considered as a buyout candidate.  Chiarot was brought in on what seems like a pricey deal on the surface but he's coming off the best year of his career in Winnipeg.  He'll need to hold down a top-four role to justify that price tag or to position himself for a similar one on his next deal.  Kulak cleared waivers early last year when with Calgary but quickly worked himself into a regular role in Montreal which earned him some security for the first time.
Four Or More Years Remaining
F Paul Byron ($3.4MM through 2022-23)
F Jonathan Drouin ($5.5MM through 2022-23)
G Carey Price ($10.5MM through 2025-26)
D Shea Weber ($7.857MM through 2025-26)
Drouin has come up in recent trade speculation following a rough finish to last season and a sluggish start in the postseason.  He has played like a quality top-six forward at times but has also struggled mightily at others.  The Canadiens would be selling low if they moved him now though.  Byron has been one of the better waiver claims around the league in recent years as he has established himself as a quality secondary scorer.  Maintaining his speed will go a long way towards ensuring he provides some sort of value over the length of his deal.
Weber's contract is one of the back-diving ones that is now outlawed in the CBA and subject to cap recapture though that could be affecting Nashville down the road and not the Canadiens.  Weber is still logging number one minutes which makes the price tag reasonable but as he ages, the final few seasons could certainly be more troublesome.
Price's contract remains the richest in league history after Sergei Bobrovsky checked in a little below that this summer.  He's no doubt a franchise netminder but he has had injury issues in two of the last four seasons and at 32 already, it's unlikely that he'll be able to handle a top workload throughout the life of the deal.
Buyouts
G Steve Mason ($1.367MM in 2019-20)
Retained Salary Transactions
None
Still To Sign
None
Best Value: Gallagher
Worst Value: Alzner
Looking Ahead
The Canadiens are well-positioned when it comes to the cap for the next couple of seasons after failing to land an impact player in free agency over the summer.  In the short term, that will make them a team to watch for if teams need to move out salary at some point during the season.
Montreal appears to be positioning themselves for a big roster shakeup in the 2021 summer.  Kotkaniemi's next deal will be sizable while several of their pending UFAs will be in line for raises as well and they'll be hard-pressed to keep them all.  Clearly, they're banking on some of their prospects emerging by that time but it certainly appears as if they'll look a fair bit different two years from now.
Photo courtesy of USA Today Sports Images.