Navigating the salary cap is one of the more important tasks for any GM. Teams that can avert total cap chaos by walking the tightrope of inking players to deals that match their value (or compensate for future value without breaking the bank) remain successful. Those that don't see struggles and front office changes.
PHR will look at every NHL team and give a thorough look at their cap situation heading into the 2019-20 season. This will focus more on those players who are integral parts of the roster versus those who may find themselves shuttling between the AHL and NHL. All cap figures are courtesy of CapFriendly.
Buffalo Sabres
Current Cap Hit: $82,559,524 (over the $81.5MM Upper Limit)
Entry-Level Contracts
D Rasmus Dahlin (two years, $925K)
F Casey Mittelstadt (one year, $925K)
F Tage Thompson (one year, $925K)
Potential Bonuses
Dahlin: $2.85MM
Mittelstadt: $850K
Thompson: $425K
Mittelstadt burned the first year of his entry-level deal at the end of 2017-18 so his first full year was last season and there were some rocky moments along the way.  While he was able to hold down a regular role on the third line most nights, his offense was sporadic.  There is still plenty of upside but barring a breakout year offensively, a short-term contract should be in the cards a year from now.  Thompson, one of the key pieces in the Ryan O'Reilly trade, didn't have a great first season with Buffalo.  He'll be asked to play a bottom-six role once again which won't help his negotiating leverage so he'll also be looking at a bridge deal.
Dahlin, the top pick in 2018, had a strong rookie season and it's believed that the best is yet to come.  While the post-ELC market for defensemen isn't as robust as it has been for forwards in recent years, there's a good chance that Dahlin could change that.  If he progresses as anticipated, he should surpass Aaron Ekblad's $7.5MM AAV by a considerable margin.
One Year Remaining, Non-Entry-Level
D Zach Bogosian ($5.143MM, UFA)
F Zemgus Girgensons ($1.6MM, UFA)
D Matt Hunwick ($2.25MM, UFA)
F Johan Larsson ($1.55MM, UFA)
D Brandon Montour ($3.388MM, RFA)
D Casey Nelson ($812K, UFA)
F Sam Reinhart ($3.65MM, RFA)
F Evan Rodrigues ($2MM, RFA)
D Marco Scandella ($4MM, UFA)
F Conor Sheary ($3MM, UFA)
F Vladimir Sobotka ($3.5MM, UFA)
G Linus Ullmark ($1.325MM, RFA)
F Jimmy Vesey ($2.275MM, UFA)
It's pretty easy to see what GM Jason Botterill's plan is here.  There are plenty of veterans coming off the books and they'll keep the ones they want to and will spend on replacements for the rest.
Reinhart is the most notable of this bunch by a considerable margin.  He signed a bridge contract after not really taking much a step forward over his first few seasons.  However, he took a big step in that direction last season, reaching 65 points.  A repeat performance would push him into the $6.5MM or more range a year from now.  Rodrigues received his deal through salary arbitration and assuming he can crack the 30-point mark in 2019-20, he could be closer to $3MM next summer.
Among the pending UFAs, Sobotka had a tough year with the Sabres and will play a sparing role at most this season.  Barring a sudden return to form, he'll be closer to the $1MM mark on his next deal.  Sheary held his own away from Pittsburgh and was back around his usual point total.  Players like that (middle class) have been squeezed out in free agency in recent years though so while it's possible that he could earn himself a small raise, he could also be forced into a short-term lesser deal as well.  Vesey has been relatively consistent over his first three NHL seasons.  At times, he can hold his own in the top six and in others, he looks out of place.  I think a small raise is a possibility but nothing substantial.  Girgensons has been pretty consistent the last four years but that's not necessarily a good thing.  He's a capable checker but his offensive game has yet to emerge.  Instead of being a part of their long-term plans like they envisioned when they picked him in the first round, he's someone that's going to be struggling to get a multi-year deal a year from now.  Larsson looked like a player on the rise a couple years back but has basically been a depth piece so matching his current deal could be difficult.
Montour wound up having to take a bridge contract with Anaheim in part due to their salary cap situation at the time.  That means that he'll be a good bargain this season but he's in line for a big raise.  The Sabres clearly envision him as a key part of their future given that they parted with a first-rounder to get him and a deal in the $6MM range is likely.
Bogosian's contract has been an ugly one for a while.  He has had issues staying healthy in recent years and his effectiveness has waned as well.   He should be able to secure another contract but it will be at a fraction of this one.  Scandella was a quality shutdown defender in Minnesota but has been more of a third pairing depth option with the Sabres.  Players like him have seen their role diminish in recent years so he'll also be hard-pressed to get close to this price tag a year from now.  Nelson is a serviceable injury replacement and could hold down a seventh or eighth role to allow some prospects (such as Henri Jokiharju) to get some more AHL seasoning.  Players like that are basically signing for the league minimum now so a small dip in pay is certainly a possibility for him.  Hunwick has already been ruled out for the year and will be on LTIR while his playing future is in question.
Ullmark's first full-time season in Buffalo didn't go as well as anyone had hoped.  There were a few games where he stood out in a strong way but statistically speaking, he was a below-average backup.  That's why he wound up with this one-year deal that will go a long way towards determining if he's part of the long-term future or not.
Two Years Remaining
G Carter Hutton ($2.75MM, UFA)
F Marcus Johansson ($4.5MM, UFA)
D Jake McCabe ($2.85MM, UFA)
Johansson had a strong showing in the postseason with Boston which certainly boosted his market heading into free agency.  However, his injury history likely played a big role in him only being able to get a short-term deal.  If he can stay in the lineup, he'll have a chance to beat this contract two years from now when he'll still only be 30.
McCabe has also battled injury issues the last couple of years which hurt his negotiating leverage somewhat.  As a result, he wound up settling for what amounts to a second bridge deal.  McCabe has shown an ability to play on the second pairing in the past and if that carries over during this deal, he'll be well-positioned to cash in on the open market.
Not surprisingly, Hutton wasn't able to match his league-leading numbers from the year before when he was with St. Louis.  He got into a career-best 50 games but faded as the season went on.  He'll be 35 two years from now which could have him looking at going year-to-year for the rest of his career.
Three Years Remaining
D Colin Miller ($3.875MM, UFA)
D Rasmus Ristolainen ($5.4MM, UFA)
Ristolainen has been involved in trade speculation for a while, especially after the recent acquisitions of Montour and Miller.  He has struggled at times in the number one role in Buffalo but as a quality offensive threat that can log big minutes, his contract is still quite reasonable but as of yet, there hasn't been a good enough offer to get him.  Miller was a cap casualty in Vegas and now goes to Buffalo where he's likely to slot in on their third pairing.  That's great for the Sabres from a depth perspective but it won't help his value for his next deal though lots can change before he's eligible to sign his next contract.
Four Or More Years Remaining
F Jack Eichel ($10MM through 2025-26)
F Kyle Okposo ($6MM through 2022-23)
F Jeff Skinner ($9MM through 2026-27)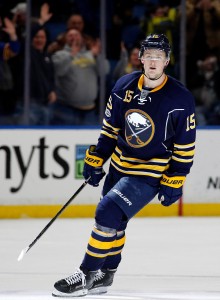 Many top draft picks have signed long-term, big-money contracts in recent years.  Eichel was among that group although his deal was a bit more puzzling at the time considering he hadn't cracked the 60-point plateau.  Clearly, Botterill was expecting a big improvement and that he'd be able to become a legitimate top line center.  It took until his fourth year to do so but Eichel picked up his production to a front line level a year ago.  With the escalating price tag for top players, this deal shouldn't wind up as a significant overpayment in the grand scheme of things but it's not going to be classified as a bargain anytime soon either.
Skinner got off to a tremendous start last season and he wound up with his first career 40-goal season to show for it.  However, most of that production came in the first half of the season so there is certainly some risk here.  If he reverts back to his early-season form, this will be an okay contract but if that doesn't happen, this could become a problem fairly quickly.  Okposo's contract certainly has been a problem as he has produced like a third liner and there isn't much optimism that he can have a big improvement.  The structure of the contract means that a buyout isn't a great option either.
Buyouts
D Christian Ehrhoff ($857K through 2027-28, cap-exempt as a post-CBA compliance buyout)
F Cody Hodgson ($792K through 2022-23)
F Ville Leino ($1.222MM in 2019-20, cap-exempt as a post-CBA compliance buyout)
Retained Salary Transactions
None
Still To Sign
None
Best Value: Montour
Worst Value: Okposo
Looking Ahead
Yes, there is short-term pain on the horizon (though Hunwick's LTIR gives them some wiggle room) but there is light at the end of the tunnel.  With the number of expiring contracts on the books, Botterill will have the opportunity to pick and choose who he wants to keep and then reshape the roster from there with a pretty clean slate all things considered.  As far as their long-term cap situation goes, they're in pretty good shape once they get through the upcoming season.
Photo courtesy of USA Today Sports Images.