Navigating the salary cap is one of the more important tasks for any GM. Teams that can avert total cap chaos by walking the tightrope of inking players to deals that match their value (or compensate for future value without breaking the bank) remain successful. Those that don't see struggles and front office changes.
PHR will look at every NHL team and give a thorough look at their cap situation heading into the 2019-20 season. This will focus more on those players who are integral parts of the roster versus those who may find themselves shuttling between the AHL and NHL. All cap figures are courtesy of CapFriendly.
Florida Panthers
Current Cap Hit: $80,718,669 (under the $81.5MM Upper Limit)
Entry-Level Contracts
F Henrik Borgstrom (one year, $925K)
Potential Bonuses
Borgstrom: $850K
Borgstrom's first full professional season had some ups and downs.  While he was quite productive in the minors, it didn't translate to much success in the NHL.  He's still likely to have a somewhat limited role for the upcoming season and will have even less leverage than most RFAs coming off entry-level deals as he won't be eligible for an offer sheet.  Unless he lights it up this season, a short-term contract will be likely for him.
One Year Remaining, Non-Entry-Level
D Josh Brown ($675K, RFA)
F Evgenii Dadonov ($4MM, UFA)
F Jayce Hawryluk ($874K, RFA)
F Mike Hoffman ($5.188MM, UFA)
F Denis Malgin ($750K, RFA)
D Ian McCoshen ($700K, RFA)
G Samuel Montembeault ($709K, RFA)
D Mark Pysyk ($2.733MM, UFA)
D MacKenzie Weegar ($1.6MM, RFA)
Hoffman made a significant impact after being acquired from San Jose (which is technically true as he was a Shark for all of about two hours).  He led the team in goals with 36 and was an elite threat on the power play where he tallied 17 of those.  Those are elements that will excite a lot of teams if he gets to free agency where he could command a six-year deal or longer at more than $7MM per season.  Dadonov's deal was a risky one given his lack of success in his first NHL stint but it has proven to be quite the bargain as he has picked up 135 points over the first two seasons.  As he's more of a playmaker than a scorer, he shouldn't land as rich of a deal as Hoffman will but he's still looking at a significant raise on a long-term contract.  Hawryluk and Malgin both saw time in the minors last season but are waiver-eligible this time around which should help secure them a full-time spot.  Despite that, both should have limited roles which means that they should be looking at one-year deals at or near their qualifying offers next summer.
Pysyk was acquired in 2016 with the hopes that he could become a top-four defender.  He has held down that role at times but is better suited as a third-pairing option that can move up when injuries arise.  Between that and a general lack of offense, he shouldn't be able to garner too much of a raise on the open market.  Weegar has carved out a regular role on the third pairing but while he'll have arbitration eligibility next summer, he'll also need a lot more production (or will need to lock down a top-four spot) to get a significant raise.  McCoshen and Brown will be battling for spot minutes and are waiver-eligible which means a trip to the minors isn't likely.  However, they'll need to take on a full-time spot in order to get anything notable beyond their qualifying offers.
Montembeault is currently slotted to be the backup but it's possible that the team looks to the waiver wire before the preseason is over as well.  If he's with the big club, he should be able to surpass the $1MM mark a year from now but with who their new starter is, playing time will be limited.
Two Years Remaining
F Colton Sceviour ($1.2MM, UFA)
Sceviour was retained to provide some offense from the bottom six but injuries didn't help his cause last season.  He's likely to be no more than a depth player over the final two years so he won't be looking at much of a raise in 2021.
Three Years Remaining
F Noel Acciari ($1.667MM, UFA)
F Aleksander Barkov ($5.9MM, UFA)
D Anton Stralman ($5.5MM, UFA)
F Vincent Trocheck ($4.75MM, UFA)
F Frank Vatrano ($2.533MM, UFA)
Barkov has emerged as one of the top centers in the league and is making what a lot of second liners are starting to get.  Forget a small raise, it's possible that with a higher cap in three years' time, Barkov could be pushing to double his current price tag.  Trocheck is coming off an injury-riddled season but prior to that had established himself as a strong second line pivot.  If he continues his progression, there may very well be teams that want to take a run at making him a number one center which would have him in line for a significant pay increase as well.  Vatrano had a breakout year as a reliable secondary scorer but it was his first time scoring at that rate.  Maintaining that level of production would make him a lot more attractive on the open market where his price tag could jump past the $4MM mark.  Acciari was brought in to give them a stronger fourth line and while some teams are opting for cheaper depth options, a good showing with his new team would help his case towards another multi-year deal.  However, given what Barkov and Trocheck are going to cost, that deal may not come with Florida.
Stralman is another player who battled injuries a year ago although it didn't stop him from getting one of the more surprising deals of the summer.  He's being asked to stabilize the defense but even if he does that, it's hard to see him getting close to that at the age of 36.
Four Or More Years Remaining
G Sergei Bobrovsky ($10MM through 2025-26)
F Brett Connolly ($3.5MM through 2022-23)
D Aaron Ekblad ($7.5MM through 2025-26)
F Jonathan Huberdeau ($5.9MM through 2022-23)
D Keith Yandle ($6.35MM through 2022-23)
Huberdeau hasn't gotten the attention that Barkov has but he has blossomed into a quality top liner and is coming off a year where he blew past his previous career high in points by 23.  That makes it tough to peg his future value.  If he stays near the 90-point mark, something along the lines of Artemi Panarin's contract could be possible.  But if he goes back to the 60-70 point range, that should put him more in the $7.5MM range.  Connolly had a strong year in Washington and got the long-term security he had been coveting.  He'll hold a similar role with the Panthers this season with a chance to move up depending on what happens with Hoffman and Dadonov a year from now which would really affect his market value.
Ekblad's deal was a record-breaker at the time (only to be broken this week) but he hasn't quite lived up to it offensively just yet.  He's still only 23 though and there's still lots of time for him to improve.  Yandle remains one of the top offensive threats from the back end in the league although he will likely start to drop off at that end in the coming years.  If that happens, it could be a bit of an anchor deal in the final year.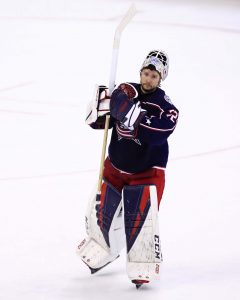 Bobrovsky signed the biggest contract for a goalie on the open market in league history.  (Carey Price has a higher cap hit but signed before testing the market.)  He's coming off an up-and-down season that saw him post a save percentage during the regular season that was basically just league average.  However, he was much better in the postseason and played a key role in their surprising upset over Tampa Bay.  However, he's now 31 and has seven years on his deal so while he should provide them with a significant improvement over their goaltending the last couple of seasons, the last few years may not be particularly pretty.  But by then, their top goalie prospect in Spencer Knight should be NHL-ready.
Buyouts
G Scott Darling ($1.233MM in 2019-20, $2.333MM in 2020-21, $1.183MM in 2021-22 and 2022-23)
Retained Salary Transactions
D Jason Demers ($562.5K through 2020-21)
Salary Cap Recapture
G Roberto Luongo ($1.094MM through 2021-22)
Still To Sign
None
Best Value: Barkov
Worst Value: Bobrovsky
Looking Ahead
The Panthers haven't been known as a high-spending team but that's going to change in a hurry as this level of spending is going to need to be maintained to keep this core intact for the long haul.  They'll be hard-pressed to keep both Hoffman and Dadonov next summer while keeping Barkov and Trocheck three years from now will also be challenging.  Get used to seeing Florida near the top of the chart when it comes to spending around the league as they're going to be there for a while.
Photo courtesy of USA Today Sports Images.