Navigating the salary cap is one of the more important tasks for any GM. Teams that can avert total cap chaos by walking the tightrope of inking players to deals that match their value (or compensate for future value without breaking the bank) remain successful. Those that don't see struggles and front office changes.
PHR will look at every NHL team and give a thorough look at their cap situation heading into the 2019-20 season. This will focus more on those players who are integral parts of the roster versus those who may find themselves shuttling between the AHL and NHL. All cap figures are courtesy of CapFriendly.
Winnipeg Jets
Current Cap Hit: $66,049,164 (under the $81.5MM Upper Limit)
Entry-Level Contracts
D Sami Niku (one year, $775K)
F Jack Roslovic (one year, $894K)
F Kristian Vesalainen (three years, $894K)
Potential Bonuses
Niku: $60K
Roslovic: $212.5K
Roslovic has been a highly sought after trade commodity but thus far, GM Kevin Cheveldayoff hasn't shown any interest in moving him.  However, the Jets haven't given him a lot of ice time at the NHL level as he logged less than ten minutes a night last season despite being a regular.  That's going to really hurt his bargaining power next summer so a one-year deal is likely in the offing.  Vesalainen split last season between KHL Jokerit and the minors with only five games with the Jets.  There should be more of an opportunity to get into NHL action this season and it's worth noting that he can no longer trigger an assignment overseas.
Niku actually got into more game action with Winnipeg than AHL Manitoba last season though his impact with the Jets was relatively limited as he was deployed in a limited role.  With several departures on the back end though, he'll be counted on to play a much bigger role this season which should bode well for his next contract.  Like Roslovic though, he won't have enough of a track record to command a long-term pact.
One Year Remaining, Non-Entry-Level
D Nathan Beaulieu ($1MM, UFA)
G Laurent Brossoit ($1.225MM, UFA)
D Dmitry Kulikov ($4.33MM, UFA)
D Josh Morrissey ($3.15MM, RFA)
Kulikov's contract has been one that looked bad from the outset and has lived up to that initial interpretation.  They've been trying to move him for more than a year now to the point where it may have been a bit of a surprise that they didn't buy him out this summer.  His next deal, if there is a next one, is going to be in the $1MM range.  Morrissey, on the other hand, will be looking at a big raise.  With Jacob Trouba, Tyler Myers, and Ben Chiarot all gone and no one really brought in to replace them, Morrissey is going to be in line for a much bigger role.  If his offensive play continues to improve, he can easily double his current AAV.  Beaulieu took a big pay cut to stay with Winnipeg after being non-tendered but the move made some sense.  He'll have a shot to play a regular role on a good team which should give him an opportunity to rebuild some value.
Brossoit had quite the bounce-back season in 2018-19 as he went from being a minor leaguer to one of the better backups in the league.  However, given his limited track record (and desire to keep some funds freed up for his RFAs), Cheveldayoff only extended him for one year.  A repeat performance could bring Brossoit towards that higher tier of backups in the $2.5MM range which would probably price him out of Winnipeg.
Two Years Remaining
D Dustin Byfuglien ($7.6MM, UFA)
F Andrew Copp ($2.28MM, RFA)
F Adam Lowry ($2.916MM, UFA)
F Mathieu Perreault ($4.125MM, UFA)
D Neal Pionk ($3MM, RFA)
Perreault has been a nice depth option for the Jets, even if he is on the expensive side.  He can play all three forward positions and has produced when given opportunities in the top six.  However, he hasn't spent a lot of time there and as a result, is coming off his lowest output since the lockout-shortened season.  It's hard to imagine him getting a raise on his next deal although there should be considerable interest nonetheless.  Lowry has quietly become one of the more reliable centers at the faceoff dot while chipping in with plenty of hits and a reasonable amount of offense.  Players like this can still get paid a sizable sum and it wouldn't be surprising to see him get closer to $3.5MM on his next deal.  Copp received this deal through arbitration and narrowly misses out on being a UFA at its expiration by a week.  He has shuffled between the third and fourth line in his career but will need to spend more time on the third trio moving forward if he wants to be in line for a raise in his final trip through arbitration.
Byfuglien dealt with injury issues for the second year in a row which makes this contract a bit tougher to stomach.  He's still capable of logging heavy minutes and contributing offensively and with the departures they've had, it's quite possible they'll lean on him even more than they have been.  If he can stay healthy, they can still get a decent return on this deal in 2019-20 but he will have a hard time getting this much when he's 36 and on the open market.  Pionk is coming off an up-and-down season with the Rangers who included him as part of the Trouba trade.  He'll be asked to lock down a top-four spot with the Jets and if he can do that, he'll be well-positioned for a raise two years from now.
Three Years Remaining
None
Four Or More Years Remaining
F Nikolaj Ehlers ($6MM through 2024-25)
G Connor Hellebuyck ($6.167MM through 2023-24)
F Bryan Little $5.292MM through 2023-24)
F Mark Scheifele ($6.125MM through 2023-24)
F Blake Wheeler ($8.25MM through 2023-24)
Wheeler has flown somewhat under the radar considering he's fifth in the league in scoring over the past five seasons combined.  That earned him a jump in pay from his last deal and while there will be some concerns about his effectiveness at the end of the deal considering he'll be 38 by then, he'll still provide good value for a few more years.  Scheifele is now one of the better bargains in the league as a legitimate front line center that makes less than what some second liners are getting.  It will cost considerably more to sign him on his next deal.  Ehlers is coming off of a tough season that has had him in trade speculation at times.  After two straight seasons of 60 or more points, he should be given a chance to turn things around but if his offensive struggles continue, he could become a potential cap casualty.  Little has failed to reach 50 points for four straight seasons and Winnipeg has traded for rental upgrades at his spot on the second line for the last two years.  Between that and a no-move clause, he could become difficult to move if that trend continues.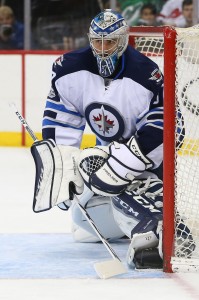 Hellebuyck signed his deal following a career year back in 2017-18, one that saw him finish second in Vezina Trophy voting.  At the time, it looked like a potential bargain with the going rate for high-end starters only going up.  However, he wound up posting the highest GAA of his career (2.90) while his save percentage dipped by 11 points down to .913.  Instead of being one of the better starters in the league, he was on the lower end of that scale last season.  One down season isn't going to change the outlook of his contract entirely but a repeat of that performance could have his deal trending towards being a negative for the Jets instead of a positive.
Buyouts
None
Retained Salary Transactions
None
Still To Sign
Laine had a fantastic month of November where he took the league by storm and scored 18 goals in just a dozen games.  He looked to be well on his way to another 40-plus goal season and a huge second contract.  However, he only had a dozen goals the rest of the season which has complicated things.  Not many players have the goal-scoring ability that he does but given the unpredictability based on last season, a bridge contract may be the more palatable option for both sides.
The same can't be said for Connor, whose second full NHL season was an improvement on his rookie year while he established himself as a capable top-line winger.  We took a closer look at his situation last month and his next deal is likely to be around $7MM based on some of the comparable contracts around the league.
Best Value: Scheifele
Worst Value: Kulikov
Looking Ahead
There's a glass half full and a glass half empty side to Winnipeg's cap situation.  On the plus side, even if both Laine and Connor sign long-term deals, the Jets are fairly well-positioned to absorb both contracts without too much concern.  On the negative side, it took them losing half their back end from last season in order to be able to do so.  Either way, they should be in okay shape for the upcoming season.
Looking beyond 2020, they're not in too bad of shape.  Morrissey's next deal is going to be big but Kulikov's money will be coming off the books and can shift to him instead.  Most of their core is locked up long-term (and even more could be depending on the deals Connor and Laine sign) so while they won't be big spenders on the open market any time soon, their days of having to cut contracts should be finished as well.
Photo courtesy of USA Today Sports Images.