Navigating the salary cap is one of the more important tasks for any GM. Teams that can avert total cap chaos by walking the tightrope of inking players to deals that match their value (or compensate for future value without breaking the bank) remain successful. Those that don't see struggles and front office changes.
PHR will look at every NHL team and give a thorough look at their cap situation heading into the 2019-20 season. This will focus more on those players who are integral parts of the roster versus those who may find themselves shuttling between the AHL and NHL. All cap figures are courtesy of CapFriendly.
Ottawa Senators
Current Cap Hit: $71,234,999 (under the $81.5MM Upper Limit)
Entry-Level Contracts
F Drake Batherson (two years, $737K)
F Logan Brown (two years, $863K)
D Thomas Chabot (one year, $863K)
D Christian Jaros (one year, $755K)
F Brady Tkachuk (two years, $925K)
Potential Bonuses
Batherson: $20K
Brown: $710K
Chabot: $360K
Tkachuk: $2.5MM
Tkachuk had a strong rookie campaign with 45 points while providing some size and physicality at the top of their lineup.  With their trade deadline moves from last season, it paved the way for Tkachuk to take on a bigger role.  He's likely to see some time on the top line this year and at this stage, his next contract could be similar to the one his brother signed, if not higher.  Brown had a good first pro campaign in the minors and will be looking to lock down an NHL role this season.  He's someone that will need to get some NHL time before assessing what his next contract could look like.  Batherson averaged over a point per game in the minors last year and didn't look out of place in his time with Ottawa and a full-time spot is on the horizon for him.  If his AHL production translates to the NHL, he could be in line for a nice second contract.
Chabot has quickly blossomed into a top pairing defender and has signed a new contract that will be covered later.  Jaros held down a depth role last season and figures to be in the mix for that same spot in 2019-20.  That should get him a bit of a raise next summer but stay-at-home defenders don't have a high earning upside.
One Year Remaining, Non-Entry-Level
G Craig Anderson ($4.75MM, UFA)
F Mikkel Boedker ($4MM, UFA)
F Mark Borowiecki ($1.2MM, UFA)
F Connor Brown ($2.1MM, RFA)
F Ryan Callahan ($5.8MM, UFA)
D Dylan DeMelo ($900K, UFA)
F Anthony Duclair ($1.65MM, RFA)
F Tyler Ennis ($800K, UFA)
D Ron Hainsey ($3.5MM, UFA)
F Clarke MacArthur ($4.65MM, UFA)
F Jean-Gabriel Pageau ($3.1MM, UFA)
F Chris Tierney ($2.938MM, RFA)
Boedker was brought last offseason as a salary offset as part of the Mike Hoffman trade but the change of scenery didn't help as he scored just seven goals last season.  He is looking at a sizable pay cut one year from now.  Pageau is coming off a tough year on the injury front but he has emerged as a quality third line center that can win draws, kill penalties, and score some timely goals.  That will make him highly coveted at the trade deadline and on the open market next summer where he should be in line for a bit of a raise.  Tierney made the most of his larger role in Ottawa to put up a career year in points.  A repeat performance would go a long way towards bolstering his arbitration case where a deal north of $4MM could be on the horizon.  Brown saw his production drop the last couple of years in Toronto but he'll have a chance to play a bigger role this season.  He'll need to become a bigger offensive threat if he wants to get top-six money.  Duclair fit in surprisingly well after being a late-season acquisition which earned him a nice raise a summer ago.  Even a repeat of his 2018-19 output (33 points in 74 games) would really help position himself for a multi-year deal and some job security.  Ennis should get a chance to have a bit bigger of a role than he did with Toronto but he's probably someone who will be signing this type of deal one year from now.  Callahan and MacArthur have already been ruled out for the year and will be retiring officially when their contract expires.  Insurance will cover the majority of their deals.
Hainsey was brought in to mentor some of their younger blueliners and figures to be a potential trade candidate by February.  At 38, it's hard to imagine he'll get a bigger contract than this one but if he can hold up around 20 minutes a night again, he should be able to land another decent deal next summer.  Borowiecki has been with the Sens for his entire career and if he's willing to accept a similar contract to this one to stay on their third pairing, he'll probably stick around.  DeMelo did pretty well with a bigger role than he had in San Jose and that should help position himself for a considerably higher payday next summer.
This may be the final year for Anderson who will be 39 by the time his contract expires.  If nothing else, he could be someone a team looks to acquire if one of their goalies gets injured for a lengthy period of time between now and the trade deadline.
Two Years Remaining
F Artem Anisimov ($4.55MM, UFA)
F Marian Gaborik ($4.875MM, UFA)
G Anders Nilsson ($2.6MM, UFA)
D Christian Wolanin ($900K, RFA)
Anisimov was brought in this summer to give Ottawa a bit more of an offensive threat down the middle while saving some money in salary paid at the same time.  However, he's not the player he was just a few years ago with Chicago so it's unlikely he'll be able to get a contract close to this on the open market.  Like Callahan and MacArthur, Gaborik isn't expected to play again and will be on IR for the next two years.
Wolanin will miss most of this season after undergoing shoulder surgery.  His deal converts to a one-way pact for 2020-21 and he should be able to land a full-time roster spot for that season.  However, if he's just in a depth role, he'll have a hard time commanding much more than his qualifying offer.
Nilsson struggled with Vancouver last year but did a bit better with the Senators after being acquired in a midseason swap.  He's expected to be in a platoon role with Anderson this year and if he does well enough to remain in a timeshare next season, a raise two years from now might not be out of the question.
Three Years Remaining
F Bobby Ryan ($7.25MM, UFA)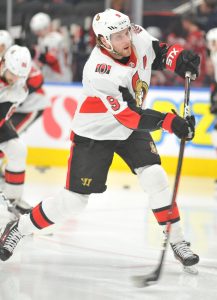 There was once a time that Ottawa believed that Ryan could be a centerpiece for their franchise for years to come after they signed him to this deal following one season with the team.  He had a couple of okay but underwhelming seasons thereafter before things went completely off the rails.  Ryan has battled injuries in two of the last three years while failing to score more than 15 goals in any of those, hardly the type of return they were looking for from someone making top line money.  Their cap space makes it unlikely that they'll need to buy him out but he's a player that they will try to give a fresh scenery to at some point over the next three years if they can find a taker for his cap hit.
Four Or More Years Remaining
D Thomas Chabot ($8MM through 2027-28, contract begins in 2020-21)
F Colin White ($4.75MM through 2024-25)
D Nikita Zaitsev ($4.5MM through 2023-24)
White's first full NHL season was a good one as he established himself as a legitimate top-six option for the foreseeable future.  That was enough to get GM Pierre Dorion to commit the largest contract that he had handed out…at least for a few weeks.
Chabot will soon be playing under the largest post-entry-level contract given to a defenseman in league history, surpassing Aaron Ekblad's $7.5MM AAV in Florida.  He thrived despite being thrown to the wolves on the top pairing and while the price tag may be a bit high at the beginning, it locks him up through the prime of his career and as their prospects develop to improve their depth, that should help him become that much better.  Zaitsev has not fared well in the first two years of this contract and he'll be counted on to play an even bigger role with Ottawa.  If he can improve, they'll get a decent return on this deal but if not, it could be a tough one to move out.
Buyouts
F Alexandre Burrows ($0 cap hit but they are paying out $833K in salary; the full cap hit was absorbed last season)
D Dion Phaneuf ($729K in 2019-20, $1.354MM in 2020-21, $354K in 2021-22 and 2022-23)
Retained Salary Transactions
None
Still To Sign
None
Best Value: Tierney
Worst Value: Ryan
Looking Ahead
The Senators have managed to get above the cap floor for the upcoming season which was the talking point heading into the summer but they're in no danger of surpassing the Upper Limit anytime soon.  They will have to spend a fair bit more before long though with Chabot's new deal plus Tkachuk's on the horizon.  Ottawa is very well-positioned in terms of flexibility with only a few long-term contracts on the books which bodes well for them if they decide to try to spend to add a core piece or two down the road.  That should give them some hope for the future even though the upcoming season may not be the most successful in the standings.
Photo courtesy of USA Today Sports Images.