Navigating the salary cap is one of the more important tasks for any GM. Teams that can avert total cap chaos by walking the tightrope of inking players to deals that match their value (or compensate for future value without breaking the bank) remain successful. Those that don't see struggles and front office changes.
PHR will look at every NHL team and give a thorough look at their cap situation heading into the 2019-20 season. This will focus more on those players who are integral parts of the roster versus those who may find themselves shuttling between the AHL and NHL. All cap figures are courtesy of CapFriendly.
St. Louis Blues
Current Cap Hit: $81,004,594 (under the $81.5MM Upper Limit)
Entry-Level Contracts
F Vince Dunn (one year, $723K)
F Robert Thomas (two years, $894K)
Potential Bonuses
Dunn: $57.5K
Thomas: $425K
Thomas wasn't asked to take on a big workload in his rookie year but he still did relatively well offensively before tailing off in that regard a little bit in the playoffs.  He's likely to be a fixture in their top six in the long term but may spend a good chunk of the upcoming season on the third line which would seemingly take an early extension off the table.
Dunn's sophomore campaign fell under the radar somewhat but he certainly had an impressive year, particularly at the offensive end where he fell just shy of the team lead in several categories.  While his minutes have somewhat been sheltered thus far, he's already looking at a notable second contract and if his usage grows this season, he could move into that higher-end tier in a hurry.
One Year Remaining, Non-Entry-Level
F Sammy Blais ($850K, RFA)
D Jay Bouwmeester ($3.25MM, UFA)
D Joel Edmundson ($3.1MM, UFA)
F Robby Fabbri ($900K, RFA)
D Alex Pietrangelo ($6.5MM, UFA)
F Brayden Schenn ($5.125MM, UFA)
Potential Bonuses
Bouwmeester: $250K (based on regular season games played and playoff success)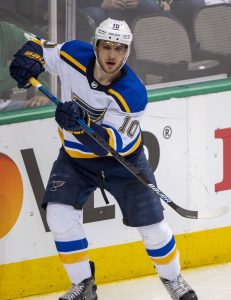 I think Schenn is going to be a very interesting case for GM Doug Armstrong.  On the one hand, he's a safe bet to reach 50-plus points (more when he's really going) and as a center, that's an important piece to have.  On the other hand, his role is eventually pegged to be filled by Thomas though that's still probably a few years away.  With limited flexibility next summer (and a lot of players to re-sign), does Schenn get deemed a luxury that they can no longer afford?  His next deal should surpass the $7MM mark (and more if he rebounds to his 2017-18 numbers).  But it's hard to let a top-six center in the prime of his career potentially walk for nothing.  They've moved a pending UFA pivot recently – will they do so again?  If they're in the middle of the pack near the trade deadline, they just might.
Fabbri has had huge issues staying healthy and last year was no exception which resulted in him taking a small pay cut this offseason over getting a raise with a qualifying offer.  That's telling as it means that if the asking price was much higher, he likely would have been non-tendered.  If he can't stay healthy and lock down a regular spot in the lineup, that will probably the outcome a year from now.  Blais split last season between the NHL and AHL but suited up quite a bit in the postseason and could lock down a regular spot this season.  Even so, it will be in a fourth line role which means his next contract shouldn't be too much higher than this one.
Pietrangelo is poised to get a significant raise next summer.  While he's not in that top echelon around the $11MM mark, he's still a quality top pairing blueliner and as he turns 30 next month, a max-term contract isn't out of the question either.  Something in the $9MM range is a legitimate possibility.  Bouwmeester took a cut in pay to stick around after having a strong second half last season.  He's going to be going year-to-year at this stage of his career and given that he's going to fill more of a supporting role than a core one, it's hard to imagine him getting more a year from now.  Edmundson is coming off a tough season that saw him scratched at times.  Depending on what happens with their other UFAs and Dunn's contract, he could wind up having to move on.  If he can get back to being a 20-plus minute player, something around $4.5MM will be a realistic target for his next deal.
Two Years Remaining
G Jake Allen ($4.35MM, UFA)
G Jordan Binnington ($4.4MM, UFA)
F Ivan Barbashev ($1.475MM, RFA)
F Tyler Bozak ($5MM, UFA)
D Carl Gunnarsson ($1.75MM, UFA)
F Zach Sanford ($1.5MM, RFA)
F Jaden Schwartz ($5.35MM, UFA)
F Alex Steen ($5.75MM, UFA)
Steen's deal was a good one for a time when he was a strong two-way presence on their top line.  However, his usefulness and role have diminished to the point where some have wondered if he'd be bought out.  He has a full no-trade clause which could complicate things if the Blues tried to trade him with some salary retention.  Schwartz has been hit or miss during this contract.  At times, he has played quite well (he averaged close to a point per game in 2017-18) but has also struggled at others and has had injury concerns throughout his career.  He's a capable top-six winger when healthy and his ability to stay in the lineup will go a long way towards dictating his next deal.  Bozak didn't light the lamp in his first year in St. Louis but acquitted himself relatively well.  He'll continue to serve as quality depth down the middle though if Schenn re-signs for next season, Bozak could become a corresponding cap casualty.  Sanford spent most of the season with the Blues which earned him a decent raise but he'll need to move up the depth chart if he wants another contract two years from now.  Curiously, Barbashev wound up getting less than Sanford despite playing a bigger role last season.  It's possible that he'll see some third line time before this deal is up which should have him in line for a raise of $1MM or so in 2021.
Gunnarsson has battled injuries of his own in recent years which resulted in him taking a sizable pay cut to stick around.  He'll serve as a depth option which doesn't bode well for him recovering some of that money in two years' time.
Binnington's rise from a minor leaguer to a catalyst in their Stanley Cup run has been well-chronicled.  However, given the fact that he still has a limited track record, he opted to take what amounts to a bridge contract.  It's no coincidence that he checks in just ahead of Allen who has struggled at times in the number one role over the last couple of seasons.  It's also no coincidence that the deals expire at the same time, giving Armstrong some time to further evaluate each netminder and assess which one, if either, is worth building around down the road.  A platoon situation is certainly a possibility which won't help the bargaining power for either of them.
Three Years Remaining
D Robert Bortuzzo ($1.375MM, UFA)
D Colton Parayko ($5.5MM, UFA)
F David Perron ($4MM, UFA)
Perron's return to St. Louis was a largely-successful one as he finished fourth on the team despite missing 24 games due to a concussion.  If they can get anywhere close to that type of production over the next few years, this will wind up being a significant bargain.
Parayko hasn't really emerged into the top offensive threat that he has shown flashes of becoming but he is a core part of their back end.  As he'll be hitting the open market at 29, a long-term contract of six years or more is quite likely and if his offensive game comes around over the next few years, he'll be looking at a big raise as well.  Bortuzzo is another depth player and shouldn't be looking at much of a raise three years from now as long as he stays in that slot on their depth chart.
Four Or More Years Remaining
F Ryan O'Reilly ($7.5MM through 2022-23)
F Oskar Sundqvist ($2.75MM through 2022-23)
F Vladimir Tarasenko ($7.5MM through 2022-23)
Tarasenko has been consistently streaky throughout his career but continues to put up relatively consistent numbers overall, ranging from 66-75 points over the last five seasons.  That's top line production so while it's not a huge bargain, they've been getting a decent return for their commitment.  O'Reilly was their big offseason acquisition a year ago and he responded with a career year offensively while also earning the Selke and Conn Smythe trophies.  That contract looked to be on the expensive side not that long ago but that's not the case now.  Sundqvist went from being a part-time role player to a key cog on the third line last season and rather than look at a short-term contract, they opted to lock him up to a longer-term deal and in doing so, upped the expectations for him offensively.  If he can hold down that third line role, they should get a decent return from the contract.
Buyouts
None
Retained Salary Transactions
None
Still To Sign
None
Best Value: Perron
Worst Value: Steen
Looking Ahead
For the upcoming season, the Blues are going to be right up against the Upper Limit which is going to limit their ability to make much in the way of in-season acquisitions.  Things are only going to get tougher after that.
While they do have over $20MM in expiring contracts, they'll be paying up big to keep Pietrangelo and Schenn around while Dunn's second contract will be a fairly big one as well.  Those three alone will eat up most of the expired money which means there could be another big cap crunch for 2020-21.
The good news is that there aren't a lot of long-term contracts on the books which will give Armstrong a little bit of flexibility in that sense when it comes to retooling his roster.  However, get used to them being right against that cap ceiling as they're going to be there for a while.
Photo courtesy of USA Today Sports Images.