Navigating the salary cap is one of the more important tasks for any GM. Teams that can avert total cap chaos by walking the tightrope of inking players to deals that match their value (or compensate for future value without breaking the bank) remain successful. Those that don't see struggles and front office changes.
PHR will look at every NHL team and give a thorough look at their cap situation heading into the 2019-20 season. This will focus more on those players who are integral parts of the roster versus those who may find themselves shuttling between the AHL and NHL. All cap figures are courtesy of CapFriendly.
Detroit Red Wings
Current Cap Hit: $77,229,543 (under the $81.5MM Upper Limit)
Entry-Level Contracts
F Taro Hirose (1 year, $925K)
D Filip Hronek (2 years, $714K)
F Michael Rasmussen (2 years, $894K)
F Filip Zadina (3 years, $894K)
Potential Bonuses
Hirose: $850K
Hronek: $182.5K
Rasmussen: $850K
Zadina: $850K
Rasmussen was a full-time player with Detroit last season but spent most of it on the wing and wasn't eligible to play in the AHL.  He can now go to the minors and the team has suggested they'd like him to develop down the middle so there's a chance he could shuttle back and forth.  That would take an early extension off the table  Zadina spent most of last year in the minors and could do so again but at the same time, as a winger with some scoring upside, he should get a longer look this year and it's far too early to project his next deal.  Hirose made a positive impression in a stint late last season and should have a chance to lock down a full-time role.  If not, his next deal could possibly come in lower than this one if he took a lower NHL salary for more guaranteed money.
One Year Remaining, Non-Entry-Level
F Andreas Athanasiou ($3MM, RFA)
F Tyler Bertuzzi ($1.4MM, RFA)
D Madison Bowey ($1MM, RFA)
D Trevor Daley ($3.167MM, UFA)
F Jacob de La Rose ($900K, RFA)
D Jonathan Ericsson ($4.25MM, UFA)
F Adam Erne ($1.05MM, RFA)
F Johan Franzen ($3.955MM, UFA)
F Mike Green ($5.375MM, UFA)
G Jimmy Howard ($4MM, UFA)
F Anthony Mantha ($3.3MM, RFA)
Potential Bonuses
Howard: $1.1MM
Detroit had really been hamstrung by the cap for a few years which forced their hand with bridge deals which means they're in for some tougher sledding next summer.  Mantha has shown flashes of top-end offensive upside but hasn't put it all together yet.  After two straight 48-point seasons, he'll be in line for a decent raise already but that could jump well past the $6MM mark with a big 2019-20 season.  Athanasiou had his first 30-goal campaign last season which also has him in line for a notable increase already.  If he matches that this season, he's also going to be in the $6MM or more range.  Bertuzzi's first full NHL season was a strong one and with arbitration eligibility a year from now, he could very jump past the $3MM mark with a repeat performance.  Erne was brought in from Tampa Bay where he had a limited role but that could change with Detroit.  If he remains a supporting player though, his next salary shouldn't be much higher than this one.  De la Rose had a couple of stints where he had to sit due to heart issues which is on the concerning side while his role when in the lineup was a fourth line penalty killer.  A small raise is about all he could hope for.  Franzen last played in 2014-15 and is battling concussion issues.  His career is over and if Detroit needs more cap space this season, he'll go back on LTIR.
Green has had injury issues which will limit his market even with a full 2019-20 season.  Though he won't be in a 35-plus situation yet, he's someone that may have to go year-to-year as a result and he'll be hard-pressed to beat the $5MM mark a year from now.  Ericsson has been a steady presence on the back end for the better part of a decade but he's more of a role player now than an impact one.  He'll be 36 next season so if there's another deal coming, it could very well be half of this one if not less.  Daley is another one that has had injury issues lately and as he'll be 36 next year, a one-year contract is all he'll be able to get.  A drop in pay is likely for him as well.  Bowey should get more of a chance to play a regular role with Detroit.  Locking down a regular spot would go a long way towards boosting his arbitration case.
Howard is now 35 which allows for the bonuses in his deal as long as he signs for one year at a time.  He has repeatedly stated his desire to stick with the Red Wings for his career so as long as he is willing to play under this type of structure, he should be able to get another deal or two like this one.
Two Years Remaining
G Jonathan Bernier ($3MM, UFA)
F Luke Glendening ($1.8MM, UFA)
F Darren Helm ($3.85MM, UFA)
D Patrik Nemeth ($3MM, UFA)
F Valtteri Filppula ($3MM, UFA)
F Henrik Zetterberg ($6.083MM, UFA)
Helm's contract didn't make much sense at the time it was signed and it hasn't exactly looked better since then.  He is an effective checker but lacks the offensive ability to justify the higher price tag.  Two years from now, he'll be staring down a sizable pay cut.  Filppula has been relatively steady the last several years which helped him earn a bit of security this summer with the multi-year deal.  That said, the expected continued downtick in bottom six salaries and the fact he'll be 37 when his contract is up means that he probably won't be able to command a similar salary on his next trip to the open market.  Glendening is a little expensive for a fourth liner although he has shown an ability to hold his own when moved up as well.  Between that and his faceoff prowess, he should be able to get a bit of a raise if he hits the open market.  Like Franzen, Zetterberg has effectively retired and will be put on LTIR if they need cap room.
Nemeth effectively will move into the spot vacated by the recently-retired Niklas Kronwall.  That could give him a shot at top-four minutes but as more of a stay-at-home defender, it's hard to envision him getting much of a raise two years from now.
Bernier was brought in to give Detroit some stability between the pipes.  Howard's deal was expiring a year ago and their prospects aren't quite ready for NHL duty yet.  In making 35 appearances, the contract was reasonable last year even if the performance wasn't great.  Unfortunately for Bernier, he's quickly falling into a category where he's not going to be considered as a potential starter which will limit his earnings upside down the road although he could still carve out another couple of years around this rate as a backup.
Three Years Remaining
D Danny DeKeyser ($5MM, UFA)
F Frans Nielsen ($5.25MM, UFA)
Nielsen was brought in to give Detroit a boost in their secondary scoring.  That hasn't quite happened as he has yet to surpass 35 points over the last two seasons.  On the flip side, he does still log heavy minutes and take a lot of faceoffs so while his contract is certainly an overpayment, he is still playing an important role for them.  He'll be 38 at the end of this deal so if he does play beyond that, it will be at a heavily-reduced rate.
DeKeyser has been quite the successful undrafted free agent signing as he has become a capable top-four defender.  Unfortunately, Detroit is paying him to be a bit more than that and the results haven't been great while he has battled injury issues the last couple of seasons.  He'll be 32 when he hits the market so a multi-year deal is probable although he'll probably also be looking at a dip in pay unless his offensive game really takes off between now and then.
Four Or More Years Remaining
F Justin Abdelkader ($4.25MM through 2022-23)
F Dylan Larkin ($6.1MM through 2022-23)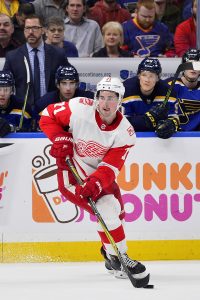 First, the good.  Larkin was the only player that Detroit was able to avoid the bridge deal with and the results were promising as he flirted with the point-per-game mark for the first time last season.  He also ranked ninth in the league in ATOI among forwards, checking in at just under 22 minutes a night.  That type of production at a rate that second liners have received on the open market in recent years is certainly a bargain.  Now, the not so good.  The five-year structure of Larkin's contract means that he will hit the open market at the age of 26 in the prime of his career.  That should allow him to cash in with a max-term contract and his AAV could approach the $10MM mark the way the center market has gone lately combined with the expected increase in the Upper Limit between now and then.
As for Abdelkader, his long-term deal has not worked out at all.  He scored just six goals last season, the lowest of any full season in his career.  While he's valuable as a physical forward, that price tag is much too high for someone who is effectively an energy player at this point of his career.
Buyouts
D Xavier Ouellet ($217K in 2019-20)
F Stephen Weiss ($1.67MM through 2020-21)
Retained Salary Transactions
None
Still To Sign
None
Best Value: Larkin
Worst Value: Abdelkader
Looking Ahead
Detroit is in the middle of converting their roster from veterans to young players and in doing so, they sit comfortably under the cap without the aid of LTIR for the first time in a while.  However, that comfort will be short-lived with Mantha and Athanasiou both being in line for big raises next summer.  They shouldn't get to the point where they're forced to trade someone due to cap issues as they had to do with Riley Sheahan two years ago but don't expect them to be operating well below the cap either.  That said, that's still an improvement over the situation they've had in recent years.
Photo courtesy of USA Today Sports Images.