Navigating the salary cap is one of the more important tasks for any GM. Teams that can avert total cap chaos by walking the tightrope of inking players to deals that match their value (or compensate for future value without breaking the bank) remain successful. Those that don't see struggles and front office changes.
PHR will look at every NHL team and give a thorough look at their cap situation heading into the 2019-20 season. This will focus more on those players who are integral parts of the roster versus those who may find themselves shuttling between the AHL and NHL. All cap figures are courtesy of CapFriendly.
Tampa Bay Lightning
Current Cap Hit: $79,773,331 (under the $81.5MM Upper Limit)
Entry-Level Contracts
D Mikhail Sergachev (one year, $894K)
F Alexander Volkov (one year, $864K)
F Mitchell Stephens (one year, $833K)
F Anthony Cirelli (one year, $728K)
F Mathieu Joseph (one year, $728K)
D Erik Cernak (one year, $698K)
Potential Bonuses
Sergachev: $850K
Cirelli: $183K
Joseph: $183K
Cernak: $148K
The Tampa Bay Lightning have done exceedingly well with their young players as they always seem to have key contributors filling out their roster who are on low-cost salaries. Unfortunately for the team all of those entry-level contracts will be expiring after this season. However, for a team that is fighting for a Stanley Cup title, the Lightning should be happy to have several of these players around for this year.
At the top of the list is Sergachev, who came over in the Jonathan Drouin trade a couple of seasons ago. Sergachev has improved greatly, but is still battling for a top-four role, one which he may win this season as he continues to develop his skills. The 21-year-old already has 15 goals and 72 points over two seasons, but spent most of his time last year as a third-line option for Tampa Bay. The team hopes he can win a spot on the first line and earn some power play time to allow his offensive skills to kick in for the Lightning. Another strong season could force Tampa Bay to pay up significantly for him. The team also got some impressive play from Cernak last season who came up and found a permanent home with his physical play.
Cirelli and Joseph have made an impact for Tampa Bay as well. After an solid stint back in 2017-18, Cirelli had a breakout season, scoring 19 goals and 39 points last season and could take another step up this season with J.T. Miller gone. Joseph surprised quite a few when he made the team last year out of training camp, posting 13 goals and 26 points in a third-line role most of the time. The opportunities may continue to increase for the 22-year-old who has showed a hard-working mentality as well as solid skill.
Both Stephens and Volkov are in their last year of their entry-level contract, but both could see time up with the Lightning at some point this season.
One Year Remaining, Non-Entry-Level
G Mike Condon ($2.4MM, UFA — buried at $1.33MM)
D Kevin Shattenkirk ($1.75MM, UFA)
D Jan Rutta ($1.3MM, UFA)
G Louis Domingue ($1.15MM, UFA) — buried at $75K)
F Pat Maroon ($900K, UFA)
F Danick Martel ($700K, RFA)
D Luke Schenn ($700K, UFA)
In their pursuit of a Stanley Cup, the team went out and acquired some veteran players to help the team for this year. They signed Shattenkirk immediately after being bought out from the New York Rangers to give the team a key veteran after they lost Anton Stralman and Dan Girardi in the offseason. The team hopes Shattenkirk can find his game and stay healthy this year and be able to provide quality minutes. They also hope Schenn can provide solid depth and physicality at the bottom of their lineup. On offense, the team also went out and signed Maroon to add some grit to their fourth line after the team lost Ryan Callahan to injury. Callahan was very productive in his time with the Lightning, but injuries derailed his last couple of years.
To unload the final year of Callahan's contract, the Lightning traded him to Ottawa and were forced to accept Condon, who the team has already buried in the minors to give the team more cap flexibility. Domingue has been buried in the AHL as well.
Two Years Remaining
D Braydon Coburn ($1.7MM, UFA)
F Cedric Paquette ($1.65MM, UFA)
G Curtis McElhinney ($1.3MM, UFA)
D Luke Witkowski ($700K, UFA)
Despite a solid backup in Domingue, the Lightning surprised quite a few people when they inked McElhinney to a two-year deal, plucking him away from a number of interested teams. The 36-year-old veteran had an impressive season after being claimed by Carolina at the beginning of last season. McElhinney appeared in 33 games, picking up 20 wins with a 2.58 GAA and a .912 save percentage. The hope is the veteran will provide some extra insurance and maybe take some of the workload off the starter this season.
The team also has high hopes that bringing back Coburn as well as a gritty multi-versatile player like Witkowski will give Tampa Bay some much needed depth on their blueline.
Three Years Remaining
F Brayden Point ($6.75MM, RFA)
F Ondrej Palat ($5.3MM, UFA)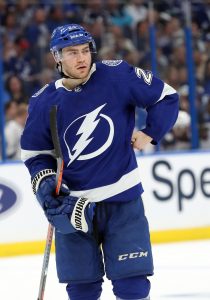 The Lightning has done exactly what it wants to do with Point, which was get him signed to a three-year bridge deal, something the team does with all its players before locking them up to long-term deals. Now the team has three more years to evaluate him before they have to lock him up to a long-term deal. The deal is actually quite reasonable, considering how much the center has excelled in each of his three seasons. Point's rookie season was solid with 18 goals, but that number increased to a 32-goal campaign in 2017-18 and he followed that up with a 41-goal, 92-point season last year, making him one of the top young forwards in the game. Regardless, the team was able to sign him for a reasonable cost, giving the Lightning another strong presence at a discounted rate.
On the other hand, Palat may be the opposite of Point. Having struggled with injuries the past couple of seasons, the 28-year-old has appeared in just 120 out of 164 games over the past two seasons and scored a disappointing eight goals in 64 games last year as he's slipped to a third-line role after a promising 23-goal rookie season back in 2013-14. Since then he's scored in the teens, but has seen those numbers dip even further with his injury history. Unfortunately, at $5.3MM, the team hopes he can get healthy and rebound as he would be a hard player to find a trade partner for.
Four Or More Years Remaining
F Nikita Kucherov ($9.5MM through 2026-27)
F Steven Stamkos ($8.5MM through 2023-24)
D Victor Hedman ($7.88MM through 2024-25)
D Ryan McDonagh ($6.75MM through 2025-26)
F Yanni Gourde ($5.17MM through 2024-25)
F Tyler Johnson ($5MM through 2023-24)
F Alex Killorn ($4.45MM through 2022-23)
G Andrei Vasilevskiy ($3.5MM in 2019-20; $9.5MM through 2027-28)
The team has done a phenomenal job of signing their top talent. Kucherov is arguably one of the top three players in the league and is now just starting his eight-year contract at a reasonable $9.5MM. The 26-year-old scored 41 goals and 128 points to win the Hart Memorial Trophy, Art Ross Trophy and the Ted Lindsay Award and should be one of the greats for the Lightning for a long time. Stamkos also continues to put up big numbers for someone whose $8.5MM deal looks pretty good. He potted 45 goals last season and a career-high 98 points, which gives Tampa Bay an impressive one-two punch, which doesn't even include Point.
The Lightning also has quite a bit tied up into their top two defensemen in Hedman and McDonagh. Hedman is one of the top defensemen in the league, only a year removed from winning the Norris Trophy in 2017-18. He posted an impressive 12 goals and 54 points last season and remains in his prime. It's too early to see how he will fare as he gets older as his contract will run through his age-34 season. But by the time Hedman truly slows down, there shouldn't be that much time remaining on his deal. As for McDonagh, the team's second-best defenseman still posted solid numbers, nine goals and 46 points. However, he is two years older than Hedman and has a seventh year remaining on his contract, meaning he'll be 37 in his final season, which suggests that his contract could become an issue even in just a few years.
As for Gourde, Johnson and Killorn, the team hopes that with the salary cap likely rising over the next few years, those role players' deals will still look good, if not very good as they age. All have become solid contributors as middle-six players and hopefully will give the team good value over the next four or five years.
Buyouts
D Matt Carle (1.83MM in 2019-20)
Retained Salary Transactions
None
Still To Sign
None
Best Value: Point
Worst Value: Palat
Looking Ahead
The job that Steve Yzerman has done to get the franchise to this point, which might be one of the most impressive organizations that have been built, is impressive and the hope that Julien BriseBois will continue that success in Tampa Bay. The team had an amazing regular season a year ago, but a quick exit in the playoffs left many to wonder whether the team is as good as many think. However, BriseBois has done a good job bringing in some more veterans as well as some grit in hopes that this offensive team doesn't get pushed around too much this year.
Photo courtesy of USA Today Sports Images.