While Patrik Laine has drawn the most attention of Winnipeg's prominent remaining restricted free agents, Kyle Connor certainly deserves consideration for being included in the second class of players still in need of a new contract beyond the top RFAs like Mitch Marner and Mikko Rantanen.  Here is a look at his situation.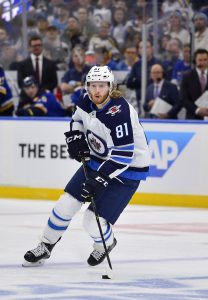 Following a strong 2017-18 campaign, Connor improved his numbers offensively while locking down a full-time spot on the top line alongside Mark Scheifele and Blake Wheeler.  That resulted in a big jump in average ice time to over 19 minutes a night.  As it turns out, he wound up out-producing Laine, something that undoubtedly has been brought up in talks already.
One of the things that makes his deal a bit trickier than some of the others though is the shorter track record of NHL success.  Connor spent the bulk of his first professional season in the minors with his second year ultimately being his rookie season.  As a result, he has basically 50-60 games less experience than a lot of his counterparts.  That shouldn't significantly hurt his value but it won't help things either as instead of having three years of NHL success, he basically only has two.
Statistics
2018-19: 82 GP, 34-32-66, -7, 18 PIMS, 227 shots, 19:15 ATOI
Career: 178 GP, 67-61-128, -6, 38 PIMS, 443 shots, 17:28 ATOI
Comparables
William Nylander (Toronto): Like Connor, Nylander really only had two full NHL seasons under his belt with most of his first year being spent in the minors.  His overall point total at the end of his entry-level deal was pretty close to Connor's although the Jets winger was more productive in the goal department.
Platform Year Stats: 82 GP, 20-41-61, +20, 10 PIMS, 184 shots, 16:41 ATOI
Career Stats at ELC Expiration: 185 GP, 48-87-135, +18, 46 PIMS, 432 shots, 16:21 ATOI
Contract: Six years, $45MM
Cap Hit Percentage: 8.76% (Years two through six)
Current Equivalent: Six years, $ 42.84MM ($7.14MM AAV)
Jake Guentzel (Pittsburgh) – His platform year had some similarities to Connor in that he moved up to the front line and set career highs across the board.  He also had a shortened rookie campaign although he managed to play half a season in that rookie year.
Platform Year Stats: 82 GP, 40-36-76, +13, 26 PIMS, 227 shots, 19:21 ATOI
Career Stats at ELC Expiration: 204 GP, 78-79-157, +11, 78 PIMS, 479 shots, 17:31 ATOI
Contract: Five years, $30MM
Cap Hit Percentage: 7.55%
Current Equivalent: Five years, $30.766MM ($6.15MM AAV)
Johnny Gaudreau (Calgary): While his platform year was better than Connor's, he only had one NHL game in his first year (which was primarily spent in college) so the shorter track record factor came into effect here.  Of course, he has since blossomed into one of the top scorers in the league, something that Winnipeg won't be expecting from their winger.
Platform Year Stats: 79 GP, 30-48-78, +4, 20 PIMS, 217 shots, 19:56 ATOI
Career Stats at ELC Expiration: 160 GP, 55-88-143, +16, 34 PIMS, 385 shots, 18:48 ATOI
Contract: Six years, $40.5MM
Cap Hit Percentage: 9.25%
Current Equivalent: Six years, $45.232MM ($7.539MM AAV)
Brock Boeser (Vancouver): While many are waiting for Marner to set the market, Boeser and Connor could very well be waiting on each other.  Like everyone else in this set, the rookie year was shortened (just nine games) while Boeser cracked the 19-minute a night mark last season.
Platform Year Stats: 69 GP, 26-30-56, -2, 22 PIMS, 209 shots, 19:10 ATOI
Career Stats at ELC Expiration: 140 GP, 59-57-116, -7, 38 PIMS, 413 shots, 18:14 ATOI
Contract: Currently unsigned
Projected Contract
While there has been some speculation that Laine could wind up with a bridge contract, there seems to be nothing of the sort for Connor.  Both sides want to get a long-term deal done and earlier this month, he indicated his desire to get something done before the start of training camp.
In terms of the comparables, Nylander's contract probably serves as the best one with something coming in the high $6MM to low $7MM range on a six-year deal.  That would buy out a couple of UFA years while giving the Jets some flexibility on handling a new contract for Laine while filling out the rest of their roster as there are some holes still to be filled.  As far as the remaining RFAs go, Connor's deal should be one of the easier ones to get done.
Photo courtesy of USA Today Sports Images.