Amidst the buzz of the 2018 draft season, it wouldn't have been hard to miss the news that of an undersized defenseman from Sweden signing with the Buffalo Sabres. After all, Sabres fans had their eyes set on a much different Swedish prize, the eventual first-overall pick Rasmus Dahlin. The top pick has been as advertised, stepping right onto the NHL blue line and showing off his dazzling skill set, but that other signing may be joining him very soon. The Sabres have recalled defenseman Lawrence Pilut from the minor leagues, moving Patrik Berglund to injured reserve to make room.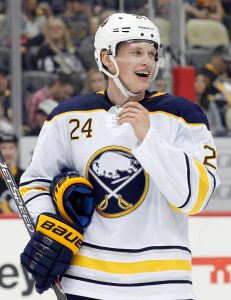 With all the flash and publicity that Dahlin brings, there's plenty of reason to think that Pilut could have almost as much impact right away. The 22-year old is the reigning SHL Defenseman of the Year after scoring 38 points in 52 games for HV71, and has torn apart the AHL as a rookie this year. In 15 games with the Rochester Americans, Pilut is tied for the league scoring title with 22 points and is a +16, good for second among all players.
There should be real excitement around Pilut, and while the comparison to Dahlin may be a big hyperbolic his presence should only add more skill to an already dynamic young team. The Sabres have rode that young core to a 13-6-2 record this season and are currently on a six-game winning streak as they look to challenge for a playoff spot in the Atlantic Division.
Photo courtesy of USA Today Sports Images