One of the more interesting decisions when it comes to the junior-aged NHL players as they approach the cut-off mark before the first year of their entry-level contract kicks in is with Edmonton and winger Kailer Yamamoto.  While he didn't play much early on, Leon Draisaitl's concussion has given the rookie a chance to skate on the top line and he has made the most of it with three assists in the last three games while averaging nearly 20 minutes per night in ice time.  Players with that type of responsibility don't typically get sent back.
However, there are other factors potentially at play when it comes to Yamamoto.  When Draisaitl returns, will there still be a spot for the rookie inside Edmonton's top-six?  Given his very small stature (he's listed at 5'8 and 154 pounds and was the smallest first rounder in NHL history), Yamamoto is not the type of player that typically fits in a lower-line role.  There are also questions about whether or not he will be able to withstand the rigors of a full NHL season even if he is certainly holding his own for the time being.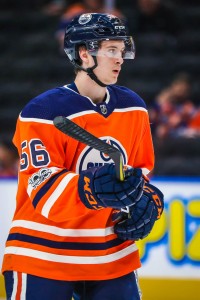 Then there is the salary cap.  While it's not a big factor this season with Connor McDavid still on his entry-level contract, that will change next year when his $12.5MM deal kicks in.  When that happens, the Oilers are going to become a team that spends right to the Upper Limit every year and with some other big-ticket deals on the books (Draisaitl, Milan Lucic, and Ryan Nugent-Hopkins), Edmonton is going to need some cheaper contracts to fill out the roster.
Sending Yamamoto back before he plays his tenth NHL game would keep him cheaper for one more year at a cap hit that actually would be slightly lower than his current $925K thanks to the treatment of signing bonuses on players whose contracts slide.  (It would drop to just over $894K.)  While that would be more beneficial for them three years from now, it would also weaken their current roster which is a trade-off that GM Peter Chiarelli will seriously need to consider.
Alternatively, the Oilers could opt to keep him around past nine games and look towards the 40 games on the active roster threshold.  If they were to send him back before that mark, he would still burn the first year of his contract but wouldn't accrue a year towards unrestricted free agency.  That's the route they took with Draisaitl back in 2014-15 and that played a bit of an impact on his long-term deal as instead of having to buy out six UFA years with the max-term eight-year contract, they only had to cover five which likely helped to slightly lower the AAV.
Because he was a healthy scratch for a handful of games earlier on, Yamamoto isn't as close to the games played threshold as several others around the league are (teams will be making calls on several players early next week).  He is suiting up in his sixth game today so that will give Edmonton a bit more time to see how the 19-year-old fares on their top unit and assess how close Draisaitl is to returning to the lineup but it's safe to say that Yamamoto is going to make this decision a lot harder than it seemed just a week ago.
Photo courtesy of USA Today Sports Images.