The Edmonton Oilers have added some experience to their defensive group ahead of the trade deadline, acquiring Mike Green from the Detroit Red Wings. In return, Detroit will receive Kyle Brodziak and a conditional 2020 fourth-round draft pick. That pick can become a 2021 third if the Oilers make the Western Conference Finals and Green plays in 50% of the games. The Red Wings will also retain 50% of Green's salary.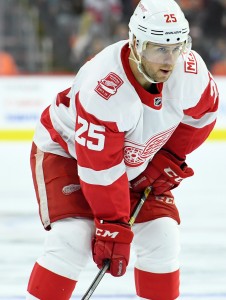 Green, 34, still has a little life left in those legs after nearly 900 games in the NHL and will try to help out the Oilers down the stretch. A longtime powerplay quarterback and puck-moving option, Green has still logged more than 21 minutes a night for the Red Wings, though they haven't been very successful. With just 11 points and a -32 rating, an opportunity to play with Connor McDavid and Leon Draisaitl must seem like a dream come true. To that end, Green had to waive his partial no-trade clause to agree to this deal, according to Pierre LeBrun of The Athletic.
It's obviously unclear how exactly the Oilers will deploy Green, but it is worth mentioning that they already had the top ranked powerplay in the league. That included Oscar Klefbom however, who is still out with an injury.
For the Red Wings, they are simply using some of their cap space to make the deal work. Brodziak is not expected to play again after missing this season with a back injury, meaning the draft pick is the entire return. That's not a huge amount to get for a former 70-point defenseman, but with the way Green has played this season they will just be happy to get anything at all.
The Red Wings now have nine picks in the upcoming draft and could add more as they continue to sell off expiring assets.
Photo courtesy of USA Today Sports Images