With the NHL season now just a couple of weeks away, we continue our look at what each team has done this summer and what to watch for in the year to come.  Today, we focus on the Los Angeles Kings.
Last Season: 39-35-8 record (86 points), fifth in Pacific Division (missed playoffs)
Remaining Cap Space: $6.83MM per CapFriendly
Key Additions: F Mike Cammalleri (free agency, New Jersey), D Christian Folin (free agency, Minnesota), G Darcy Kuemper (free agency, Minnesota), D Oscar Fantenberg (free agency, KHL), G Cal Petersen (free agency, Buffalo), F Alex Iafallo (free agency, NCAA)
Key Departures: D Brayden McNabb (expansion, Vegas), F Devin Setoguchi (free agency, Germany), F Jarome Iginla (free agency, unsigned), G Ben Bishop (trade, Dallas)
[Related: Kings Depth Chart From Roster Resource]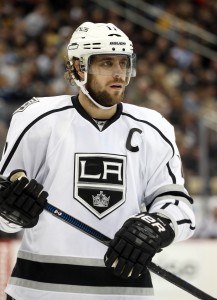 Player To Watch: F Anze Kopitar – It's not always a young player breaking out that brings a team back to contention, and that likely won't be the case with Los Angeles. Though Tyler Toffoli and Tanner Pearson could have even more room to grow as potential top-line options, it's Kopitar that will be under the microscope this year.
In what turned out to be a disappointing year for the Kings, Kopitar himself had a frustratingly poor season. Though his point total of 52 still put him second on the team, an extremely low shooting percentage kept him to just 12 goals all year and his possession numbers hit a career low. Kopitar had never scored fewer than 10 even strength goals in his career, but tallied just seven last year.
That said, there may be nothing to worry about for the Kings. The aforementioned shooting percentage is the most likely culprit of the decline, as he came in more than 4% under his career norm. He should bounce back from the low total, though may never again reach the 30+ marks of his youth.
Key Storyline: It was clear in 2016-17 that the entire organization expected to return to the Stanley Cup Playoffs. Despite being out of a playoff spot at the trade deadline, the team still went out and acquired Jarome Iginla and Ben Bishop to try and sneak in. They wouldn't, and it ended up costing nearly the entire management and coaching staffs their jobs.
There are new but familiar faces in town to run the show now, as President Luc Robitaille and GM Rob Blake have taken over the front office while John Stevens will take over the head coaching duties. All three have Kings blood running through their veins, and will be entrusted in guiding the franchise back to the promised land.
That may be easier said than done though, as the team has several aging core pieces and a lack of elite prospect capital. They added a couple of solid names in that department at the draft (one of which signed his entry-level contract just today), but will have to keep working to create the type of homegrown pipeline that once carried them to multiple Stanley Cups. Blake and Robitaille were both late-round Kings' draft picks themselves (in the fourth and ninth rounds respectively), and should have a good understanding of the value of drafting.
With all of this turnover there still remains the looming Drew Doughty decision, as the superstar defender will be eligible for a contract extension as of July 1st, 2018. With just two years left on his current deal, Doughty would be one of the most sought-after free agents on the open market should he ever reach free agency. With that in mind, the new front office will need to decide whether handing out an extremely expensive, long-term extension to a player who will turn 30 during its first year is worth it.
Doughty is clearly one of the best players in the world, but if Los Angeles takes a step backwards and misses the playoffs again, speculation about his availability on the trade market will surely spike.
Photo courtesy of USA Today Sports Images