The Buffalo Sabres kicked off the week by announcing a highly anticipated eight-year extension with star defenseman Rasmus Dahlin. The long-term deal will begin in the 2024-25 season and will carry run until 2032. The Sabres have now locked up a core piece of their back end through the bulk of his prime as Dahlin will be 32 years old when this extension expires. Early indications are that the deal will carry an $11MM AAV.
The $88MM extension will be tied for the second-highest cap hit among defensemen with Los Angeles Kings defender Drew Doughty. Their salary cap hits trail only Erik Karlsson and his $11.5MM price tag. It's a big price to pay for the Sabres as it puts Dahlin into another salary stratosphere alongside two defensemen who have arguably failed to live up to their large salaries. The key difference between Doughty/Karlsson and Dahlin is that the Sabres are locking up the 23-year-old through his entire prime. While Doughty and Karlsson are still terrific players, they were paid largely for past performances.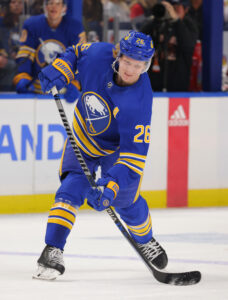 Dahlin had a career year last season posting 15 goals and 58 assists in 78 games all while logging 25:48 of ice time a night. He finished fifth among NHL defensemen with 73 points, one of the highest scoring rankings ever by a Sabres defenseman. On the defensive side of things, the 2018 first-overall pick finished second on the Sabres in hits and led the team in blocked shots, a testament to his improved defensive capabilities that finally seem to be catching up to his elite offensive ability.
Many skeptics will point to the $11MM AAV and call the deal an overpay for the Sabres, and at first glance, it does seem steep. The closest comparable to Dahlin's deal would be Charlie McAvoy's eight-year deal with a $9.5MM cap hit that was signed in October 2021, or the eight-year deal that Mikhail Sergachev signed in July 2022 that carries an $8.5MM cap number. Those deals, while both massive bargains today, were signed at a time when the offensive upside of both players was more of an unknown. Prior to signing his eight-year deal, Sergachev had topped 40 points only once in his career, while McAvoy had never topped 32 points when he signed his long-term extension. Dahlin is in a different category as he has averaged well over 40 points a season and is now rounding into form defensively.
Critics might also point to Jake Sanderson's recent extension for $8MM per year with the Ottawa Senators, but again the context is important to understand Dahlin's deal. Sanderson has one season of NHL experience, while Dahlin has five. Sanderson posted 32 points last season, while Dahlin has routinely posted over 40 points a season. Dahlin's contract is also buying out more unrestricted free-agent seasons, which typically cost more than restricted free-agent seasons.
With Dahlin's long-rumored extension finally complete, Dahlin now joins Dylan Cozens, Tage Thompson, and fellow defenseman Mattias Samuelsson – all of whom signed long-term extensions since the start of last season. The Sabres are expected to compete for a playoff spot this season as they finally emerge from a long rebuild.
Photo courtesy of USA Today Sports.