With the NHL season now less than a month away, it's time to look at what each team has done this summer and what to watch for in the year to come.  Today, we focus on the Pittsburgh Penguins.
Last Season: 50-21-11 record (111 points), second in Metropolitan Division (Won Stanley Cup)
Remaining Cap Space: $3.28MM per CapFriendly
Key Newcomers: D Matt Hunwick (free agency, Toronto), F Ryan Reaves (trade, St. Louis), G Antti Niemi (free agency, Dallas)
Key Departures: G Marc-Andre Fleury (expansion, Vegas) F Nick Bonino (free agency, Nashville), D Ron Hainsey (free agency, Toronto), D Trevor Daley (free agency, Detroit), D Mark Streit (free agency, Montreal), F Matt Cullen (free agency, Minnesota), F Chris Kunitz (free agency, Tampa Bay)
[Related: Pittsburgh Depth Chart From Roster Resource]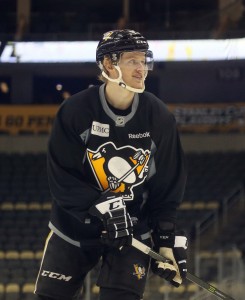 Player To Watch: F Jake Guentzel – How exactly are you supposed to follow up a two goal NHL debut on a line with your childhood idol? How about tying a rookie record with 21 playoff points en route to a Stanley Cup victory. That's how Guentzel started and finished his first season in the NHL, and 2017-18 could hold even more breathtaking moments for the 22-year old forward. With 54 points in a combined 65 regular season and playoff games, Guentzel could have easily been in contention for the Calder trophy had he played a full season. Immediately finding chemistry with Phil Kessel and Evgeni Malkin, before transitioning to the wing of Sidney Crosby, he'll have much more responsibility this year.
The Penguins have lost some of their long-time forward depth in Bonino, Cullen and Kunitz and will be relying on players like Guentzel to repeat their performance from last year. Whichever line he ends up on—which could even be the middle of the third group, though the team clearly wants him to remain on the wing—he should crack 50 points and could push even higher. His knack to find open ice and release quick shots has resulted in some incredible totals already in his career, and with superstar players surrounding him it doesn't look like it will end anytime soon.
That said he'll have to do a better job of keeping his head up this year. Twice last season players were suspended after huge hits to Guentzel's head, with both Rasmus Ristolainen and Brandon Manning being sat down by the Department of Player Safety. Though you can't blame Guentzel for what were illegal checks, both times he was watching the puck as he crossed his own blueline instead of being aware of the rushing defenders. It's unfortunate that a player has to worry about these hits, but the simple fact is that they do. Guentzel suffered at least one concussion, and could easily have missed more time had something worse happened.
Key Storyline: No team has won three straight Stanley Cups since the New York Islanders dynasty of the early 1980's, but Pittsburgh has a real chance to do just that. With nearly their entire core returning, and with a healthy quartet of Crosby, Malkin, Kessel and Kris Letang, they will enter the season as one of the early favorites. Last year, it took some late-season additions by GM Jim Rutherford to shore up a painfully deteriorated defense group, and he's looking to work his magic already with talk about third-line centers in camp today. Should he be able to add an impact player like Matt Duchene, or even just a solid center to add depth down the middle, there are few teams who should be able to compete with them.
The Penguins have smartly left themselves some room under the cap this summer, making low-key veteran additions like Hunwick and Reaves. They'll have the room to make a splash at the deadline once again, but will have to be careful going forward. Several players including Bryan Rust and Patric Hornqvist will need new contracts next summer, and there isn't a ton coming in the pipeline to replace them. While free agent additions like Zach Aston-Reese and Adam Johnson will help that prospect depth, the team has selected one player in the first round in the past five years (Kasperi Kapanen) and included him in the deal to get Kessel. It's a tightrope at the top, but so far Rutherford has walked it beautifully. The Penguins are hoping they can stay up there just a little bit longer.