While many players who elected salary arbitration have already settled with their teams, several players are still headed toward hearings, which start tomorrow with the Chicago Blackhawks and forward Philipp Kurashev. Slated for Friday, though, is one of the more intriguing cases still unresolved: Toronto Maple Leafs netminder Ilya Samsonov.
Sportsnet's Elliotte Friedman reported last night that the two sides are still actively working on a short-term deal, which could get done over the next 48 hours and avoid going to arbitration. Arbitration is usually something teams look to avoid, given they'll have to agree to any deal awarded under the $4.5MM mark per season. But in Toronto's case, it's a good thing – the team is already over the salary cap even with defenseman Jake Muzzin stashed on long-term injured reserve, meaning certainty around Samsonov's cap hit next season is crucial for them to know exactly how much space to clear in follow-up moves. They'll have financial assurance with Samsonov one way or another within the next four days.
Filings
Team: $2.4MM
Player: $4.9MM
Midpoint: $3.65MM
(via Sportsnet's Elliotte Friedman)
The Numbers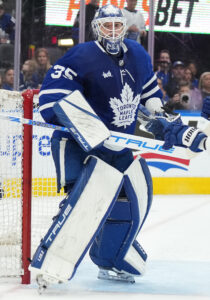 Last season was, far and away, Samsonov's best performance to date. A Washington Capitals first-round selection in 2015, Samsonov had shown flashes of strong play during his time in the nation's capital, especially during his rookie season in 2019-20 when he recorded a 16-6-2 record, .913 save percentage and finished 12th in Calder Trophy voting. After that, things went progressively downhill for the Russian netminder, though, seeing his numbers dip far below league average as injuries limited his playing time. After posting a relatively poor .896 save percentage with the Capitals in 2021-22, he was surprisingly cut loose from the team entirely, hitting the UFA market at age 25 after Washington didn't issue him a qualifying offer.
Toronto extended him a one-year, $1.8MM prove-it deal to complete their tandem with Matt Murray, and Samsonov soon took over the de facto starting role for himself after a series of injuries kept Murray out of the crease for much of the season. While depth netminders Erik Kallgren and Joseph Woll also found their way into action, Samsonov started a career-high 40 games last year and put together the highest level of play from him in the NHL, even if he was inconsistent at times.
He may not be in the upper echelon of starting netminders, especially with only one top-flight-level season under his belt. Still, he outdueled countryman Andrei Vasilevskiy just a few months ago and was perhaps the most significant reason Toronto won their first playoff series in nearly two decades. An injury early in the Second Round kept him out of the last few games of playoff action, though.
With Toronto in a tight financial situation and Samsonov not having a proven track record, it makes sense why the Maple Leafs want to go short-term with their current starter. They do have Woll in the pipeline, who's expected to be the full-time backup next season and could potentially be ready for the starting job in a few years. That said, Toronto would surely like to settle with Samsonov on a two- or three-year deal to solidify consistency in their crease.
Because Samsonov would be eligible for unrestricted free agency in 2024, he can only sign a one-year deal via arbitration – not two. If the two sides want a longer-term deal, they must settle before the hearing.
2022-23 Stats: 42 GP, 27-10-5, 4 SO, 2,476 mins, 2.33 GAA, .919 SV%
Career Stats: 131 GP, 79-32-13, 10 SO, 7,341 mins, 2.65 GAA, .908 SV%
Potential Comparables
Comparable contracts are restricted to those signed within restricted free agency, which means UFA deals and entry-level pacts are ineligible to be used. The contracts below fit within those parameters. Player salaries also fall within the parameters of the submitted numbers by both sides of this negotiation. 
Vitek Vanecek (Devils) – If you're looking for the framework of a potential deal, look no further than Samsonov's former tandem partner in Washington. After two average seasons as a tandem netminder in D.C., Vanecek's RFA rights were traded to New Jersey last offseason before he signed a three-year, $3.4MM AAV contract with the club. Coming off seasons of 37 and 42 games played and .908 save percentages in both seasons, Vanecek might have had consistency on his side more so than Samsonov, but he hadn't reached the level Samsonov has at times throughout his young career. The latter is a bit of a unicorn in recent RFA goalie signings, and it makes sense why he'd want more than his ex-teammate, but Vanecek's deal falls near the midpoint of the two filings.
Alexandar Georgiev (Avalanche) – Just a few days before Vanecek signed a deal with his new team in 2022, Georgiev signed the same contract with the Colorado Avalanche. Georgiev had more experience and was perhaps a more highly-touted solution as a starter than Vanecek, but he was coming off a rough year with the New York Rangers that saw his save percentage dip below the .900 mark. Samsonov's performance last season was much better than either Vanecek's or Georgiev's before they signed their deals, though, something he'll likely leverage in his hearing to make his case for an AAV in the $3.5-$4.5MM range.
Projection
This is the first arbitration case of the summer where the filing values have been publically exchanged, so it's a bit more challenging to project a first-of-the-offseason deal, especially when there's a lack of solid comparables in 2023 from which to compare Samsonov's situation.
On a one-year deal with the potential to cash in for big money on the UFA market in 2024, though, it seems unlikely the arbitrator would rule significantly in Samsonov's favor. The filings seem pretty reasonable based on past cases, and they're positioned to grant Samsonov a deal right around the midpoint of the filings, potentially a bit higher. Expect something in the $3.75MM range on a one-year pact for Samsonov if the two sides don't settle before Friday's hearing.
Photo courtesy of USA Today Sports Images