Yesterday, Chicago Blackhawks RFA forward Philipp Kurashev's arbitration hearing was scheduled, and NBC Sports' Charlie Roumeliotis reported that the hearing went forward as the team and player could not reach an agreement on a contract.
Puckpedia notes that with Toronto Maple Leafs netminder Ilya Samsonov also reaching a full arbitration hearing without a deal, this year already features the same number of arbitration hearings as the NHL had seen beforehand since 2020. Kurashev specifically is sort of a prime candidate to have his next contract decided by an arbitrator, as his on-ice value isn't quite so easy to pin down.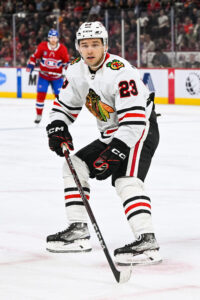 Now, the Blackhawks have more cap space than most other NHL clubs, with over $15MM in space still available. So it's not like they need to keep Kurashev's next cap hit as low as possible to remain cap compliant.
Instead, as The Athletic's Scott Powers writes, since Kurashev, 23, is a player who could possibly still be on the Blackhawks when the team enters its Connor Bedard-led competitive era, the team likely has an interest in keeping his cost as reasonable as possible, since they don't want to box themselves into overpaying for what he brings once they eventually lack cap space. (subscription link)
So while the value for some teams through the arbitration process is simply getting financial certainty on a player within a designated timeframe, that's not important for the Blackhawks. Here, Kurashev presents an opportunity for the team to lay the groundwork for a sustainable salary cap future once the team pivots towards legitimate contention.
Filings
Team: $1.4MM (one-year)
Player: $2.65MM (two-years)
Midpoint: $2.025MM
The Numbers
Although 2022-23 saw Kurashev set a career-high in goals, assists, and points in the NHL, it's difficult to view the year as an emphatic step forward. Kurashev is a versatile forward for whom last season was his age-23 campaign. As a player gets more NHL experience under his belt and gets closer to his mid-twenties, sizeable growth steps are expected if a player is to reach his highest NHL upside.
For Kurashev, this was the season where he had a chance to really establish himself as an impactful player. He had shown flashes of a high skill level going back to his rookie season, but that had not materialized into standout production with the Blackhawks or AHL's Rockford IceHogs.
This past season was a test for Kurashev, and how he fared may have revealed an important truth about who he is at the NHL level. Offensive skill wasn't the main area of value Kurashev provided to first-year head coach Luke Richardson. Instead, it was Kurashev's versatility and his resilience. In the midst of a challenging season, Kurashev's ability to play all three forward positions, and his ability to mold himself to fit the expectations and style of any given line he's placed on made him a regular face in the lineup, at least until he was knocked out for the season by a Tom Wilson hit on March 23rd.
There's usefulness in the type of player who can act as a sort of "glue" that keeps a line functioning when one of its regulars is maybe absent, but there is a downside to Kurashev's main calling card being his versatility. The jack-of-all-trades approach combined with how he was deployed meant that he was never able to forge his own unique identity in the NHL.
He was unable to carve out a consistent space for himself within Richardson's team, instead often bouncing to wherever he was needed most. In other words, his deployment was built around how the lineup was structured, rather than the lineup being built around how he was deployed.
This means moving forward, how do the Blackhawks value Kurashev? Do they see him as a long-term third-line staple, for example? Someone who could occupy a bottom-six role on a consistent basis? Or do they perhaps view him more as a reserve forward, a player who they ideally would trust to step into the lineup whenever an injury hits, rather than someone penciled into an opening-night lineup?
That's what makes this arbitration case a difficult one, and the arbitration award is likely to come somewhere down the middle of the two parties' filings. (as most cases do) How Kurashev is deployed next season, now that the Blackhawks have added some genuine talent to their lineup, may reveal how Kurashev is viewed as part of the Blackhawks' future.
2022-23 Stats: 70 GP 9G 16A 25 pts -32 rating 14 PIMs 7.8% s% 17:25 ATOI 
Career Stats: 191 GP 23G 39A 62 pts -57 rating 38 PIMs 8.6% s% 14:35 ATOI
Potential Comparables
Comparable contracts are restricted to those signed within restricted free agency, which means UFA deals and entry-level pacts are ineligible to be used. The contracts below fit within those parameters. Player salaries also fall within the parameters of the submitted numbers by both sides of this negotiation. 
Alexandre Texier (Blue Jackets) – After Texier's 2020-21 campaign, he signed a two-year, $1.525MM AAV contract extension that likely serves as a "low-end" comparable for what Kurashev's awarded contract could look like. Texier was a bit younger than Kurashev is now (just about one month separates their birthdays in 1999) but his profile was similar. Texier, like Kurashev, was lauded for his versatility and ability to play at center and the wing. He also had flashed upside at the NHL level but his evident talent had not materialized into anything concrete yet in the league. Like Kurashev, Texier's poor puck luck (shooting percentage of 5.3%) was also cited as a potential reason explaining why his numbers were a disappointment. Texier managed 15 points in 49 games, a lower pace than Kurashev's this past season, but overall they have similar profiles, and Kurashev's floor for what he ends up receiving should look like this Texier deal.
Dillon Dube (Calgary Flames) – Dube signed a three-year, $2.3MM AAV pact with the Flames after his 2020-21 season, a year where he posted 11 goals and 22 points in 51 games. Unlike Kurashev, Dube was utilized almost exclusively on the wing, though he has shown the ability to play center at times both in his junior and later in his NHL career. Dube had a stronger record of production than Kurashev has at other levels of hockey, though, likely influencing the Flames to believe in Dube's offensive upside at the NHL level. He delivered on that upside in 2022-23, scoring 18 goals and 45 points. It's unclear whether the Blackhawks believe Kurashev has the ability to post those numbers playing on his next contract, so this $2.3MM AAV could represent a higher-end contract comparable for what Kurashev eventually receives.
Projection
Although there are a lot of reasons to value what Kurashev brings to the Blackhawks, ultimately his numbers are not strong enough to justify his $2.65MM AAV. Averaging over 17 minutes of ice time and over two minutes on a power play across a sample of 70 games should result in better numbers than what Kurashev was able to post.
If Kurashev anchored the Blackhawks' penalty kill or provided exemplary physical or defensive play, maybe that gap would be bridged a bit, but that's simply not what Kurashev provides. Still, $1.4MM with a two-year term isn't exactly fair either. A middle ground at around $2MM AAV, perhaps maybe a shade lower if the arbitrator really puts stock in Kurashev's lack of points production, seems like a reasonable outcome here.
Photos courtesy of USA Today Sports Images