One of the highest-profile trade candidates who hasn't yet been dealt to another team, outside of Norris trophy winner Erik Karlsson, is Winnipeg Jets starter Connor Hellebuyck. The 30-year-old is considered by many to be of the few "franchise goalies" left in the NHL, a netminder who a team can build around and consistently count on to post high-end numbers.
But the Michigan native is a pending unrestricted free agent who reportedly wants a contract extension at a $9.5MM AAV, which would put him among the highest-paid goalies in the NHL.
This has led to questions regarding whether the Jets would deal Hellebuyck to another team this summer, rather than risk entering next season with an expiring asset and potentially lose Hellebuyck to the open market in a year's time.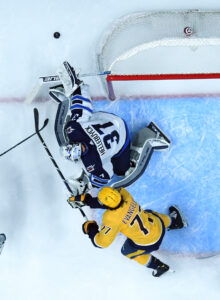 They traded star center Pierre-Luc Dubois under these same circumstances, though it seems Hellebuyck could be more challenging to move.
Although Hellebuyck is undoubtedly a better goalie than Dubois is a forward, Dubois has the advantage of being younger and being a center. Teams are generally far more comfortable giving productive centers in their mid-twenties long-term, pricey extensions rather than netminders older than 30.
Additionally, the success of the Vegas Golden Knights, who won the Stanley Cup backstopped by Adin Hill  (who hasn't yet played more than 27 games in a single season) has led some to believe that investing in a costly goalie isn't a wise use of scarce cap space. All of those factors have contributed to there being a lack of movement at the top of the goalie market.
Sportsnet's Elliotte Friedman reports that this lack of movement could even extend to Hellebuyck, saying to NHL Network that he has been spoken to sources who "wouldn't be surprised if Hellebuyck starts the year in Winnipeg."
Friedman cites the Jets' desire to remain competitive despite trading away Dubois and losing Blake Wheeler as a factor complicating the likelihood Hellebuyck gets dealt. The Jets don't want to take a step back into a rebuild, meaning they aren't in a position to trade Hellebuyck for just picks and/or prospects, similar to when the Arizona Coyotes traded Darcy Kuemper to the Colorado Avalanche.
The Avalanche sent two draft picks and defensive prospect Conor Timmins, at the time a relatively recent 32nd overall draft choice, to get Kuemper, who like Hellebuyck had one year of team control remaining. Although Hellebuyck's more impressive resume lends to the belief that he'd require more assets to acquire than Kuemper, contending teams likely won't be able to send a quality prospect or two and some draft choices to acquire Hellebuyck.
The Jets are likely to want young, NHL-ready, or near-NHL-ready players similar to the crop they received in exchange for Dubois, a package headlined by 2022-23 breakout talent Gabriel Vilardi. But the relatively short list of contending teams looking to add an elite netminder likely has significant overlap with the list of clubs looking to subtract futures to add to their roster, rather than trade away roster players they were counting on for 2023-24.
One team that's long been speculated as a potential landing spot for Hellebuyck is the New Jersey Devils. Although they lost Damon Severson and Ryan Graves, the Devils added Tyler Toffoli to their forward corps and could see top prospects Simon Nemec and Luke Hughes replace their two defensive losses. The one thing the Devils are missing is an elite goalie, and Hellebuyck fits the bill, though he might not fit into their cap sheet long-term.
The Devils have looked at the possibility of acquiring Hellebuyck, according to Friedman. The team could offer Vitek Vanecek as part of the trade, for example, which could allay the Jets' fears of being left without a capable goalie to help them reach the playoffs.
But with the Devils potentially unable to afford a pricey long-term extension for the 2019-20 Vezina Trophy winner, they might not be willing to offer up the sort of assets the Jets would want in exchange for Hellebuyck, as he could very well end up a one-year rental if he's traded to New Jersey.
In any case, despite how strong Hellebuyck's play has been (he had a .920 save percentage in 64 games for the Jets this past season, second-best among goalies with 50 or more starts) he could be an extraordinarily difficult player to move this offseason.
His value to the Jets could exceed what another team would be willing to trade for him with just one year left on his deal, which could leave the Jets in the dangerous position of attempting to make noise in the Stanley Cup playoffs with a key pillar of the franchise precariously close to an exit on the free agent market.
Photos courtesy of USA Today Sports Images