This year's free agent market was a tough one to gauge for teams and players alike. Another year of a tight salary cap situation for most teams, along with a relatively weak class of UFAs, made for some interesting decisions. Take gritty winger, Tyler Bertuzzi, for example. He didn't get far into extension discussions with the cap-strapped Boston Bruins because he wanted a long-term deal but signed a one-year pact with the Toronto Maple Leafs just a few days into free agency.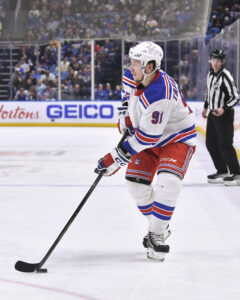 But perhaps no player misread the market more than Vladimir Tarasenko, leading to the two-time All-Star being available on the market over two weeks into free agency. While he was reportedly close to a deal with the Carolina Hurricanes earlier in the month, he changed his representation less than a week after July 1, restarting the clock on all pending negotiations. After a bit of a down season, scoring just 18 goals in 69 games split between the St. Louis Blues and New York Rangers, the 31-year-old likely didn't get any offers reflecting the level of commitment he was expecting.
Why teams wouldn't want to take a longer-term gamble on the 2019 Stanley Cup champion is understandable. Shoulder injuries limited him to 34 games combined in the 2019-20 and 2020-21 seasons. While a return to form in 2021-22 (34 goals and 82 points in 75 games) revitalized his stock, a tough season for him (and the Blues) last year lowered it again, and his post-deadline stint with the Rangers wasn't at his previous elite goal-scoring level, either.
Still, he is a six-time 30-goal scorer and brings a winning pedigree. He's worth a spot in almost any team's top six, although slightly sheltered minutes wouldn't hurt. With Patrick Kane, the other marquee winger still on the market, not expected to sign until closer to the start of next season, Tarasenko is the best player available for teams looking to add a forward.
Stats
2022-23: 69 GP, 18-32-50, -14 rating, 8 PIMs, 169 shots on goal, 45.7% CF, 16:48 ATOI
Career: 675 GP, 270-304-574, +61 rating, 185 PIMs, 2,124 shots on goal, 52.5% CF, 17:27 ATOI
Potential Suitors
At his age, the likelihood of Tarasenko earning a long-term pact after betting on himself this season is small. Knowing he isn't getting the compensation he initially set out to receive this summer, signing somewhere that gives him a chance to win a second Stanley Cup will likely be at the top of his mind.
The Hurricanes still give him the best shot of doing just that. Whether it can financially come to fruition, though, is another question. Carolina's already backed out of one widely-reported transaction this summer, forcing the Philadelphia Flyers to go the buyout route with defenseman Anthony DeAngelo instead of re-acquiring him at half-price. The team is reportedly in discussions with the San Jose Sharks about acquiring reigning Norris Trophy winner Erik Karlsson, and top-four shutdown defender Brett Pesce remains without a contract extension. There are many moving parts still to come with Carolina, leaving a lot of uncertainty about their ability to fit in another UFA signing under the salary cap after signing Michael Bunting and Dmitry Orlov earlier in the month. Still, Tarasenko would add to what's already one of the most terrifyingly deep forward groups in the league and, if healthy, could provide the sniper element sorely missing from their recent string of playoff runs.
Another team connected to Tarasenko is the Ottawa Senators, who have an Alex DeBrincat-sized hole in their top six after trading the young winger to the Detroit Red Wings. There are similar financial holdups there, though, as CapFriendly lists them with roughly $5MM in projected space for next season while still needing a new contract for center Shane Pinto. Receiving Dominik Kubalik in return from Detroit gives Ottawa a solid secondary scoring option. Still, he's been quite streaky throughout his brief NHL career, and Tarasenko provides a high-end, veteran backup option if Kubalik doesn't pan out in Canada's capital. Ottawa is a team hungry to make their postseason appearance in six years, and adding Tarasenko could push them right back into the conversation of playoff hopefuls in the Atlantic Division.
The New York Rangers would also love to have Tarasenko back in the fold as a more experienced, higher-ceiling scoring option than some of their other depth names, but they're in a more dire financial situation than both Carolina and Ottawa. Finding a way to move out or reduce Barclay Goodrow's cap hit ($3.64MM through 2026-27) could open up some options for them, though.
Projected Contract
Unfortunately for Tarasenko, playing the waiting game has likely cost him a lot of cash in a tight market. Don't expect him to sign a deal much longer than three seasons when he does sign, and it could very well come in under the $5MM mark per season, given the lack of financial flexibility available among contenders.
Photo courtesy of USA Today Sports Images