Just a few arbitration cases remain, as the last day of hearings is slated for August 4. One player who will learn his financial fate before then is Arizona Coyotes forward Jack McBain, whose hearing is slated for Sunday along with Boston Bruins netminder Jeremy Swayman. The two sides have until the start of the hearing to reach an agreement, although PHNX Sports' Craig Morgan reported earlier this month the two sides weren't close to a deal.
Filings
Team: $1.2MM cap hit (two years)
Player: $2.25MM cap hit (one year)
Midpoint: $1.725MM cap hit
(via Sportsnet's Elliotte Friedman)
The Numbers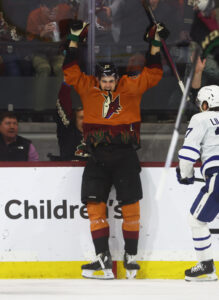 Despite being just 23 years old, this isn't the first time McBain's been in some contract turmoil with an NHL team. Drafted by the Minnesota Wild in the third round of the 2018 NHL Draft, the team was forced to trade his signing rights after a strong senior season at Boston College after McBain informed them he wouldn't sign. The Coyotes picked him up at the end of last season via trade and immediately signed him to an entry-level contract, providing McBain with a clearer path to NHL ice than in Minnesota.
The decision to sign with Arizona proved fruitful for McBain out of the gate, who played in all 82 games for the Coyotes in his first full NHL season. While he played bottom-six minutes and didn't post strong advanced numbers, he had some promising production on the scoresheet with 12 goals, 14 assists and 26 points. He did, however, get eaten alive in the faceoff dot, posting just a 44% win rate. That's not uncommon for a rookie center, however.
The point totals are solid when you consider his most common linemates were enforcer Liam O'Brien and bottom-six grinder Christian Fischer, not exactly players who have had sustained offensive success at the NHL level. Consider every single one of McBain's points came at even strength, and he has a strong case to see a bump in minutes next season. After the team added Alexander Kerfoot, Jason Zucker and Nick Bjugstad in free agency and Logan Cooley via entry-level contract, however, McBain could reprise a fourth-line role in 2023-24.
It's likely why the Coyotes have gone with a rather low filing on a two-year deal, especially considering some of his advanced numbers suggest a sophomore slump may be in the cards. However, there is still a lot to like about McBain as a player, even if many of those positives still revolve around his upside. Projected as a two-way talent, the Coyotes will rely on him to leverage his 6-foot-3, 201-pound frame more often to make plays on both sides of the puck. That's not to say he shied away from physicality – his 64 penalty minutes ranked third on the team behind O'Brien and defenseman Josh Brown. Still, the Coyotes remain wary of sinking too much into a player that may not see more than a 4C role as their forward group fills out.
2022-23 Stats: 82 GP, 12-14-26, -8, 64 PIMs, 85 shots, 13:59 ATOI, 40.1 CF%, 44.0 FOW%
Career Stats: 92 GP, 14-15-29, -14, 70 PIMs, 98 shots, 14:00 ATOI, 40.3 CF%, 42.9 FOW%
Potential Comparables
Comparable contracts are restricted to those signed within restricted free agency which means UFA deals and entry-level pacts are ineligible to be used.  The contracts below fit within those parameters.  Player salaries also fall within the parameters of the submitted numbers by both sides of McBain's negotiation. 
Barrett Hayton (Arizona Coyotes) – If you're trying to find a player with similar age and production to McBain at this point in time, you don't need to look very far. Hayton signed a two-year, $1.775MM deal with the Coyotes late last summer after failing to post top-six caliber numbers throughout three seasons and 94 games in the desert. While McBain doesn't carry the same potential as Hayton (who did have a nice campaign in 2022-23) and is a few years older, it does warrant consideration and will likely be used in-house as a comparable during the arbitration hearing. The offensive production at the time of signing is similar, and it's a deal quite close to the midpoint of the two filings.
Isac Lundeström (Anaheim Ducks) – This one is likely a better fit for McBain in terms of age and potential, and they're both projected to be relied upon as defensively responsible threats down the middle long term. An arbitrator awarded Lundeström a two-year deal worth $1.8MM per season last summer, also making this a slightly better direct arbitration comparable. At the time of signing, Lundeström had slightly more NHL experience at 151 games played but produced at a similar offensive clip, posting 22 goals and 44 points in that span. Both players have yet to hit their defensive potential.
Projection
The gap between the two filings isn't terribly wide at just over $1MM in difference, nor will an arbitrator decision be a significant factor in the team's salary cap situation. It's likely to be one of the least consequential cases to be decided via arbitration this summer, but that doesn't mean it's not worth discussion.
The comparables outlined and scoring numbers produced by McBain generate a strong argument for an arbitrator to side slightly north of the $1.725MM midpoint, but not by much. It is likely, however, that the arbitrator award will be a two-year deal based on McBain's best comparables. Look for a two-year award close to, but not north of, the $2MM mark when the decision gets announced on Tuesday.
Photo courtesy of USA Today Sports Images. Contract information courtesy of CapFriendly.