The Dallas Stars can cross the last name off of their restricted free agent list after reaching a new agreement with Roope Hintz. The Stars have re-signed Hintz to a three-year deal that carries an average annual value of $3.15MM and keeps him under contract through the 2022-23 season.  PuckPedia reports that the deal breaks down as follows:
2020-21: $2MM
2021-22: $3MM
2022-23: $4.45MM
In most cases, the salary in the final year of the contract represents the qualifying offer.  However, the most recent CBA put in a clause stating that the qualifying offer is the lower of the salary in the final year or 120% of the AAV of the deal.  In this case, 120% of the AAV is $3.78MM which means that will be what Dallas must offer to retain his rights in 2023.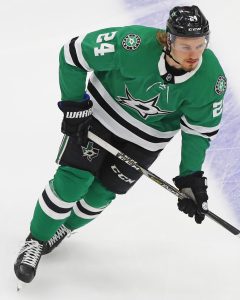 Hintz, 23, broke out in the 2019 playoffs for the Stars, showing off his blazing speed and offensive upside by scoring five goals and eight points in 13 games. That performance continued when the 2019-20 season began, with the young forward tying Jamie Benn for second in the team in goals with 19. That total came in just 60 games and Hintz was effective again in the playoffs, this time tallying 13 points in 25 games while the Stars went all the way to the Stanley Cup Finals.
Moving forward, the team will need even more from their young star, given Tyler Seguin's injury and lack of any real improvements in free agency. Seguin is expected to be out for the first few months of the season, meaning Hintz and fellow youngster Denis Gurianov will have to carry a huge amount of the offensive burden.
If he does get more powerplay opportunity and increased minutes, this three-year contract could quickly look like quite the bargain. A $3.15MM cap hit makes Hintz the seventh-highest paid forward on the roster, just behind Radek Faksa who signed a five-year extension last month. Though Faksa is one of the league's top defensive forwards, Hintz holds quite a bit more offensive potential and could easily push toward the 30-goal mark next season. If he does, a three-year term may seem like a mistake from his camp.
That said, a deal like this is quite a bit of stability for a second-round pick that still has just 118 regular season games under his belt. It also leaves him a restricted free agent in 2023 with the possibility of an arbitration hearing that could walk him directly onto the open market a year later. If his development continues, he could be in line for an expensive long-term extension at that point.
Photo courtesy of USA Today Sports Images