After the Calgary Flames finished their disappointing season last night, they've sent three young players back to the minor leagues to chase a Calder Cup. Jakob Pelletier, Walker Duehr, and Dustin Wolf have been reassigned to the Calgary Wranglers.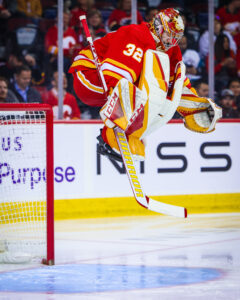 Wolf stole the show in the regular season finale, exciting fans from his acrobatic pre-game routine to the final whistle on his debut victory. The 21-year-old netminder, who fell to the seventh round in 2019 because of his size, has dominated every level of hockey so far. An all-time performance in his WHL career led to incredible results in the AHL and now a .958 save percentage in his one-game NHL sample.
Through 53 appearances for the Wranglers this year, the diminutive goalie went 41-9-2 with a .932, and should help them challenge for a league title. Before long, you might see him as a regular in the Flames crease, especially given the struggles of Jacob Markstrom and Daniel Vladar this year.
Pelletier, meanwhile, was the team's first-round pick in 2019, and has had similar success at the minor league level. In 33 games with the Wranglers this year, he scored 16 goals and 36 points, leading to a significant call-up to the Flames. He recorded seven points through 24 games to start his NHL career and could be a regular as soon as next year.
Duehr, the oldest of the three at 25, was an undrafted free agent signing out of Minnesota State in 2021 and has 11 points in 27 games for the Flames this season. While not as highly regarded in the Calgary system, he'll lend his size and versatility to the Wranglers as they go on a playoff run as the AHL's top seed.
Photo courtesy of USA Today Sports Images