Brian Burke isn't one to mince words. The long-time NHL general manager who now serves as president of the Calgary Flames has uttered innumerable one-liners and catchphrases over the years, many of which are meant to entertain but none that are anything but truthful. One of his most common, was that front offices "make more mistakes on July 1 than any other day of the year." He obviously wasn't a fan of the free agent frenzy that happens each year as franchises rush to improve their teams.
In 2016, just a few weeks after Pro Hockey Rumors was launched, we saw an incredible number of long-term deals handed out to players that were either already in, or just past their prime. Milan Lucic, David Backes, Loui Eriksson, Kyle Okposo, Andrew Ladd, and on and on all secured huge paydays last year. Each of them have dealt with levels of inconsistency even in their first season, and still have several years of high cap hits left on their deals.
This summer though was different. The free agent cupboard was almost completely bare, save for a few aging legends and controversial defensemen. On July 1st, we saw just four free agents sign contracts that would pay them at least $4.5MM annually, and only one of them was for five years or more. Let's take a look at those four, and see what the early results can tell us.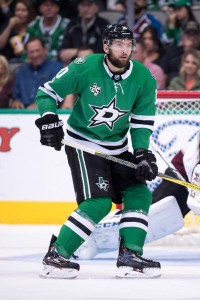 Martin Hanzal (DAL) – Three years, $4.75MM AAV
Season stats: 11 games, 1 goal, 0 assists, 1 point, -9 rating, 19 shots, 14:53 ATOI
Hanzal has been a terrible disappointment in Dallas so far, scoring just a single point while carrying some of these worst possession stats in the league. He's currently out with a lower-body injury, but the Stars will need an immediate improvement upon his return to start recouping the money they handed out.
Dallas spent heavily in free agency this summer, signing Hanzal and Alexander Radulov while inking Ben Bishop before he hit the open market. You're bound to miss on some of the shots you take, but at 7-6 it isn't quite the immediate turnaround they were hoping for. Hanzal's contract isn't back-breaking, but it's certainly not helping the situation.
Justin Williams (CAR) – Two years, $4.5MM AAV
Season stats: 11 games, 1 goal, 8 assists, 9 points, -3 rating, 25 shots, 17:25 ATOI
For being 36 with over 1,200 NHL games on his body, Williams looks as fresh as ever. Returning to the place where he won his first (of three) Stanley Cup, Williams has added a different dimension to the Hurricanes. Though Carolina is still off to a shaky start, Williams is tied with Jeff Skinner as their leading scorer and has been as dominant as ever five-on-five.
While it's unlikely he'll carry this 67-point pace through the entire season, he's an incredibly responsible defender and has always been an opportune goal scorer. The Hurricanes are off to a shaky start, but it's not because of the Williams addition. His contract is so reasonable that it will invariably draw trade speculation if the Hurricanes aren't in playoff contention at the deadline. It came with trade protection in the form of a 15-team no-trade list.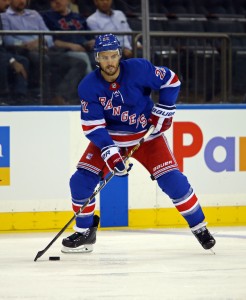 Kevin Shattenkirk (NYR) – Four years, $6.65MM AAV
Season stats: 14 games, 2 goals, 9 assists, 11 points, -4 rating, 27 shots, 21:33 ATOI
The prize of free agency was Shattenkirk, even with a poor showing in the playoffs for the Washington Capitals. No, he's not an outstanding defender in his own end and he won't lead the league in hits anytime soon. What he is though is an elite powerplay quarterback that can log big minutes and provide a positive impact in the possession game.
Shattenkirk has come just as advertised, scoring more in New York than anyone not named Mika Zibanejad or J.T. Miller. His offensive game is among the best in the league, but the Rangers are struggling to keep their head above water at 5-7-2. The 29-year old defenseman could have signed a longer deal somewhere else, but wanted to help New York get over the hump. If it starts to look bad in a few years, remember that it's so front loaded that he'll earn just $4MM in the final year of the deal (half of which is owed as a signing bonus).
Karl Alzner (MTL) – Five Years, $4.625MM AAV
Season stats: 13 games, 0 goals, 4 assists, 4 points, -6 rating, 12 shots, 20:28 ATOI
It's not pretty in Montreal right now with the Canadiens off to a 4-8-1 start. There are many factors that have gone into that record, but Alzner is certainly one of them. For the UFA who signed the longest deal (along with Alexander Radulov) Alzner is sure making a pretty lukewarm first impression.
Alzner's not without redeeming qualities. He logs a ton of ice time for the Canadiens against some top competition, and is a primary penalty killer. The problem, is that Montreal's PK is among the worst in the league and they've been routinely out shot when he's on the ice at even strength. He only recently turned 29, but Montreal won't be able to rely on him for 20+ minutes for the entire length of the contract.