2018 was quite a busy year in the hockey world.  There were several big trades and free agent signings, plenty of changes behind the bench, and much more.  Over the past couple of weeks, PHR has looked back at the top stories from around the game on a month-by-month basis.  Last up is a look back at December which featured some notable news around the league.
Nylander Saga Ends: It took until mere minutes before the December 1st deadline but the Maple Leafs and RFA winger William Nylander were able to agree on a six-year, $45MM contract.  The deal is considerably front-loaded and contains over $24MM in signing bonuses over the life of the contract.  Because of its varied structure and the fact it was signed during the season, the cap hit to Toronto differs significantly this season compared to the next five years.  They're carrying a cap hit of $10.277MM on the books in 2018-19, a number that drops to $6.96MM for next season and beyond.  The 22-year-old has gotten off to a very slow start since signing, collecting just a goal and two assists in 14 games.
Berglund Suspended, Contract Terminated: In a move that came out of nowhere, the Sabres announced that center Patrik Berglund had been suspended indefinitely for failure to report to the team.  He had missed the previous few games with what was being called an illness but before that, he had been a regular in Buffalo, albeit in a minor role.  Days later, he was placed on unconditional waivers and when he cleared, it paved the way for the team to terminate the remainder of his deal, which carried a $3.85MM cap hit through 2021-22.  Berglund has yet to sign anywhere since then.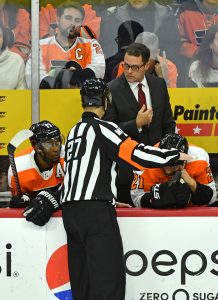 More Changes In Philadelphia: After firing Ron Hextall in November, the Flyers found their replacement GM, naming Chuck Fletcher to the role.  One of the immediate questions that surfaced was the future of head coach Dave Hakstol.  While he stuck around for a couple of weeks, a move behind the bench was eventually made as Scott Gordon was promoted from the AHL to take over as head coach on an interim basis for the remainder of the season.  Hakstol's tenure will be remembered for Philadelphia's extreme streakiness while his overall record of 134-101-42 wasn't particularly strong either.  Gordon has parts of three seasons of NHL head coaching experience with the Islanders but he hasn't been able to turn the ship around as the Flyers are just 3-7-2 since his hire.
Seattle Becomes Official: This decision was expected for a while but the league officially announced that Seattle will become the NHL's 32nd team after they were granted an expansion franchise for $650MM.  The hope was that they would be able to begin playing in 2020-21 but instead, they will hold off a year and hold their Expansion Draft in June of 2021.  It's expected that the same rules that Vegas for the draft will be in place for Seattle.  On top of that, the city will also be hosting the All-Star Game and the NHL Entry Draft within the next seven years, league commissioner Gary Bettman told reporters today, including NHL.com's Nick Cotsonika (Twitter link).
Dallas CEO Speaks Out: It's rare when a CEO of an NHL team speaks out.  It's even rarer when anyone speaks out as strongly as Dallas' Jim Lites did.  He took aim at winger Jamie Benn and center Tyler Seguin, their two top players who have failed to live up to expectations this season in a planned expletive-filled tirade.  While ownership has stepped in to say that this isn't a sign that one could be traded in the weeks to come, this could very well create a chasm between the team and its top players, especially if they continue to underachieve.
Photo courtesy of USA Today Sports Images.