The Tampa Bay Lightning continue to lock up their stars, this time inking Nikita Kucherov to an eight-year extension. The deal was announced by Kucherov's agent Dan Milstein of Gold Star Hockey on Twitter. The team then officially released the signing, announcing that the deal comes with an average annual value of $9.5MM. Stephen Whyno of the Associated Press has the full breakdown:
2019-20: $1.0MM salary + $11.0MM signing bonus
2020-21: $4.0MM salary + $5.0MM signing bonus
2021-22: $3.5MM salary + $8.5MM signing bonus
2022-23: $4.0MM salary + $5.0MM signing bonus
2023-24: $5.0MM salary + $5.0MM signing bonus
2024-25: $5.0MM salary + $4.0MM signing bonus
2025-26: $5.0MM salary + $3.0MM signing bonus
2026-27: $4.0MM salary + $3.0MM signing bonus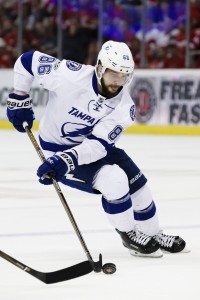 Kucherov, 25, is heading into the final year of his current contract and was scheduled to become a restricted free agent for the final time next summer. Instead, he'll stay with the Lightning at a price that lets the team retain the rest of their core. Though $9.5MM will make Kucherov the highest-paid player on the Tampa Bay roster, it doesn't cripple their ability to add more talent going forward. In fact, Chris Johnston of Sportsnet and Joe Smith of The Athletic both tweet that a Kucherov extension does not take the team out of the running for Erik Karlsson who is expected to sign a massive long-term extension with whichever team acquires him from the Ottawa Senators. The Lightning would need to move money out, but the team always expected to sign Kucherov to an expensive extension.
In fact, Tampa Bay looks like they're in fine shape even with their newest extension. The team currently projects to have around $14MM in cap space next summer without factoring in any increase in the ceiling, and have only Brayden Point left as a key restricted free agent. Several names on the blue line will be expiring, but with the new deal for Ryan McDonagh the team has solidified their blue line without even addressing the Karlsson situation. In the 2020 offseason, when Andrei Vasilevskiy and Mikhail Sergachev will be looking for big raises, Ryan Callahan's $5.8MM contract will be coming off the books—provided it hasn't already been traded away.
While handing out long-term extensions like this does put quite a bit of risk on the team's shoulders, Kucherov is worth every ounce. The Russian winger has gotten off to a Hall of Fame-level start to his NHL career, scoring 334 points in 365 games including cracking 100 (exactly) in the 2017-18 season. An exceptional goal scorer and exquisite passer, Kucherov can create offense by himself or pair with Steven Stamkos as one of the most dynamic duos in the league. Not only does he have the ability to lead the league in scoring at any time, but he's also received Selke votes twice as one of the league's best defensive forwards. That's not his calling card, but Kucherov is capable in nearly every facet of the game.
Kucherov only just turned 25 last month, meaning he'll finish this extension at age-33. Even as he enters the middle of the deal and no longer provides excess value, the Lightning have players to pick up the slack. Despite trading two top prospects away for McDonagh at the deadline and not selecting in this year's first round, Tampa Bay still has plenty of young names that will be graduating to the NHL in the coming seasons. Those players will become key if the Lightning and GM Steve Yzerman pursue Karlsson or any other big tickets, as they'll have to move out some salary to make everyone fit. Fortunately for the club, other than Callahan there are few undesirable deals on the books for the Lightning. J.T. Miller, Tyler Johnson, Ondrej Palat and Alex Killorn all have their warts, but would likely all have suitors on the trade market if made available. That flexibility allows Yzerman to go after even bigger names, while retaining his homegrown stars for the prime of their careers.
Photo courtesy of USA today Sports Images