After Elliotte Friedman of Sportsnet broke the news last night that Mark Hunter was not at the Memorial Cup as a member of the Toronto Maple Leafs, many believed the writing was on the wall. Today, the team announced that they and Hunter had mutually parted ways, leaving his role as assistant GM vacant for the moment. New GM Kyle Dubas has now lost two experienced executives in recent days, after Lou Lamoriello began working for the New York Islanders.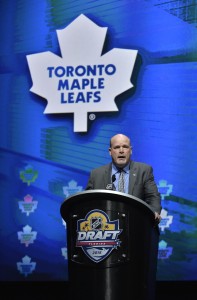 Bob McKenzie of TSN reports that while Hunter is now free from his duties for the Maple Leafs, he will not be permitted to work for another team until after the upcoming draft and free agency period. With several years remaining on his current contract, the Maple Leafs will stop him only from giving another team an advantage this year, as he is likely intimate with their plans and draft board at this point.
Hunter was passed over recently for the GM job, one that he made clear to President Brendan Shanahan that he wanted. The long-time OHL executive and coach is a top scout and has helped the Maple Leafs find several mid to late-round players that will contribute in the NHL. For now he'll have to sit out the 2018 draft, but there's little doubt that interest will quickly surface from around the league.
Whether he'll take one of those other NHL jobs is unclear, as there is always a chance that he returns to the London Knights organization where he owns the team with his brother Dale Hunter. The Knights are one of the richest, most successful teams in the CHL and have routinely put powerhouse lineups on the ice.
Hunter could also end up in New York with Lamoriello, after working well together for several years. Lamoriello recently left a senior advisor role with the Maple Leafs, and though it's not clear exactly what his title will be with the Islanders, he will be in charge of their entire hockey operations department.
For the Maple Leafs, this leaves Dubas with several big holes to fill on his staff. He already likely had to replace himself as GM of the Toronto Marlies, and now will need to bring in another new assistant GM to help the scouting side.