In a shocking turn of events, the Chicago Blackhawks have fired head coach Joel Quenneville just a month into the season. Quenneville had been the bench boss in Chicago since October 16th, 2008, and had won more than 500 games with the club including three Stanley Cups. The team has also fired assistant coaches Kevin Dineen and Ulf Samuelsson. Jeremy Colliton, who had been coaching with the AHL's Rockford IceHogs, has been promoted to NHL head coach alongside Barry Smith who will make the jump to NHL assistant.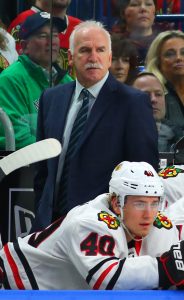 Quenneville, 60, is one of a handful of coaches who could be considered the greatest—or at least most successful—in the history of the NHL. His 890 regular season wins trail only the legendary Scotty Bowman, while his .609 winning percentage is third among coaches with over 1,000 games behind the bench. Even his three championships, won in 2010, 2013 and 2015 are the benchmark for coaches in the salary cap era. Since becoming a head coach during the 1996-97 season, his teams have reached the playoffs 18 times, missing just twice including last season.
The struggles of the Blackhawks in recent years to return to the Stanley Cup Finals has forced several issues between Quenneville and the front office into the spotlight, including the firing of assistant coach Mike Kitchen in late April of 2017. After being swept out of the first round of the playoffs, GM Stan Bowman surprised Quenneville by firing Kitchen suddenly. The two had worked together for years, and Quenneville was "upset" at the decision. Even before that, Bowman and Quenneville had clashed about the appearance of Smith, then director of player personnel, at team practices. Smith has now been chosen to fill in on the bench with Colliton as an assistant.
The outgoing Quenneville still has another season on his current contract that will pay him $6MM, but shouldn't be out of work long if the Blackhawks allow him to pursue other opportunities. Teams that have been internally assessing their own coaching staffs have even more reason to make a move now, and would likely only have to pay out a portion of the remaining deal. Chicago could technically block him from working somewhere else, but would save money by allowing another team to pay some of his contract. There are no longer any compensatory draft picks for situations like this.
Colliton, 33, will become the youngest head coach in the league after taking over from Quenneville. Originally selected in the second round by the New York Islanders, Colliton played 57 NHL games before heading over to Sweden to try and continue his career. While dealing with post-concussion symptoms he announced his retirement only to join the Mora IK coaching staff. He coached the IceHogs to a 40-28-8 record last season (his first) in the AHL, and took them all the way to the third round of the Calder Cup playoffs.
Still, for all the acclaim Colliton has received as a young coach, he has a lot of work to do. Duncan Keith, Corey Crawford, Cam Ward and Chris Kunitz are all older than the incoming coach, and Brent Seabrook is a former teammate of his from the World Junior Championship. While that doesn't mean he can't control or command them, it does point to at least one of the reasons why the roster has struggled recently. The Blackhawks are 6-6-3 this season but have lost five straight games, and have a huge amount of their cap tied up in their aging core. Seabrook and Keith, once the faces of a dynamic defensive unit, are both shadows of their former selves and still signed through at least the 2022-23 season. Captain Jonathan Toews has had a nice bounce back season so far, but is now on the wrong side of 30 with another four years at $10.5MM on his deal.
There is talent and youth on the roster, but it will be a tough ask for Colliton—like it was for Quenneville—to turn this group into a playoff team right away. Perhaps more changes are on their way for the Blackhawks, including potential transactions to rid themselves of some of the heftier contracts. The team is headed in a new, fresh direction, and would likely want a more flexible balance sheet to work with going forward.
Photo courtesy of USA Today Sports Images