Though earlier this season the New York Rangers ownership and front office explained to fans that they would be heading into a rebuilding process, Henrik Lundqvist wasn't about to abandon ship. As Larry Brooks of the New York Post reports, Lundqvist was given the option of being traded at the deadline to a "good landing place" but quickly declined, saying that he wanted to "see it through."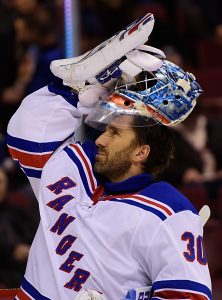 Lundqvist has three years remaining on his current contract, and is still playing at a high level. In 63 games this season he recorded a .915 save percentage, despite a weak defense corps that struggled to contain the opposition on a nightly basis. He will begin next season at age-36, meaning if he stays with the Rangers through the end of his contract it's unlikely he'll get another real opportunity at the Stanley Cup.
That prize has remained out of Lundqvist's grasp for his entire career, despite plenty of success at the international level and during the regular season. With Olympic and World Championship gold (and silver) medals, a Vezina trophy as the NHL's top goaltender, two SHL Championships and 11 playoff appearances in 13 NHL seasons, he's a proven winner and likely Hall of Fame inductee when he finally retires. If the Rangers are committed to a real rebuild though, the chances of a second Stanley Cup Finals appearance are relatively small.
The question then becomes whether a real "rebuild" is in order in New York. That term usually brings about finishes near the bottom of the standings for several years, using draft picks to slowly improve the team's prospect pipeline until it is ready to contend again. It often takes five or more years to complete, though there are obviously outliers on both sides. The Rangers though seem poised to compete for the playoffs much sooner. After trading off assets like Derek Stepan, Antti Raanta, Rick Nash, Michael Grabner, Ryan McDonagh and J.T. Miller in the last calendar year, they find themselves flush with high end prospects ready to make an impact at the NHL level before long.
The idea that a core built around players like Filip Chytil, Lias Andersson, Brett Howden, Libor Hajek and Ryan Lindgren—not to mention the three first-round picks the team owns in the upcoming draft—could be ready to compete for the Stanley Cup in the next three years isn't out of the question. With other relatively young talents like Brady Skjei, Mika Zibanejad and Vladislav Namestnikov still on the roster, the Rangers could be in for a quick bounce back. If Lundqvist can stay healthy, and remain an above-average goaltender in the NHL there could be a chance to have one or two more playoff appearances. If that's what he means by "see it through," Rangers fans should be happy he stuck around.
Photo courtesy of USA Today Sports Images