While Golden Knights center William Karlsson was slated to go to arbitration this morning, the hearing didn't go ahead. Instead, the team announced that they have agreed to a one-year, $5.25MM contract with their top scorer. The deal includes just $500K in signing bonuses.
Before the hearing, the two sides had filed their salary requests.  Karlsson was seeking $6.5MM while the team came in at $3.5MM so the settlement comes in beyond the $5MM midpoint.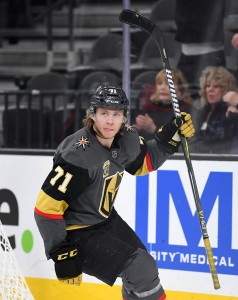 The 25-year-old had a breakout season in 2017-18, one that no one could have reasonably expected.  After putting up 25 points in 81 games in 2016-17, the Blue Jackets reached a deal with Vegas for them to take Karlsson instead of winger Josh Anderson or goalie Joonas Korpisalo in the Expansion Draft.  It's safe to say that the deal worked out extremely well for the Golden Knights.
While he started out in a bottom-six role, that didn't last long and Karlsson took off after that.  He wound up scoring a whopping 43 goals which ranked third overall in the league while adding 35 assists while becoming their top line pivot.  He also led the league in plus/minus with a +49 rating.  However, he also led the league with a 23.4 shooting percentage, a number that many view as unsustainable and use that as an argument that he is due to regress in 2018-19.
Although he cooled off a little bit in the Stanley Cup Final, Karlsson also had a productive postseason, notching seven goals and eight assists in 20 games which certainly helped to bolster his case and helped him earn a $4.25MM raise in salary compared to what he made last season.
Karlsson will be eligible for restricted free agency with arbitration rights once again next season.  His $5.25MM salary for next season will also represent his qualifying offer at that time.
With the signing, Vegas has all but one of their players signed for 2018-19 with nearly $8MM in salary cap room to work with; RFA defenseman Shea Theodore is still in need of a new deal.
Sportsnet's Chris Johnston was the first to report (Twitter link) that the two sides reached a settlement before the hearing.  Sportsnet's Elliotte Friedman was the first to note via Twitter the value of the deal.

Photo courtesy of USA Today Sports Images.