Now we know why Nate Schmidt had returned early from Europe. The Vegas Golden Knights announced late last night that Schmidt has signed a six-year extension with the team, a deal which carries an average annual value of $5.95MM through the 2024-25 season. Schmidt was scheduled to become an unrestricted free agent in the summer, but has spoken about his love for the Golden Knights in the past. The deal also includes a 10-team no-trade clause, and is front loaded:
2019-20: $6.8MM salary + $2.0MM signing bonus
2020-21: $6.1MM salary
2021-22: $6.0MM salary
2022-23: $5.0MM salary
2023-24: $4.95MM salary
2024-25: $4.85MM salary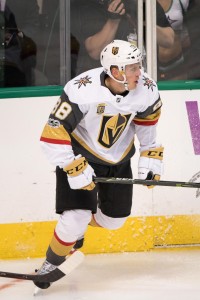 Schmidt, 27, is still dealing with a 20-game suspension for a positive banned substance test in the offseason, and will not be eligible to return to game action for the Golden Knights until November 18th against the Edmonton Oilers. Though the defenseman vehemently denies taking any sort of performance enhancing drug, he's serving his suspension and had been practicing in Austria with a professional team. Staying game-ready is important at this point, as the Golden Knights will likely put a ton on Schmidt's plate as soon as he's eligible to return.
After being picked from the Washington Capitals in the expansion draft, Schmidt immediately saw a huge increase in responsibility and turned in a career-best performance in 2017-18. Logging more than 22 minutes a night in the regular season, the smooth-skating defenseman recorded 36 points in 76 games and then was pushed even further in the playoffs to help Vegas climb all the way to the Stanley Cup Finals. One of the most important players on the team, his absence has been felt in the early going of this season.
The Golden Knights are off to a shaky start in 2018-19, posting a 4-4-1 record through their first nine games including a loss last night to the Vancouver Canucks in overtime. For the team that shocked the hockey world on a nightly basis a year ago, things haven't gone quite as smoothly in their sophomore effort. Getting Schmidt back will certainly help that, and locking him up going forward allows them to build around him in the coming years.
Those years though don't come without substantial risk. While Schmidt has been good for the team so far, he still does have just 276 NHL games under his belt and will turn 28 before the extension kicks in. An undrafted free agent from the University of Minnesota, he'll need to provide even more offense for the Golden Knights to really warrant a deal of this magnitude. Schmidt would have been highly sought after on the unrestricted market, but the direct comparables to this deal don't paint a very pretty picture. Jeff Petry, Andrew MacDonald, Marc Staal, Jonathan Ericsson and Andrej Sekera are the five closest contracts according to CapFriendly, a group that inspires very little confidence at this point. Still, the Golden Knights believe they have a player who can be a key contributor for them as they attempt to get back to the Stanley Cup right away.
The attempt to compete right away was likely caused by the unprecedented success Vegas experienced last season as an expansion team, but also could be misguided at this point in team history. While last season was an outstanding performance from all involved, signing contracts like this has quickly taken away any long-term advantage the Golden Knights had with their empty balance sheet. The team at one point had oodles of cap space available to use as leverage in trade talks, taking on bad contracts in order to beef up their prospect cupboards, but have used up almost all of it on their key contributors from last season and a few new faces.
Jon Marchessault, Alex Tuch, Max Pacioretty, Paul Stastny, Shea Theodore, Colin Miller, Brayden McNabb, Marc-Andre Fleury and now Schmidt have all signed contracts or extensions of at least three years in length, and now make up the do-or-die core of the team. That group of nine players will be owed nearly $48MM next season and beyond, while the team also has a long-term commitment still with Reilly Smith and will likely sign one with William Karlsson before long. There's obviously nothing wrong with building around a group like that, but the Golden Knights no longer have that unprecedented advantage of having an empty salary structure.
Still, that's obviously a decision they're willing to make to sign players like Schmidt long-term. The team has built a strong fan base in Vegas and around the league, and have ensured that they'll be at least competitive with this group for years to come. Whether it's good enough to really contend for the Stanley Cup down the line is yet to be seen, but it'll at least be a fun ride while we find out.
Pierre LeBrun of The Athletic reported the contract breakdown.
Photo courtesy of USA Today Sports Images