The Tampa Bay Lightning have done it again, signing one of their core players to a long-term extension to keep the group together. Yanni Gourde has inked a six-year extension that comes with a $5.166MM average annual value. Gourde was scheduled to become an unrestricted free agent at the end of the season. New Tampa Bay GM Julien BriseBois explained why they wanted to keep Gourde in the fold:
We are very pleased to have Yanni as a part of the Lightning organization for the foreseeable future. Yanni personifies our team's identity with his speed and relentlessness on the ice and his strong character off of it. He is proof of how far hard work and dedication can take you, and we look forward to him continuing his career in Tampa Bay.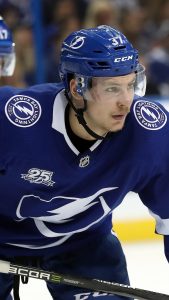 The Lightning have continued to reward their core talents with long-term contracts, signing players like Steven Stamkos, Victor Hedman, Nikita Kucherov, Alex Killorn, Tyler Johnson, J.T. Miller, Ryan McDonagh, Ondrej Palat and now Gourde to deals at least five years in length. Nearly all of them though have come at a price that were considered discounted at the time, and Gourde is no different. Though he doesn't have a long history of success, a 64-point rookie campaign a year ago has led to him scoring 12 points in 12 games this season. The Lightning obviously believe the $31MM deal is worth it, especially given the fact that it includes a full no-trade clause for the first few seasons. The full breakdown is as follows:
2019-20: $6.3MM salary, full no-trade clause
2020-21: $4.1MM salary, full no-trade clause
2021-22: $6.3MM salary, full no-trade clause
2022-23: $4.1MM salary, partial no-trade clause
2023-24: $5.1MM salary, partial no-trade clause
2024-25: $5.1MM salary, partial no-trade clause
That may seem like a lot of cash for a player who has just 116 regular season games under his belt, but considering the fact that it buys out entirely unrestricted free agent seasons it may be a substantial bargain. Restricted free agents like Alex Tuch and Tom Wilson just received similar deals, and even though both represent much different playing styles than the 5'9″ Gourde, neither have the kind of offensive upside he's demonstrated so far.
It doesn't come without some risk though. Gourde will turn 27 in the first year of the extension, and despite the unstoppable work ethic he showed as he went from undrafted junior star to core NHL piece, he now will have more pressure to perform than he's ever faced before. This contract comes with big expectations for him, and even a slight step backwards over the next few years could make it a very troublesome cap hit. The Lightning now have more than $50MM tied up through the 2022-23 season, an incredible amount even if the salary cap continues to increase. They also have some more, perhaps even more lucrative deals to sign in the next few months.
Brayden Point is up for extension after this season, while Mikhail Sergachev and Andrei Vasilevskiy are up the summer following. All three players are still young and restricted free agents, but if the team wants to work out long-term deals they'll need to be very careful with how they work out their finances. The Lightning believe this group can compete for several Stanley Cups—and why not, given their performance so far—but could find themselves quickly in cap trouble if any start to decline.
Even so, they have plenty of contracts they could get out from under if necessary. Ryan Callahan's $5.8MM cap hit will come off the books before Vasilevskiy and Sergachev cash in, while Johnson or Killorn could be moved if willing to waive their trade clauses. Gourde's deal too could be moved if he doesn't continue his performance, especially since it drops to only a partial trade clause after the first three seasons. In all, this move is just another by one of the strongest front offices in the league to push their team closer towards a Stanley Cup, and keep their window of contention wide open.
Pierre LeBrun of The Athletic broke down the details of the contract.
Photo courtesy of USA Today Sports Images