The hammer has dropped in New York, where Lou Lamoriello has announced that former GM Garth Snow and head coach Doug Weight have both been relieved of their duties. The press release indicates that both will "remain with the organization" though no word on any titles or responsibilities. Lamoriello will take over as GM, and begin the hiring process on a new coach.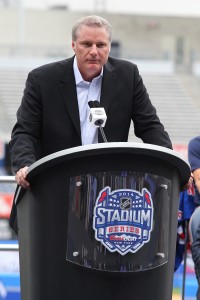 Snow has been with the Islanders for more than a decade, hired in 2006 as GM immediately after his retirement from playing. That tenure hasn't been filled with success, as the team has made the playoffs just four times and advanced through the first round once. That's despite having an elite NHL center in John Tavares, someone who poses perhaps the most interesting question to come of the restructuring.
Tavares is notably close with Weight and Snow, and has previously given his vote of confidence to both. Some believe that he wanted the organization to stand behind Weight despite the team's struggles this season, before re-signing this summer. Tavares of course is scheduled to become an unrestricted free agent on July 1st and is the prize of the market for any number of teams. Lamoriello has reportedly met with Tavares and his representation several times since taking the job, but there is still no clear decision from the 27-year old on whether he'll test the free agent waters or not.
Weight was given just one year as the head coach, but saw the team take a substantial step backwards thanks to poor defensive play and inconsistent goaltending. The team could score—their top two pivots in Tavares and rookie Mathew Barzal both eclipsed 80 points—but not keep the puck out of their net on a regular basis. That's not a style Lamoriello is familiar with (except perhaps from his recent days with Toronto) as his championship-winning New Jersey Devils teams of the past were some of the most defensively capable of any group in NHL history. Obviously it's impossible to turn this Islanders team into that Scott Stevens-led trapping monster, but it would be a good bet to expect the team to make improvements in their own end.
Stevens in fact is an interesting candidate for the now vacant coaching position, as Lamoriello hired him in New Jersey as an assistant and then "co-coach" alongside Adam Oates. Stevens resigned his most recent post with the Minnesota Wild to be closer to his family that reside in New York, something he could obviously still do if employed by the Islanders.
There are other names that obviously come to mind, including Toronto's Sheldon Keefe (head coach of the AHL Marlies) and D.J. Smith (assistant with the Maple Leafs) who should have a working relationship with Lamoriello, and Barry Trotz, who still doesn't have a contract past this season and is one game away from winning a Stanley Cup with the Washington Capitals.
Arthur Staple of The Athletic tweets that Weight's entire coaching staff has likely been let go with him, meaning any of the above names (perhaps except for Trotz) could be in the running for assistant roles with whoever is given the head coaching position. It will be interesting to see who the legendary executive brings in to turn things around, and whether they'll have the face of the franchise back in town—clean shaven, that is.