The Canadiens didn't waste much time getting a new deal done with forward Max Domi.  After acquiring him last night, the team announced that they have signed him to a two-year, $6.3MM contract.  TSN's Darren Dreger adds (Twitter link) that the contract carries a base salary of $2.9MM plus a $250K signing bonus for each season.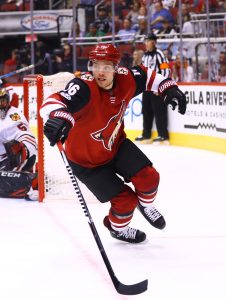 The fact that he received a bridge deal doesn't come as much of a surprise as he is coming off somewhat of a quiet season.  While he picked up 45 points, he failed to hit the double-digit goal mark for the second straight year so it wasn't likely that Montreal was going to commit to a long-term pact right away without seeing how he'd fit in first.
It will be interesting to see how Domi slots in with the Canadiens.  The team is desperate for help at center but the 23-year-old has spent the majority of his three-year NHL career on the left wing although he did see some time down the middle in 2017-18.  If he gets to play there and succeeds, he'll position himself nicely for a long-term pact two years from now.
Regardless of which position he plays, the team will certainly be counting on more goal production from him after tallying just nine times in each of the last two years.  On a team that struggles to score as much as Montreal does, the fact that they moved a goal scorer in Alex Galchenyuk for someone who is more of a pure playmaker certainly raised some eyebrows.
Domi will be a restricted free agent at the conclusion of this deal and will have arbitration rights, something that he was not eligible for this time around.
Photo courtesy of USA Today Sports Images.