The Chicago Blackhawks announced today that legendary forward Stan Mikita has passed away at the age of 78. The Mikita family has released a statement, and an immediate outpouring of condolences came from all around the hockey world. Blackhawks president John McDonough explained what he meant to the team:
Stan Mikita will be always remembered as a champion, an innovator and a master of the game. He embodied the Chicago Blackhawks. His excellence is illustrated by the team records he still holds today. His passion for the game was proved by the longevity of his playing career. The impact he had on the franchise is proved by fact that Blackhawks fans still wear his jersey to the United Center. On behalf of the Chicago Blackhawks organization and our fans, we express our deepest condolences to the Mikita family and all who mourn Stan's passing.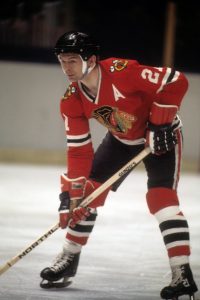 Mikita played parts of 22 seasons for the Blackhawks, never suiting up for another NHL team during his lengthy career. In 1,396 career regular season games, he registered 1,497 points and took home the Art Ross trophy for leading the league in scoring four times. On two occasions he was crowned league MVP and awarded the Hart Trophy, and was inducted into the Hockey Hall of Fame in 1983. Among the greatest to ever play, Mikita took home the Stanley Cup in 1961 but was never able to repeat as league champion. Still, he eventually donned the "C" as captain of the Blackhawks and still holds the franchise records for games played, assists, points and +/- rating while only trailing Bobby Hull in goals.
Known—perhaps somewhat apocryphally depending on who you ask—as the father of the curved hockey stick, Mikita was an incredible innovator on the ice. His elusive skating and puck skills (not to mention his incredible toughness and work ethic) were imitated and improved upon by generations of hockey players that followed him and his impact on the game is still felt today. Respected, beloved and admired by countless hockey fans, he'll be sorely missed. Blackhawks chairman Rocky Wirtz explains how it wasn't just Mikita's on-ice performance that will be remembered:
There are no words to describe our sadness over Stan's passing. He meant so much to the Chicago Blackhawks, to the game of hockey, and to all of Chicago. He left an imprint that will forever be etched in the hearts of fans – past, present and future. Stan made everyone he touched a better person. My wife Marilyn and I, joined by the entire Wirtz family, extend our prayers and thoughts to Jill and the Mikita family. 'Stosh' will be deeply missed, but never, ever forgotten
The writing staff at PHR would also like to extend our condolences to the Mikita family, and our admiration for one of the greatest hockey players to ever suit up.