John Gibson will be manning the pipes in Anaheim for a long time to come.  The team announced that they've signed the goaltender to an eight-year contract extension through the 2026-27 season.  Financial terms of the deal have not been disclosed.  Eric Stephens of The Athletic reports (Twitter link) that the deal carries an AAV of $6.4MM.  Gibson is already signed for next season with a $2.3MM cap hit with a $3.3MM salary so this new deal won't kick in until July of 2019.
Per CapFriendly, there are no signing bonuses in the deal and there is no variation in the year-to-year salary.  He also receives a ten-team no-trade list beginning in 2021-22 when he is eligible to have no-trade protection in his contract.
GM Bob Murray released the following statement on the move:
"I believe in John Gibson, as does everyone in the organization. This is obviously a major commitment by the club, but one we feel strongly about. John is equally committed to being a Duck. He is only now entering the prime of his career, and we are all confident his best is yet to come."
Gibson was drafted in the second round (39th overall) with a pick they acquired from the Maple Leafs at the 2011 draft in exchange for trading down to allow Toronto to select winger Tyler Biggs.  He has quickly emerged as one of the better young goalies in the game and the Ducks are clearly pleased with his progress given their commitment here.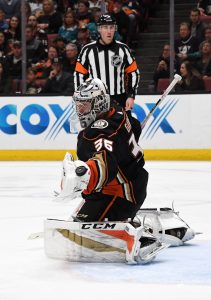 Last season, the 25-year-old played in a career-high 60 games, posting a 2.43 GAA and a .926 SV% along with four shutouts.  However, he did struggle in a postseason sweep at the hands of the Sharks which ended his year on a bit of a sour note.
In his career, Gibson has put up a .923 SV% and a 2.29 GAA in 178 games, numbers that put him among the better starters league-wide.  The deal will make him the fifth highest paid goalie in the NHL in terms of cap hit for 2019-20 although it should be noted that veterans like Pekka Rinne and Sergei Bobrovsky are slated to become free agents next summer and should eclipse that mark on their next contracts.
With the signing, the Ducks quietly have a lot of money committed for 2019-20.  Per CapFriendly, they now have 13 players locked up for that season at a combined cap hit of just over $66.5MM.  Murray acknowledged last month that they would also like to lock up winger Jakob Silfverberg long-term but they may need to deal with restricted free agent wingers Ondrej Kase and Nick Ritchie first to see if they will still have enough room to do so.
Photo courtesy of USA Today Sports Images.