2018 has been quite a busy year in the hockey world.  There have been several big trades and free agent signings, plenty of changes behind the bench, and much more.  Over the coming days, PHR will take a look back at the top stories from around the game on a month-by-month basis.  Next up is a look back at August.
RFA Deals: August is typically a busy month for notable restricted free agents as they look to get a contract done before the potential for a training camp holdout starts to become a possibility.  Players in that situation included Detroit's Dylan Larkin (five years, $30.5MM) and Noah Hanifin (six years, $29.7MM).  One player that wasn't able to get a long-term deal done was Vegas center William Karlsson.  His case was a fascinating one given that he went from being a depth player to being one of the top goal scorers in the league.  Had that case gone to arbitration, it would have been a really tricky one to navigate.  Instead, they settled on a one year, $5.25MM contract the day of the hearing.
Mikita Passes Away: Chicago Blackhawks legend and Hockey Hall of Fame winger Stan Mikita passed away at the age of 78.  A two-time Hart Trophy winner and four-time league scoring leader, Mikita spent 22 years and nearly 1,400 regular season games with Chicago, the only NHL team he suited up for in his career.  He is the Blackhawks franchise leader in assists, points, plus/minus, and games played while sitting second in goals and shots to Bobby Hull.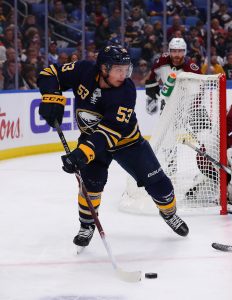 Skinner To Buffalo: Carolina wasn't hiding their willingness to trade Jeff Skinner and they found a willing taker in the Sabres who sent prospect Cliff Pu, a 2019 second-round pick, a 2020 third-round pick, and a 2020 sixth-rounder to the Hurricanes in return.  The 26-year-old has fit in extremely well with his new team and sits tied for second overall in goals this season with 26 in just 40 games and has been instrumental in Buffalo sitting in a playoff berth near the halfway point of the campaign.  Skinner is set to become an unrestricted free agent in July and is poised to land a sizable raise on his current $5.725MM cap hit.  Pu is off to a quiet start at the AHL level in his first professional year while the Hurricanes have been trying to trade for a top-six forward since early in the season.
Ducks Lock Up Gibson: Anaheim went into the summer looking to lock up some of their core players to extensions and they were able to do so with John Gibson, inking the netminder to an eight-year, $51.2MM contract.  While a $6.4MM AAV is a hefty increase on his current $2.3MM, it's still towards the lower end of some of the contracts that have been handed out to established number one goalies.  Gibson had a fantastic first half of his season, posting a .924 SV% while leading the league in saves.  This contract is already looking like quite the bargain.
Extension For Dvorak: The Coyotes curiously decided they had seen enough from Christian Dvorak over his first two seasons to hand him a six-year, $26.7MM deal that begins next season.  That's a steep commitment for a player that has scored 15 goals each year but clearly, Arizona GM John Chayka was banking on Dvorak taking a step forward and becoming a legitimate top-six center.  That could still happen down the road but the 22-year-old has yet to play this season after undergoing surgery to repair a torn pectoral muscle back in October.
Photo courtesy of USA Today Sports Images.