It's official, Evander Kane has re-signed with the San Jose Sharks. The new deal is for seven years, and though the team would not officially release the financial details several reports have it totaling $49MM ($7MM AAV). CapFriendly has the specific year-by-year breakdown:
2018-19: $6.0MM salary, $3.0MM signing bonus
2019-20: $6.0MM salary, $2.0MM signing bonus
2020-21: $3.0MM salary, $3.0MM signing bonus
2021-22: $7.0MM salary
2022-23: $5.0MM salary, $2.0MM signing bonus
2023-24: $6.0MM salary
2024-25: $4.0MM salary, $2.0MM signing bonus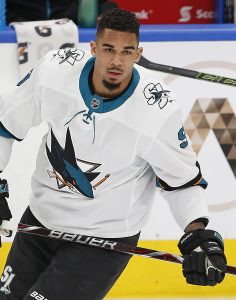 The deal also includes a modified no-trade clause, allowing Kane to submit a three-team list to where he can be traded. The deal isn't as front-loaded as we've seen, but still gives Kane a lot of the money up front in signing bonuses, making it more difficult to buyout in the future should it come to that. Sharks' GM Doug Wilson obviously doesn't think it will, and released a glowing review of Kane in his accompanying statement:
At only 26 years old, Evander has established himself as one of hockey's true power forwards and an impact player. We think his abilities mesh perfectly with our group of skilled, young players and veteran leaders. It's extremely heartening to have Evander join a trend of elite players who have chosen to remain in San Jose. It speaks volumes as to how players view this organization and further illustrates the continued commitment to our fans by our owner Hasso Plattner.
Kane came over from the Buffalo Sabres at the trade deadline for a package that included Daniel O'Regan, a conditional fourth-round pick and a conditional first-round pick. The condition on that first rounder has now been met, and the Sharks will have to send their selection in 2019 to the Sabres. If however the Sharks miss the playoffs next year, they can send their 2020 first-round selection instead.
The former Atlanta Thrashers draft pick has had an up-and-down career to say the least, but seemed to find his footing in San Jose after the deadline. With 14 points—including nine goals—in 17 games down the stretch, and another five points in nine playoff contests, Kane was a huge part of the Sharks' offense and seemed to mesh instantly with their top-six. Kane entered the league only two months after turning 18, which has allowed him to hit free agency as one of the youngest players on the market. He won't turn 27 until August, giving the Sharks plenty of prime years left on this contract.
Still, even with his relative youth and early success for the team this contract comes with its fair share of risk. Kane has only scored 30 goals once in the NHL, and still doesn't have a 60-point season to his name. Some of that is due to the inconsistent play he showed for teams like Winnipeg and Buffalo, but also the injury concerns that have plagued him every year. There's never been a season that Kane has played in more than 78 games, with that total coming just this year. Though there are no glaring chronic concerns in his injury history, there is a question of whether his physical style can be maintained long-term. The Sharks are obviously paying for more than just his offensive output, as $7MM per season is only given to the league's elite. This season, only 25 forwards carried a cap hit of $7MM or greater.
Obviously the team felt that he was worth the contract, but this does add some more intrigue to the free agent class in 2018. This summer's group is full of scoring wingers, with names like James van Riemsdyk, James Neal and David Perron all available for the right price. Though none of them compare exactly to the type of player Kane is, they all are successful scoring options that can bring a big-bodied presence to the front of the net. Each of their prices likely went up with this contract, and could change whether their respective teams are able to retain them.
For Kane, this is a perfect outcome after struggling to find much consistency throughout his career. The fourth-overall pick from 2009 will now have some long-term stability with the Sharks, and should be given every chance to become one of the league's best goal scorers. He also becomes the only Sharks forward signed past the 2019-20 season, meaning he may be looked to as their key veteran weapon down the road. Joe Thornton, Joe Pavelski and Logan Couture are all nearing free agency, while younger players like Tomas Hertl, Chris Tierney and Timo Meier look ready to take over as the next wave of core Sharks forwards.
Photo courtesy of USA Today Sports Images