9:20am: The Sharks have flipped Hoffman to the Florida Panthers. For more information check the latest story.
7:55am: The Ottawa Senators have traded Mike Hoffman, Cody Donaghy and a 2020 fifth-round pick to the San Jose Sharks in exchange for Mikkel Boedker, Julius Bergman and a 2020 sixth-round selection. This comes after weeks of trade speculation surrounding Hoffman, following an incident between his fiancee, and team captain Erik Karlsson and his wife. Senators GM Pierre Dorion released a statement regarding the trade, that seems to point towards a rift in the locker room:
Today's trade showcases our determination to strengthen the future of the team by improving chemistry, leadership and character in the locker room and on the ice. We are confident it is a step in the right direction for the long-term success of this organization.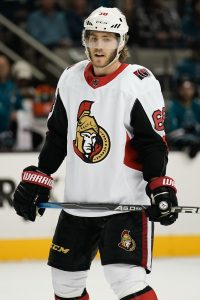 Hoffman, 28, is about as consistent a goal scorer as you can find in the league right now. After four straight seasons with at least 22 goals, Hoffman will look to establish even better numbers in San Jose playing with what has quickly become an impressive forward group. After trading for and re-signing Evander Kane, and now adding Hoffman to the mix, the Sharks have used poor off-ice reputations to acquire top end talent on the cheap. With Joe Thornton expected to re-sign for a relatively low price to remain in San Jose, the team has three legitimate scoring lines that can do damage at even strength.
While Hoffman brings an upgrade in goal scoring, Boedker may fit into Ottawa's system with ease. The two-way speedster can help the team utilize Guy Boucher's defensive style, bringing an added level of responsibility to the forward group. Still, it's not clear where the goals will come from in Ottawa, especially given the team is still considering a trade of Karlsson. Just this morning, Darren Dreger of TSN tweeted that the team is listening on both Karlsson and Zack Smith as they attempt a full rebuild. If they do pull a full overhaul on the roster, there may be another trade coming for Boedker, who is owed $3MM in each of the next two years (with a $4MM cap hit).
Even with Boedker's $4MM cap hit, the Senators will save some money the next two years. Hoffman is signed for two seasons with a cap hit just under $5.2MM, a number that the Sharks can easily afford. San Jose headed into this offseason with a huge amount of cap space, and even with the Kane extension should be able to bring back all of their restricted free agents and Thornton.
For Ottawa, the simple fact is that they needed to move Hoffman before the season began. The off-ice problems had become too much, and they did well to at least acquire an asset in Boedker and a prospect in Bergman. The latter may be the key to the deal, as a puck-moving defenseman who will add another lottery ticket to the pile for the Senators. Make no mistake, Bergman isn't an elite prospect ready to make a huge impact at the NHL level, but should play for the Senators at some point at least in a limited role. The second-round pick recorded 20 points in 65 games for the San Jose Barracuda this season, his third in the minor leagues since being drafted in 2014. Bergman has one year remaining on his entry-level contract, meaning he'll be a restricted free agent in 2019.
It's tough to think that the Senators will be better after this deal, and should they blow up the entire program and try to rebuild it could get even worse. The tough part about any scorched earth rebuild though is the fact that the Colorado Avalanche own their first-round pick from either this year (fourth overall) or next. The idea of giving up a real shot at first overall and Jack Hughes next season is a frightening one for a team trying to turn itself around, though it may be the only rational decision. Giving up the fourth pick this season is still an extremely difficult decision, especially if they believe Filip Zadina will still be available.
Photo courtesy of USA Today Sports Images