Navigating the Salary Cap is probably one of the more important tasks for any general manager to have. Teams that can avert total cap chaos by walking the tightrope of inking players to deals that match their value (or compensate for future value without breaking the bank) remain successful. Those that don't see struggles and front office changes.
PHR will look at every NHL team and give a thorough look at their cap situation heading into the 2018-19 season. This will focus more on those players who are integral parts of the roster versus those who may find themselves shuttling between the AHL and NHL. All cap figures are courtesy of CapFriendly.
Current Cap Hit: $73,890,832 (under the $79.5MM Upper Limit)
Entry-Level Contracts
D Zach Werenski (one year remaining, $925K)
F Pierre-Luc Dubois (two years remaining, $894K)
F Sonny Milano (one year remaining, $863K)
Potential Bonuses
Dubois: $2.5MM
Werenski: $800K
Milano: $400K
Total: $3.7MM
The Blue Jackets got a big boost from Dubois who should provide the team with a top center for quite a long time as the 20-year-old had a solid rookie campaign as he posted 20 goals and 48 points. Those numbers should exponentially increase as he gets older, bigger and more comfortable in the league. It wouldn't be surprising at all to see him develop into a 60-70 point player this year already. And with two years remaining, he will continue to be a bargain for some time.
Werenski had a mixed bag of a season as he saw his points totals drop from his rookie season (47 points) to his second season (37 points). Yet his goal totals increased from his rookie season (10) to his sophomore season (16). However, Werenski underwent surgery for a shoulder injury that had been causing him pain since October, suggesting he played injured all season. A fully healthy Werenski could give the team one of the top young defensemen in the league.
Milano arrived with much fanfare, but he struggled finding a permanent place in the lineup, as he often received relatively few minutes on the third line due to his struggles on defense. However, Milano showed flashes of scoring ability as the 22-year-old posted 14 goals in 55 games. With a year under his belt, Milano might be able to take those numbers to a much bigger level if he can prove he can play a two-way game for coach John Tortorella.
One Year Remaining, Non-Entry-Level
G Sergei Bobrovsky ($7.43MM, UFA)
F Artemi Panarin ($6MM, UFA)
D Ryan Murray ($2.83MM, RFA)
G Joonas Korpisalo ($900K, RFA)
F Lukas Sedlak ($825K, RFA)
F Alex Broadhurst ($725K, RFA)
F Markus Hannikainen ($675K, RFA)
D Scott Harrington ($675K, RFA)
F Anthony Duclair ($650K, RFA)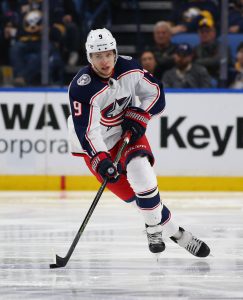 The biggest news all offseason is the fact that Panarin has told Columbus general manager Jarmo Kekalainen says he's not ready to discuss an extension. Despite the GM's attempt to speak to Panarin to convince him to stay, it looks like Panarin wants to head elsewhere once his contract expires at the end of the season and he becomes a unrestricted free agent. The 27-year-old winger posted a career-high 82 points after being acquired from the Chicago Blackhawks, but seems to be looking to play in a city with a more diverse market. While there have been rumors that Kekalainen has been looking into trading options, little has come from it. The team may opt to wait until the trade deadline, but that could also lessen the return.
Perhaps more concerning is the contract situation with Bobrovsky. The 30-year-old goaltender is also in the final year of his contract. While there is no talk of leaving Columbus, the Blue Jackets have to be somewhat concerned about the veteran goaltender's asking price. He will be 32 years old when his next contract takes effect, but Bobrovsky wants term, the team could be paying him until he's 40 years old and it's extremely likely that the goalie will take less money than the $7.43MM he's making on this contract. However, that's a lot of money to be handing out to an aging goaltender. Bobrovsky's numbers are still good as he posted a 2.42 GAA and an impressive .920 save percentage in 63 games. However, his struggles in the playoffs isn't working for him either. Regardless, the team could find itself in quite the contract negotiations in the coming summer.
Duclair is another interesting player, who signed a one-year deal after disappointing in both Arizona and Chicago. The 22-year-old opted to sign a minimum "show me" contract to prove he belongs in the NHL, but he's struggled to produce over the years after a successful season back in 2015-16 when he potted 20 goals. Since then, he's managed to post just 16 goals in two seasons. If he can find his game in Columbus, the Blue Jackets could still retain him as he's a restricted free agent.Read more