When the New Jersey Devils decided to remove Taylor Hall from the lineup for the last two games, it became clear that a trade was inevitable. That deal has finally happened, with Hall and Blake Speers heading to the Arizona Coyotes. The Devils will receive a 2020 first-round pick (top-three protected), a conditional 2021 third-round pick, Nate Schnarr, Nick Merkley and Kevin Bahl in exchange for the star forward. The third-round pick will be upgraded to a first should the Coyotes re-sign Hall and win a playoff round, or a second if only one of those two things happen. New Jersey will retain half of Hall's $6MM cap hit this season.
John Chayka, general manager of the Coyotes, released a short statement on the deal:
Hall is one of the elite talents in the game today; a Hart Trophy winner, a high-end playmaker and one of the NHL's most talented forwards. We are beyond thrilled to add Taylor to our team as we continue in our mission of bringing a Stanley Cup home to Arizona.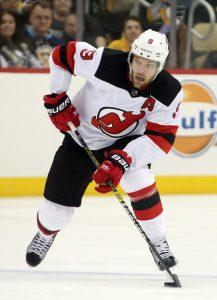 The Coyotes were able to bring Hall into the fold without trading away a single player from their active roster, one that already had them in first place in the Pacific Division. That's an incredible feat given he is less than two years removed from winning a Hart Trophy as the league MVP after scoring 93 points in 76 games and carrying the Devils to a playoff berth. Hall immediately becomes the most dangerous offensive weapon on an Arizona team that has only scored 97 goals this season.
In fact, Hall's 25 points in 30 games this season would make him the leading scorer on the Coyotes, who are currently topped by Clayton Keller and Nick Schmaltz with 23 each. Adding that kind of a talent this far before the trade deadline is impressive, and gives the Coyotes even more time to try and convince him to sign an extension before he hits free agency.
Even though the Devils aren't getting anything off the Arizona roster, they do add a pile of assets to help them in their current rebuild. The draft picks are obviously valuable currency to either select young players or trade for others, but most will focus on the three prospects headed to New Jersey.
Merkley comes with the most name recognition after being selected 30th overall in 2015, but is also the oldest of the three. The 22-year old forward has played just a single NHL game so far in his young career, and has seen his development stagnate in the minor leagues. A talented offensive player, he has 16 points in 26 games for the powerhouse Tucson Roadrunners this year but will have to take significant steps to become a real impact player for the Devils. His entry-level contract expires after this season, making him a restricted free agent in the summer.
Schnarr too was playing for the Roadrunners this season, his first professional year after an excellent junior career. First used as a checking forward by the Guelph Storm, he broke out in a more offensive role in 2018-19 and scored 102 points in 65 games. Selected 75th overall in 2017 he too needs some more time before he can really contribute at the NHL level.
It's Bahl who may end up being the most important prospect in the deal for New Jersey. The 6'7″ defenseman is currently overseas with the Canadian World Junior team where he is expected to take on a shutdown role, one he is used to filling in the OHL. The 19-year old can skate and move the puck but is an excellent defensive player that uses his long reach to routinely break up rushes before they even cross his blue line. Selected 55th overall in 2018 he would likely be taken higher if it were done again today.
Though the Devils aren't really getting any elite prospects in the deal, it's hard to criticize them for accepting a package as large and diverse as this. Hall has expressed his desire to test free agency in the past, and with the history of his agent Darren Ferris it would have been difficult to justify keeping him beyond the trade deadline without a deal in hand. Given that, and the fact that the team is bottom-dwelling again this year despite several headline-grabbing moves in the offseason, they'll take the package and move on to a rebuild focused around Nico Hischier and Jack Hughes.
Photo courtesy of USA Today Sports Images