The Columbus Blue Jackets have signed Patrik Laine to a four-year contract worth a total of $34.8MM. The $8.7MM average annual value will make him the team's second highest-paid forward, coming in a little behind Johnny Gaudreau and just ahead of Jakub Voracek. Though he qualified for it, Laine had decided not to file for salary arbitration this year. His $7.5MM qualifying offer was set to expire today but the two sides have come to an agreement on a longer deal. Aaron Portzline of The Athletic reports the full contract details:
2022-23: $7.5MM
2023-24: $9.1MM + 10-team NTC
2024-25: $9.1MM + 10-team NTC
2025-26: $9.1MM + 10-team NTC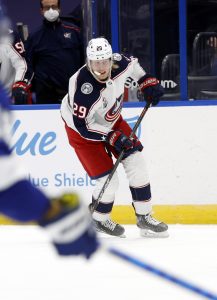 Laine, 24, has already completed six seasons in the NHL, meaning a deal of this length buys out three years of unrestricted free agency. Had he instead decided to accept the qualifying offer or go to arbitration, he could have reached the open market as a 25-year-old. With that in mind, a deal like this actually may seem like something of a bargain for the Blue Jackets, given the outstanding goal-scoring ability of the Finnish forward.
Since entering the league in 2016-17, Laine sits 14th in the league with 176 goals just behind Nikita Kucherov and former Winnipeg Jets teammate Kyle Connor. His career-high of 44 was set in just his sophomore year, before a little bit of inconsistency slipped into his game. Now firmly established in Columbus after a trade last year, he was outstanding this season for the Blue Jackets, scoring 26 goals and 56 points in 56 games including seven game-winners.
The upside for the 6'5″ winger was always tremendous but the circumstances of this free agent period have Blue Jackets fans even more excited for what might be on the horizon. After general manager Jarmo Kekalainen secured one of the league's best playmakers in Gaudreau, the idea of the pair hitting the ice together should be a frightening thought for opponents and goaltenders alike. With young talents like Cole Sillinger and Kent Johnson already making an impact before they even turn 20, the Blue Jackets forward group should be as dangerous as anyone over the next several years.
Still, this is a cap league and one that is still dealing with the fallout from the previous shutdowns. The cap ceiling increased only barely this season and the Blue Jackets will now be forced to make a move to get back under it. At the moment, the team projects to be about $2.35MM over the cap, with Emil Bemstrom still to sign. There are some ways they could drop that amount but recent reports already have the team trying to cut a much bigger chunk of salary before the start of the year.
At any rate, getting Laine signed is a huge win for the Blue Jackets, and a deal like this actually doesn't present much risk. While there is a chance he doesn't quite live up to a cap hit that high, a four-year deal means that he will be just 28 at its expiry, likely still in his prime as an NHL talent. Laine will be able to sign another massive deal at that point but the Blue Jackets are not yet at risk of having an anchor contract on the books as he enters his thirties.
Nearly everyone on the roster will see their contracts expire by the time Laine is ready for another deal, including recent free agent signing Erik Gudbranson, who is also signed through 2025-26. If the team needs to make a mega-offer for their Finnish star at that point, they will likely have the flexibility to do so.
Photo courtesy of USA Today Sports Images