For the third straight year, veteran center Derick Brassard finds himself still looking for a contract well after the free agent market opened up.  Not much has changed for him over that stretch and he remains a depth offensive option for teams to consider in the coming weeks.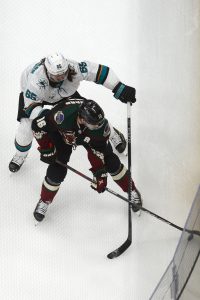 Last season, the 33-year-old caught on with the Coyotes just as training camps were on the horizon, inking a one-year, $1MM contract.  Brassard spent the majority of the campaign in a middle-six role, mostly on the third line but moving up to the second when needed.  It's basically the role he has held for the past few years and the results were pretty much the same.
Brassard's per game output dipped a bit compared to his 2019-20 showing but still managed to pick up 20 points, putting him in a tie for the player with the most points still standing on the free agent market (Kyle Palmieri had more but is believed to have an agreement with the Islanders).  He has even chipped in on the power play (seven goals over the last two years) and has won nearly 54% of his faceoffs over that stretch.
So why is he once again looking for a contract?  Brassard's defensive zone play has never been a strong point and while that was okay earlier in his career when he was putting up 40 or more points, teams aren't as willing to give him playing time with him producing less.  His own-zone performance isn't going to suddenly improve so these year-to-year deals are likely what it's going to continue to be for Brassard.
Stats
2020-21: 53 GP, 8-12-20, -10 rating, 12 PIMS, 67 shots, 50.0 CF%, 14:48 ATOI
Career: 905 GP, 194-309-503, -35 rating, 419 PIMS, 1,781 shots, 50.2 CF%, 16:05 ATOI
Potential Suitors
There are a couple of possible types of suitors for Brassard at this stage.  The first is a team that is looking for a bit more depth down the middle and doesn't want to pay up for someone like Tyler Bozak.  The other is a team with some young centers that wants either an insurance policy or to bring him in to allow one of those pivots to spend more time in the minors.
In the first group, Seattle is down their top center for the first few months with Yanni Gourde out following shoulder surgery and while they signed Marcus Johansson who can fill in down the middle, Brassard, a natural center, could be a better fit.  Montreal lost Phillip Danault with the only replacement down the middle being Cedric Paquette who spent most of last season as a winger.  With an inexperienced group at center, Brassard could replace someone like Eric Staal who was acquired midseason from Buffalo.  Minnesota still doesn't have a particularly strong group at center, particularly when it comes to offensive upside and Brassard would give them another option without breaking the bank for the eventual Kirill Kaprizov contract.
The second group features teams that aren't likely to make the playoffs.  Columbus, where his career started after they made him the sixth-overall pick 15 years ago, is firmly in a rebuild and are banking on some unproven players making the jump.  Brassard would be an insurance policy and with Max Domi out to start the year, he could have a lineup spot at the start.  Anaheim has forced some of their younger players in when they haven't been ready which hasn't worked particularly from a development standpoint.  Brassard's presence could allow someone to spend more time with AHL San Diego.  As for Ottawa, they're believed to be sniffing around for a veteran forward and with Chris Tierney being in trade speculation dating back to last season and entering the final year of his deal, Brassard would be a low-cost option to carry in case they wind up moving Tierney at some point.
Projected Contract
Brassard has made our Top 50 UFA list in the past but didn't this time around.  He made $1MM last season and $1.2MM the year before.  Another small dip at this stage is likely and a one-year deal for the veteran should check in somewhere around $900K.  At a price tag that could be buried entirely in the minors, he'll be a low-risk pickup for whoever winds up signing him in the coming weeks.
Photo courtesy of USA Today Sports Images.