Today was a ceremonious day for the Carolina Hurricanes organization, locking in franchise center Sebastian Aho to the richest deal in franchise history. Don't expect groundbreaking extensions for any other Hurricane hitting the open market in 2024, though. General manager Don Waddell told reporters, including the North State Journal's Cory Lavalette today, that the team "isn't close" on extensions with any of their other pending UFAs.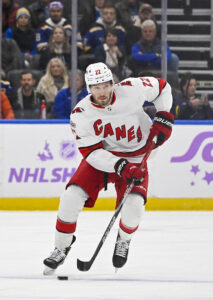 This rather consequential list includes, first and foremost, long-rumored trade target defenseman Brett Pesce. It's long been believed that Carolina would trade Pesce sooner rather than later if an extension wasn't in the cards, and Waddell confirmed that that was the case today. It's fair to wonder whether his quote today increases Pesce trade speculation in the coming days, especially since little is known about the list of teams who've called the 'Canes about Pesce's services.
Moving out Pesce with haste would free up more space for the Hurricanes to pursue Erik Karlsson, who they've also been connected to on the trade market for many weeks. Bringing in Anthony DeAngelo for his second stint in a Carolina jersey also seems like a targeted backup plan if Carolina trades Pesce but fails to nab Karlsson, the 2023 Norris Trophy winner, in a trade from the San Jose Sharks.
Pesce isn't the only notable Hurricane headed for unrestricted free agency next summer, however. On offense, Teuvo Teravainen and his five-year, $27MM deal signed in 2019 are set to expire. While he had arguably his worst season in a Hurricanes jersey last year, registering just 12 goals and 37 points in 68 games, he's been one of Carolina's top scorers for the better part of the previous half-decade. That being said, he's also destined for a reduced role next season, with the addition of Michael Bunting in the team's top six and Seth Jarvis likely to surpass him on the team's depth chart. It makes sense why the Hurricanes wouldn't want to pay Teravainen what he believes he's worth, especially at this stage without any clear evidence of a permanent decline. It wouldn't be surprising to see him hit the UFA market for the first time next July.
There's also the matter of fan-favorite depth forward Jordan Martinook, a vital locker-room fixture with the team who's had a tumultuous season in Raleigh. Placed on waivers (and cleared) before the season started to create some salary cap flexibility, Martinook would go on to play a pivotal depth role for Carolina in 2022-23. His 21 assists and 34 points in 82 games were both career highs, and he notched a remarkable 12 points in 15 playoff games as the Hurricanes marched on to the Eastern Conference Final yet again. Entering the final season of a three-year, $5.4MM contract signed in 2021, Martinook's stock is at an all-time high. If there is an extension to be had here, don't expect it to come before the New Year.
Finally, at least among the significant roster pieces headed for free agency next year, Pesce's defense partner remains without a contract past 2024. Brady Skjei is now in the final season of a six-year, $31.5MM contract, and he's had a rather up-and-down tenure with Carolina since they acquired him via trade in 2021. He's been inconsistent defensively over the life of his contract but has settled into posting solid second-pairing numbers for the Hurricanes, at least from an offensive standpoint – he registered a career-high 18 goals last year after posting 39 points in 82 games the year before. While an effective player, he's also not worth the $5.25MM per season they're paying him – at least not for Carolina's needs. With multiple high-end defense prospects on the way, it again shouldn't be a surprise that the Hurricanes aren't chomping at the bit to extend him.
Rounding out the list of pending UFAs for Carolina in 2024 are forwards Brendan Lemieux and Stefan Noesen, defenseman Jalen Chatfield, and goalie Antti Raanta. DeAngelo is also slated for unrestricted free agency in 2024 as well. All of those players were either signed to one-year deals this summer or have sub-$1MM cap hits.
Photo courtesy of USA Today Sports Images.