It wasn't that long ago that Derick Brassard was viewed as a legitimate top-six center.  In fact, you only have to go back about one season for him to be in that category.  However, the last year and a bit have really hurt his value which has led to a slow market so far in free agency.
To say the 31-year-old has bounced around lately would be an understatement as he has spent time in four different organizations over the past two seasons.  Pittsburgh brought him in at the 2018 trade deadline in an effort to give them a third scoring line.  Unfortunately for them, he struggled with his reduced role to the point where they considered shifting him to the wing to give him a chance to play a more offensive role.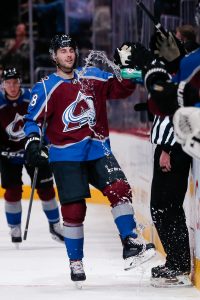 That never really materialized and as a result, Brassard's struggles continued into last season before the Penguins eventually cut bait with him, sending him to Florida in a four-player swap as basically a salary offset for the addition of Nick Bjugstad.  He got off to a decent start with the Panthers before cooling off but his time was short-lived with the team out of playoff contention by then.
His rough season led to a reduced trade market for him with Colorado ultimately stepping up to acquire him along with a conditional 2020 sixth-round pick for a 2020 third-rounder.  (Unless the Avs re-sign Brassard, they will receive that conditional selection.)  Things didn't go much better for him with the Avalanche as he had just four goals in 20 regular season games before seeing his ice time slashed considerably in the playoffs to just over ten minutes a night.  Some players have big performances in contract seasons but this was anything but which has made his market much smaller than anticipated.
Potential Suitors
Brassard's market will be determined by a couple of factors.  Is he willing to sign a short-term deal?  Is he willing to play the wing?  If the answer to both is yes, he should have several suitors as the offseason progresses.
In the East, the Devils have plenty of cap space and have already used that to their advantage to sign winger Wayne Simmonds to a one-year deal.  However, they're set down the middle so Brassard would have to agree to shift to the wing for that to work.  A return to where it all began in Columbus also makes some sense after their depth was depleted in free agency.  He also has a little bit of experience playing under head coach John Tortorella.  The Islanders lost Valtteri Filppula to Detroit in free agency and Brassard could certainly slot in his vacated spot in the lineup as well.
Finding fits in the West is a little more challenging.  The Kings have some cap space and roster room but as a team that's sort of sitting in the middle of no man's land, the only way a signing makes sense is if it's done with the intention of dealing him midseason.  Considering his dull market back in February, there's no guarantee that the market at that time will be particularly robust.  If the Ducks want some more development time for their prospects, adding Brassard on a one-year deal (Corey Perry's increased buyout cost would make a second year unrealistic) would be a reasonable idea.  He'd be a fit in Dallas but to get him, they'd have to dip into offseason LTIR (for Martin Hanzal) which carries some risk.
Projected Contract
Brassard was ranked 25th in our Top 50 UFA Rankings with a projected two-year, $6MM deal with Columbus.  While it's still possible that he could land a multi-year pact, he may be better off at this point taking a one-year contract in the hopes of restoring some value for another run at the open market a year from now.  It's still possible that he could land close to the $3MM of our initial projection given his ability to play down the middle and previous track record of offensive success.  While he has struggled lately, there would still be some upside signing Brassard so his market shouldn't collapse completely.
Photo courtesy of USA Today Sports Images.