With the trade deadline fast approaching, we will be taking a closer look at the situation for each team.  Where do they stand, what do they need to do, and what assets do they have to fill those needs?  Next up is a look at the Los Angeles Kings.
The Los Angeles Kings got a jump on their trade deadline moves when they went out and acquired Dion Phaneuf from the Ottawa Senators. While getting rid of Phaneuf's contract was front and center for his former team, the Kings have welcomed him in with open arms and installed him on the powerplay. Phaneuf has responded by scoring three times in four games, and looks well-suited for the reduced responsibility in Los Angeles.
In addition to Phaneuf, the Kings are ready to welcome Jeff Carter back to practice after he was medically cleared to return today, which should give them a large offensive boost for the stretch run. With those two in place, the team could make some minor additions to increase their chances even further in what has become a very tight playoff race.
Record
33-22-5, third in Pacific Division
Deadline Status
Moderate Buyer
Deadline Cap Space
$14.6MM full-season cap hit, 1/3 retained salary transactions, 43/50 contracts per CapFriendly
Draft Picks
2018: LAK 1st, LAK 2nd, LAK 3rd, LAK 4th, MTL 4th*, LAK 6th, NYI 6th
2019: LAK 1st, LAK 2nd, LAK 3rd, LAK 4th, LAK 5th, LAK 6th, LAK 7th
*If Los Angeles makes the playoffs, they will send this pick to Montreal instead of their own 2018 fifth-round selection, in exchange for acquiring Torrey Mitchell earlier this season
Trade Chips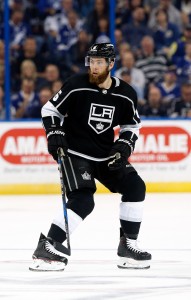 Before the Phaneuf trade there were many rumors surrounding the Kings' defense corps and the idea that they may trade one for some scoring help. Though they've died down lately due to the strong play by Los Angeles, there's always a chance that Alec Martinez or Jake Muzzin could pop up in trade talks once again. Both defensemen carry reasonable $4MM cap hits and would be targets for anyone looking to upgrade their top-4.
That strong play has the Kings' sights set on the playoffs though, which may lead to them trading young players or dipping into their deep prospect pool instead if they want to make a big splash. Kale Clague, Cal Petersen, Jaret Anderson-Dolan and Gabe Vilardi are all excellent prospects with huge NHL potential, while younger players like Michael Amadio, Jonny Brodzinski and Michael Mersch have all proven to be excellent in the AHL and could be targeted for an increased role elsewhere.
Five Players To Watch For: F Michael Mersch, F Jonny Brodzinski, D Kevin Gravel, D Chaz Reddekopp, D Kurtis MacDermid
Team Needs:
1) Scoring Winger: The Kings are still in the middle of the pack offensively, and though Carter's return will help that, they could use another option to play in the top-9. Their defense can play with anyone in the Western Conference, but if they match up with a team that can effectively shut down Anze Kopitar's line, they could struggle to score enough to win a series. One of the big name rentals could help in this situation, and there was talk of Evander Kane heading west last offseason.
2) Center Depth: Though Carter's return is a great story for the Kings, the fact that his absence forced them to play some interesting lineups at center gives you some idea how thin their depth is at the position. Though they might not need someone to step in right away and be an impact player down the stretch, adding some playoff experience might not be a bad thing if they believe they can compete for the Stanley Cup.
Photo courtesy of USA Today Sports Images