With the trade deadline now just a few days away, we continue our closer look at the situation for each team.  Where do they stand, what do they need to do, and what assets do they have to fill those needs?  Next up is a look at the Columbus Blue Jackets.
The Columbus Blue Jackets are talented enough to make the playoffs. They proved that a year ago when they put up a 108-point season, finishing third in the outstanding Metropolitan Division. This year has been an inconsistent application of those talents though, and they sit right on the edge of the Eastern Conference playoff picture with several teams nipping at their heels.
Record
30-26-5, fifth in Metropolitan Division
Deadline Status
Buyer
Deadline Cap Space
$22.7MM full-season cap hit, 0/3 retained salary transactions, 48/50 contracts per CapFriendly
Draft Picks
2018: CBJ 1st, CBJ 2nd, CBJ 3rd, CBJ 4th, CBJ 6th, CBJ 7th
2019: CBJ 1st, CBJ 3rd, CBJ 4th, CBJ 5th, CBJ 6th, CBJ 7th
Trade Chips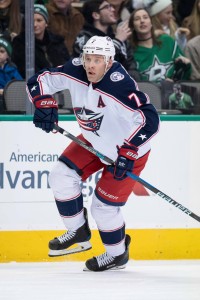 The Blue Jackets are one of the teams in the rare situation of wanting to add while also seeming willing to move some of their own roster players. Jack Johnson's name has been in the news for weeks since his trade request became public, and though he has recently discussed a contract extension with the team, could still be on the move before Monday.
If Johnson is retained, Ryan Murray is getting healthy and could once again be the target of trade rumors. Murray was likely part of a Matt Duchene offer earlier this year, and could resurface as a valuable asset going the other way in any big trade.
Columbus also has several young forwards who could be intriguing to various teams around the league. Sonny Milano can't seem to secure a role on the Blue Jackets, and minor league forwards like Sam Vigneault and Tyler Motte could still draw some attention. Their prospect ranks are filled with high-upside players like Vitaly Abramov and Alexandre Texier, which could give them the ability to put together quite a package for the right player in return.
Five Players To Watch For: D Jack Johnson, D Ryan Murray, F Sonny Milano, F Boone Jenner, F Sam Vigneault
Team Needs
1) Middle-Six Center: Though Pierre-Luc Dubois' emergence has given the Blue Jackets a lot to be excited about at the center position, they desperately need some help down the middle if they're hoping for a long playoff run. They've been linked to everyone imaginable, but most recently to a former Blue Jackets player in Derick Brassard. Even though they lost out on that option as the Senators sent Brassard to Pittsburgh, that kind of player is still on their radar.
2) Top-Nine Winger: If they can't find a center, Columbus could settle on acquiring another winger with some powerplay experience. Their special teams have been bad all season (though better recently) and could use some sort of change for the stretch run. Rick Nash and Evander Kane represent the high-end rentals, but don't rule Columbus out on one of the longer-term solutions. If players like Max Pacioretty or Mike Hoffman truly become available, you can bet GM Jarmo Kekalainen will at least inquire on what it would cost.
Photo courtesy of USA Today Sports Images