With the trade deadline now just days away, we continue to take a closer look at each team. Where do they stand, what do they need to do, and what assets do they have to fill those needs?
It has been a strange season for the Vancouver Canucks.  Early on, they were a popular pick to finish near the bottom of the standings but were hovering near a postseason spot for a good chunk of the year.  Now, they have several players potentially dealing with the mumps.  They've fallen back recently and as a result, are likely to make a handful of moves over the next few days.
Record
26-29-6, 6th in Pacific Division
Deadline Status
Seller
Deadline Cap Space
$0 ($2.4MM with LTIR) – full-season cap hit, 46/50 contracts per CapFriendly
Draft Picks
2017: VAN 1st, VAN 2nd, VAN 3rd, VAN 4th, VAN 7th
2018: VAN 1st, VAN 2nd, VAN 3rd, VAN 4th, VAN 5th, VAN 6th, VAN 7th
Trade Chips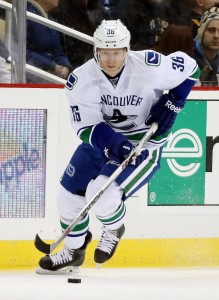 For starters, GM Jim Benning will be looking to get something in return for his pending unrestricted free agents and has approached his players with no-trade clauses to see where they may be willing to go.  Unfortunately for them, they're only likely to receive interest in two or three rental players; their other expiring UFAs are mostly depth players that contending teams already have in their system.
Many expect that right winger Jannik Hansen will draw some interest even though he's not eligible for free agency until 2018.  He's someone that's right on the borderline of being protected for June's expansion draft and as a result, the Canucks could move him now.  He has an eight team trade list that was submitted to the team earlier this week and is affordable with a cap hit of just $2.5MM.  Defenseman Ben Hutton has also been thought of as a possibility to move and his exemption from the expansion draft (plus a reasonable bridge deal starting next season) should result in some trade suitors although he has now been isolated from the team due to potential mumps symptoms.
2014 first round pick Jake Virtanen could also be one to watch.  He has struggled at both the NHL and AHL levels this season and is someone that could potentially use a change of scenery.  However, Vancouver would be selling low on the 20 year old and there's no indication that the team has completely given up on him yet.
Five Players To Watch For: W Alexandre Burrows, RW Jannik Hansen, D Ben Hutton, D Philip Larsen, G Ryan Miller
Team Needs
1) Scoring Help – Vancouver is the second lowest scoring team in the conference in terms of goals per game and the same thing can be said for their AHL affiliate in Utica.  (To make matters worse, several of their top scorers in the minors are minor league veterans instead of prospects.)  While the Canucks aren't going to be in the market for established players who will help them until the offseason, it wouldn't be surprising to see them target some AHL forwards that they could give an NHL look to down the stretch (or at the very least bolster the playoff hopes of the Comets in the minors).
2) Draft Picks – As things stand, the Canucks just have five draft picks as a result of deals for Larsen and Emerson Etem made last year.  This comes on the heels of a draft where they had just two selections in the first four rounds.  It's widely believed that the team needs to rebuild but in order to do that, they need to replenish their draft picks.  Vancouver doesn't have the trade pieces to bring in a first rounder over the next few days but they should be able to add at least two or three more selections in the upcoming draft which is at least a good start.
Photo courtesy of USA Today Sports Images.