With the trade deadline now less than two weeks away, we will be taking a closer look at the situation for each team over the coming weeks.  Where do they stand, what do they need to do, and what assets do they have to fill those needs?  Next up is a look at the New Jersey Devils.
It's been quite a disappointing season for the New Jersey Devils who looked to be a contender before the season started. The team was planning to do everything it could to prove to soon-to-be free-agent Taylor Hall that they would be contenders. They struck the jackpot at the draft, netting top pick Jack Hughes and then traded for defenseman P.K. Subban and KHL star Nikita Gusev, while signing Wayne Simmonds as a free-agent. However, it all backfired as all of their offseason acquisitions have struggled and Hall, in the meantime, has been traded to Arizona, while general manager Ray Shero has been fired as well. With the team looking to undergo a rebuild, the team are extremely likely to move on from a number of players at the trade deadline.
Record
21-26-10, eighth in the Metropolitan Division
Deadline Status
Seller
Deadline Cap Space
$28.697MM in a full-season cap hit, 1/3 used salary cap retention slots, 45/50 contracts per CapFriendly
Upcoming Draft Picks
2020: NJ 1st, ARZ 1st*, NJ 4th, BOS 4th, NJ 5th, NJ 6th, NJ 7th
2021: NJ 1st, NJ 3rd, ARZ 3rd**, NJ 4th, NJ 5th, NJ 6th
* If Arizona's pick falls in the top three, then the Devils will get Arizona's 2021 first-round pick.
** The 2021 third-round pick is conditional and can upgrade into a second-round pick if Arizona wins a playoff round this year or if Taylor Hall re-signs with the Coyotes.
Trade Chips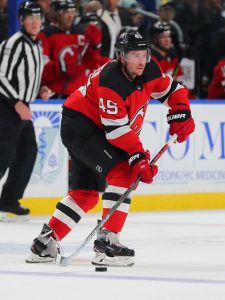 The team isn't overloaded with pending UFAs, but one name that is likely to garner significant attention is defenseman Sami Vatanen. The blueliner is in the final year of his contract and with the rate that defensemen are getting injured, Vatanen's price could be rising. The 28-year-old may not post big offensive numbers, but he is a solid second-pairing defenseman, who is averaging 21:45 of ice time with the Devils and should be able to offer a significant upgrade to many playoff teams. Vatanen has five goals and 23 points, which is pretty good for the blueliner, but also adds some physicality with 80 hits already this year to go with 50 blocked shots. Unfortunately for the Devils, bad timing hits as well, as Vatanen was placed on injured reserve with an undisclosed injury on Thursday. However, he is eligible to come off whenever he is ready, so the team hopes he may be back on the ice on Sunday or soon thereafter, which shouldn't limit his trade value.
The team also is likely to consider moving Simmonds, who signed just a one-year deal with the Devils, and could provide a team with some bottom-six depth. While his skills have declined significantly over the last few years, the 31-year-old still can give a playoff team some much-needed physicality, although his $5MM price tag could be a challenge for many playoff teams to take on, although New Jersey does have the cap space to retain half of Simmonds salary, making a $2.5MM contract more palatable. His leadership skills in the locker room shouldn't be dismissed either. Simmonds has just seven goals and 23 points this season, but does have 120 hits this season.
Andy Greene's $5MM expiring contract is another option for playoff teams looking for a veteran blueliner who could make a difference in the playoffs. Once again, the Devils could retain half his salary if needed, but even at $2.5MM, several teams may balk at that. However, despite already being 37 years old, Greene could give a team a top penalty killing blueliner and play between 20-22 minutes a game, making him a valuable commodity.
Five Players To Watch For: F Blake Coleman, D Andy Greene, F Kyle Palmieri, F Wayne Simmonds, D Sami Vatanen
Team Needs
1) Draft Picks: While the Hall trade brought back a first and a conditional third-round pick (which could become a second in 2021), the Devils moved several picks, including two second-rounders for Subban and a second and a third-rounder for Gusev, leaving the team that is looking to rebuild with a shortage of draft picks. That likely will be their top focus.
2) Young Players: The team is building around their two star centers in Nico Hischier and Hughes, so they need to find as many young players and prospects who can step in as soon as possible to hasten the team's rebuild. Especially if the Devils trade off a number of their players, New Jersey will have to replace them as quickly as possible.
Photo courtesy of USA Today Sports Images.