With the trade deadline fast approaching, we will be taking a closer look at the situation for each team.  Where do they stand, what do they need to do, and what assets do they have to fill those needs?  Next up is a look at the Nashville Predators.
Nashville Predators GM David Poile isn't scared of making a big move. He's done it time and time again over his career, with recent examples like P.K. Subban, Ryan Johansen and Kyle Turris. He was rewarded last year with a trip to the Stanley Cup Finals, though the Predators would ultimately come up short in their quest for a championship. This season, there is no doubt that Nashville is one of the best teams in the Western Conference and could take a shot at the trade deadline to try and secure another long playoff run.
Record
35-14-9, first in Central Division
Deadline Status
Buyer
Deadline Cap Space
$14.9MM full-season cap hit, 0/3 retained salary transactions, 43/50 contracts per CapFriendly
Draft Picks
2018: NSH 1st, NSH 3rd, NSH 4th, NSH 5th, NSH 6th, NSH 7th
2019: NSH 1st, NSH 2nd, NSH 4th, COL 4th, NSH 5th, NSH 6th, NSH 7th
Trade Chips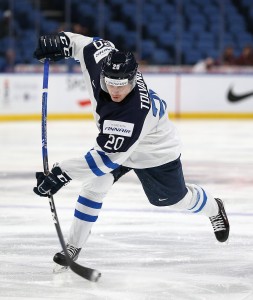 Because the Predators have used their own home grown players in many of those big trades, the team has still managed to keep many of their draft picks and continue developing prospects. Many of the speculative trades begin with Eeli Tolvanen, but he should be about as close to untouchable as you can get for the Predators. The Finnish forward is breaking records for his age in the KHL, and excelling in the Olympics for his country. He'll be a big part of the Predators future, and could even make an impact in the playoffs this year.
Beyond Tolvanen, the Nashville prospect pipeline is still healthy. Dante Fabbro is one of the league's top defensive prospects, Victor Ejdsell was pursued by several teams and is proving why in Sweden this year, and Emil Pettersson looks like a late-round steal after finding early success in the AHL. There's no doubt that some of their top prospects will be in discussions if Nashville really gets into the market.
From the NHL roster, one has to wonder if someone like Colton Sissons could be sacrificed given that Mike Fisher is coming back very soon. Sissons has shown that he could develop into a solid third-line center for any team in the NHL, and is under contract for another season at the league minimum. He'd be an interesting option for a team like the New York Rangers who've made it clear they are seeking roster-ready bodies. Obviously the Predators aren't looking to deal Sissons, but if there is a big move in the works they may need to sell at least one NHL-level player.
Five Players To Watch For: F Frederick Gaudreau, D Alexandre Carrier, F Pontus Aberg, F Colton Sissons, F Emil Pettersson
Team Needs
1) Scoring Winger: If we're being honest, the Predators don't desperately need anything.
What they could use more than anything though is another top-6 option on the wing, and they've been linked to just about every available option. Today, Darren Dreger of TSN tweeted that Nashville has interest in Tomas Tatar of the Detroit Red Wings. Tatar is under contract through 2020-21, which might make it a bit tricky for the Predators. Though Poile has signed team-friendly deals with many of his stars, Ryan Ellis (UFA) and Kevin Fiala (RFA) are both free agents after next season and will require substantial raises.
The team has also been linked to Rick Nash as a potential rental option, which could make more sense given their vast available cap room at the deadline. The Predators could add any of the players on expiring deals without worry, making them one of the most interesting teams to follow over the next few days.