With the trade deadline now just a week away, we continue to take a closer look at each team. Where do they stand, what do they need to do, and what assets do they have to fill those needs?
The Colorado Avalanche are a mess. Their season began with a coach walking out on them just two months before the start of the season, and has gone downhill from there. Now with just 35 points through 58 games they are a lock for last place in the NHL and are about to pull the trigger on the latest rebuild.
Even though much of their team is still young enough to be considered developing, GM Joe Sakic has said that there are very few untouchables. It's time for a reset in Mile High, and the deadline looks to be the starting point.
Record
16-39-3, 7th in Central Division
Deadline Status
Seller
Deadline Cap Space
$3.38MM – full-season cap hit, 47/50 contracts per CapFriendly.
Draft Picks
2017: COL 1st, COL 2nd, COL 4th, NYR 4th, COL 5th, COL 6th, COL 7th
2018: COL 1st, COL 2nd, COL 3rd, COL 4th, COL 5th, COL 6th, COL 7th
Trade Chips
The Avalanche are one of just a few sellers (perhaps just two) that have appeared so far, and it may benefit them greatly. Multiple teams have already been in contact on Matt Duchene and Gabriel Landeskog, and the pair of young forwards look like some of the biggest fishes on the market this week. But it doesn't end there for the bottom-dwelling Avs.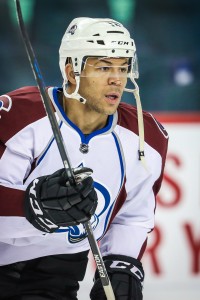 Jarome Iginla is almost certain to be dealt, as he's expressed his want to go somewhere to try and win a Stanley Cup. While he doesn't provide the same type of offense he once did—Iginla only has seven goals and 16 points this season—many teams might think that is just a symptom of the team around him. Indeed, he is just a year removed from scoring 22 goals for the Avalanche in 2015-16. When you've scored 618 goals in the NHL, plus another 37 in the playoffs a team is going to want you for the experience you bring. Look for Iginla to be dealt on the deadline itself for a draft pick.
The team also has Rene Bourque and Patrick Wiercioch drawing calls, with both likely costing very little at the deadline. Mikhail Grigorenko and Carl Soderberg are interesting options up front, but one may be too young to deal and the other too expensive. It's all on the table for Sakic, who listed just Nathan MacKinnon, Mikko Rantanen and Tyson Jost as the untouchables on his squad.
If Sakic really wants to blow it up, perhaps he'll even consider the idea of trading Tyson Barrie, the puck moving defenseman that may have been at the core of the Roy departure. The Avalanche signed him to a four-year deal this summer, but has seen his defensive play deteriorate even further.
Five Players To Watch: C Matt Duchene, LW Gabriel Landeskog, RW Jarome Iginla, D Patrick Wiercioch, F Carl Soderberg
Team Needs
1) Young Defensemen – The Avalanche lost Nikita Zadorov for the season recently, but his development into an NHL defender has brightened up what has been a nightmare season. The team will be looking for more players like him to build around and finally fix their defensive problems. Francois Beauchemin and Fedor Tyutin won't be around when this team is ready to contend again, and Erik Johnson will likely be a shell of himself—he's signed through the 2022-23 season, but is about to turn 29 and surely won't continue at his level into his mid-thirties.
2) Draft Picks – The team needs to restock its cupboards and though this draft is considered to have a weak top-end, there is a lot of talent throughout the first round especially at the center position. The Avalanche have set themselves up to be almost guaranteed a shot at one of Nolan Patrick, Nico Hischier or Gabriel Vilardi, but could also add depth with some first round picks if they deal off their big assets.
3) Prospects – The other option is just to trade for already drafted prospects and hope they develop the way is expected. Sakic has reportedly asked for each of these three things in a trade for Duchene, essentially hedging his bets across all three avenues. For a team that was just out of the playoffs the last couple of seasons, it doesn't have to be a decade long rebuild. A quick turnaround isn't guaranteed, but with a legitimate #1 center in MacKinnon and solid goaltending, a few prospects making a big jump could push them back into a playoff race as soon as 2018-19.
Photo courtesy of USA Today Sports Images